Hi, Paul here; the newest member of the Silver Fern Holidays team.  Joining Silver Fern Holidays meant that everything from now on was about New Zealand; a country that I had wanted to go to for as long as I can remember. Having worked in travel since 2002 in several well-known high street tour operators selling New Zealand it was great to finally get the chance to travel to this remarkable country, and experience what a Silver Fern Holiday to New Zealand is like.
Having travelled to places such as South America, Asia and Africa where I have seen some of the world's greatest sights you can become rather laid back when it comes to seeing somewhere new.  But I was blown away by the sheer beauty that New Zealand offered and I have to say it didn't take long for it to become my favourite country to visit in the world.
Getting to New Zealand
As I was travelling in the New Zealand winter,  I was told that the weather could be changeable.  But, as it turned out, apart from the odd rainy day the winter days in New Zealand were crisp and sunny and very pleasant indeed.  The other advantage of travelling in the winter time is that it is very quiet, meaning that the roads are less busy and you will get many sights to yourself and a maybe few others.
Once the flights were booked I then proceeded to various outdoor shops to purchase a good pair of walking shoes (important), a couple of fleeces, some waterproof trousers, water bottle and a lightweight waterproof jacket. These are the basics of any trip to New Zealand.
I realised after just a few days in New Zealand that it is a very informal place and no one really dresses up, so leave that tuxedo and those dancing shoes at home! What is also important to know, is you can experience four seasons in a one day, which I subsequently found out on my first day in Auckland.
Having packed, what turned out to be far too much into my bag, I set off down to Heathrow for my Qantas flight to New Zealand via Dubai and Melbourne with too many clothes and plenty of excitement. Tip – Hotels/Motels all have washing machines and driers for guests to use.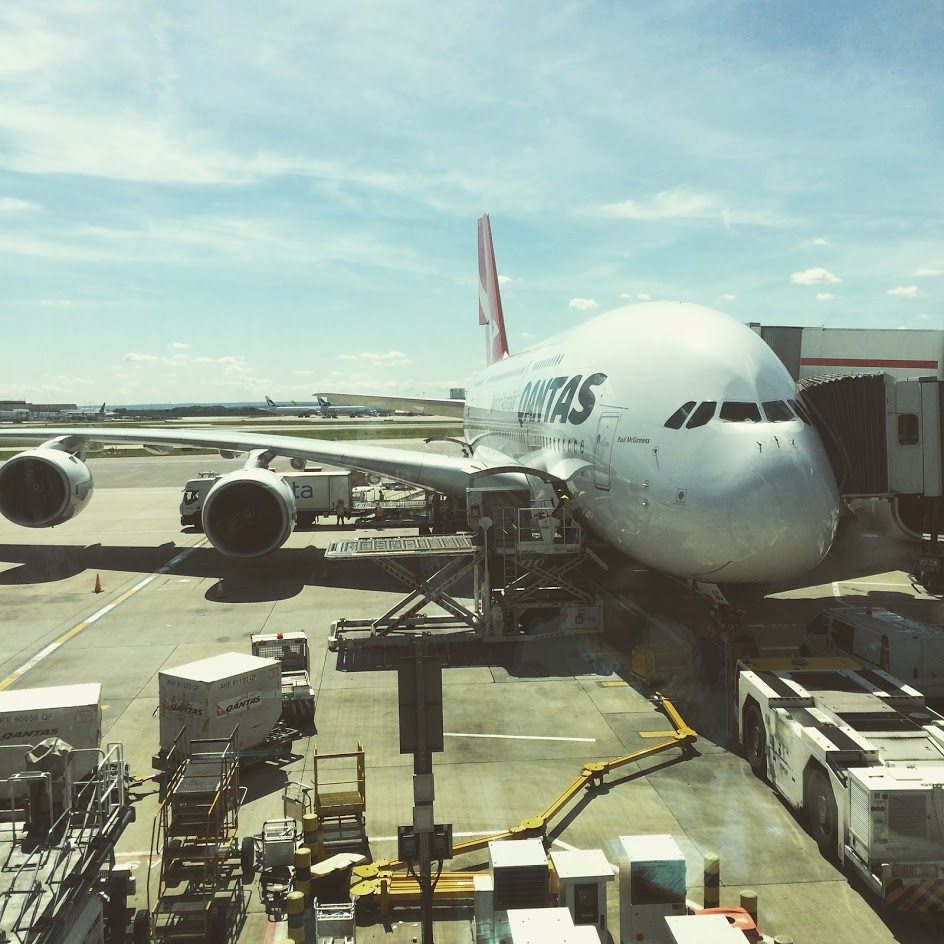 There's a handy guide to surviving a long haul flight to New Zealand on the Silver Fern blog which is worth a read if, like me, you're new to long-haul flights.
So, as I settled into my economy seat, I set about choosing my films & TV shows from the excellent selection on offer. First leg was soon over and after quick walk around in Dubai Airport, it was on to Melbourne where I had a shower and freshened up before my finally journey to Auckland. As it turned out, the flights were all good. I sat next to various people and had some lovely conversations, which set the tone for the next 3 weeks where I experienced the extremely welcoming and genuinely friendly people of New Zealand.
Tip – Check New Zealand's Duty-Free Allowance before buying anything to take into New Zealand
Day One to Three: Auckland
Arriving and transiting customs into Auckland was a breeze, no visa is required for British Passport holders and you just fill out the customs form on the flight before arriving.
Keen to experience what a Silver Fern Holiday was all about, every hotel I stayed in is one that we would book for our customers. First up on the list; the Grand Millennium Hotel in Auckland. Having arrived at 5.30am at the reception, probably not looking as fresh as I thought, I was doubtful that I would be allowed into my room until 2pm. But the reception staff managed to get me in straight away which was a huge relief! In fact, they said, they try their best to let guests into their rooms early.  So, I set my alarm for 8.30am for just a couple of hours sleep. The bed was so comfortable that I could have easily slept well into the afternoon, but that would not be a good idea and by doing this, I got straight into a New Zealand sleep pattern.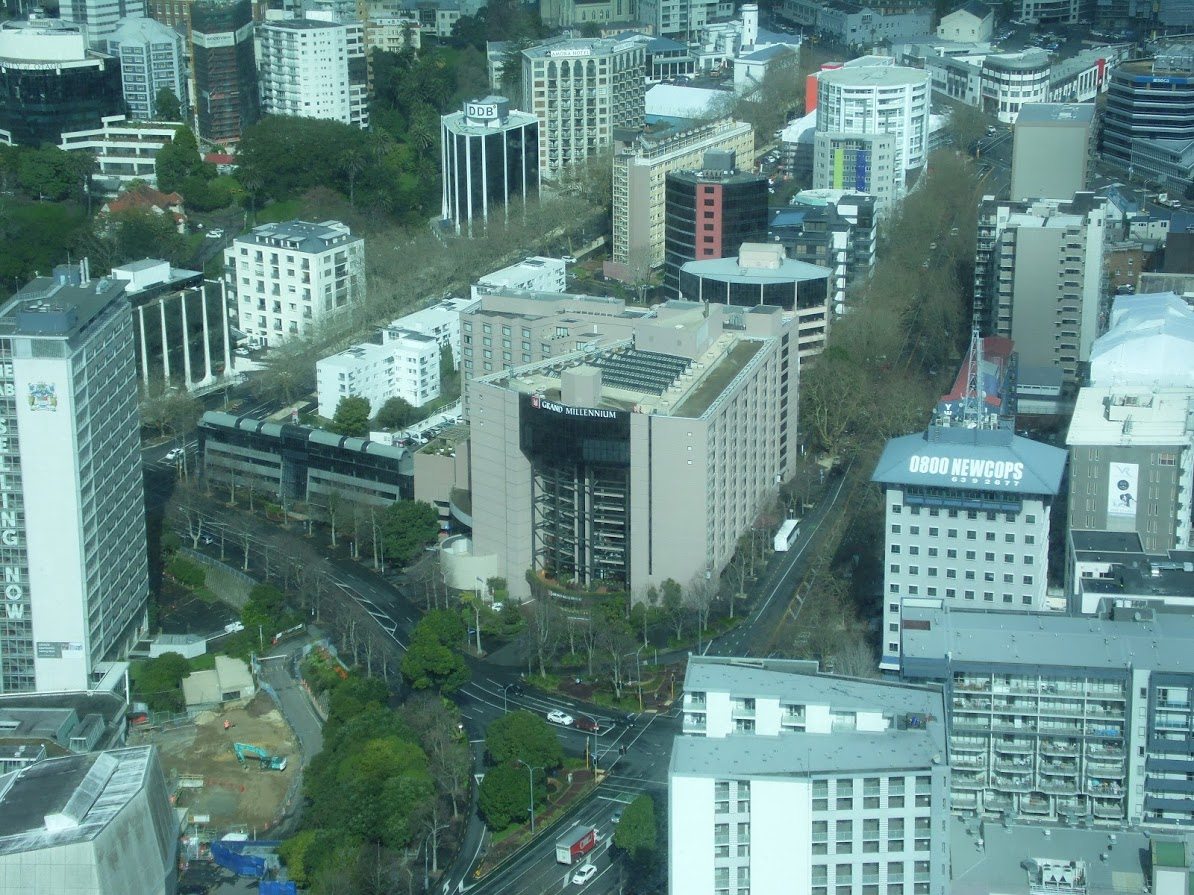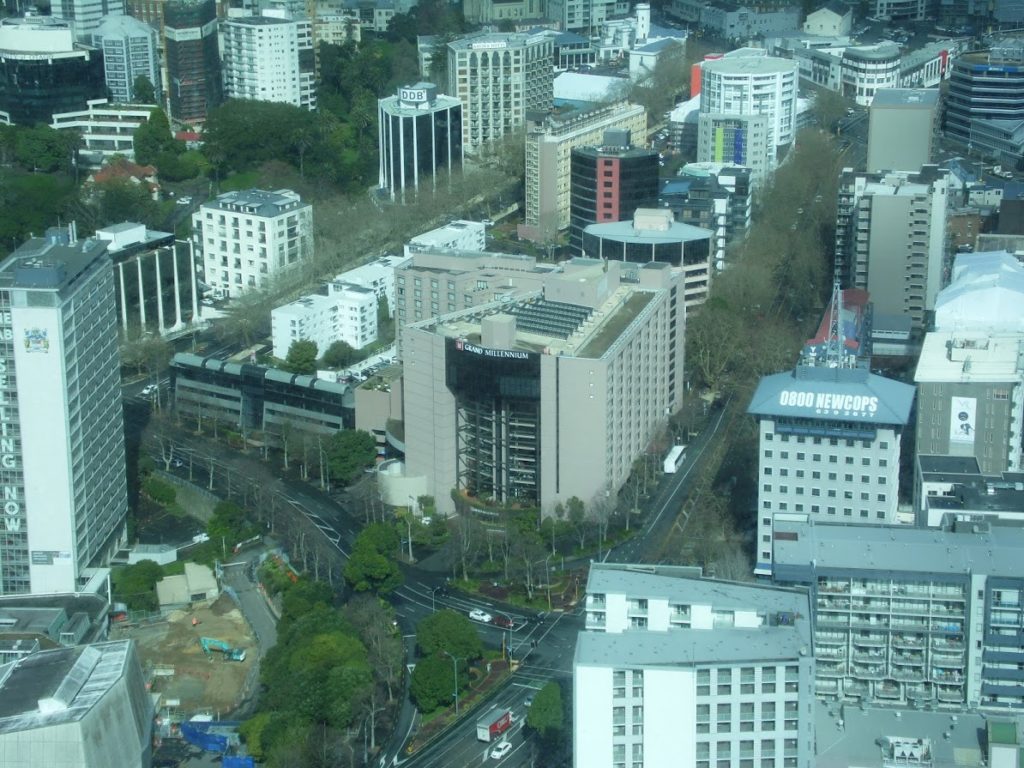 The hotel itself is in the centre of the city and within easy walking distance of shopping, restaurants and entertainment and is about 30-45 minutes from the airport and 5 minutes walking you are into the shops and restaurants of the CBD.
Auckland is New Zealand's largest city and its backdrop are the many volcanic cones and the wonderful harbours and different suburbs. Firstly, I thought, I need to get my bearings, so immediately set off for the 328 metre Auckland Sky Tower where you can see on a clear day up to 80km in every direction.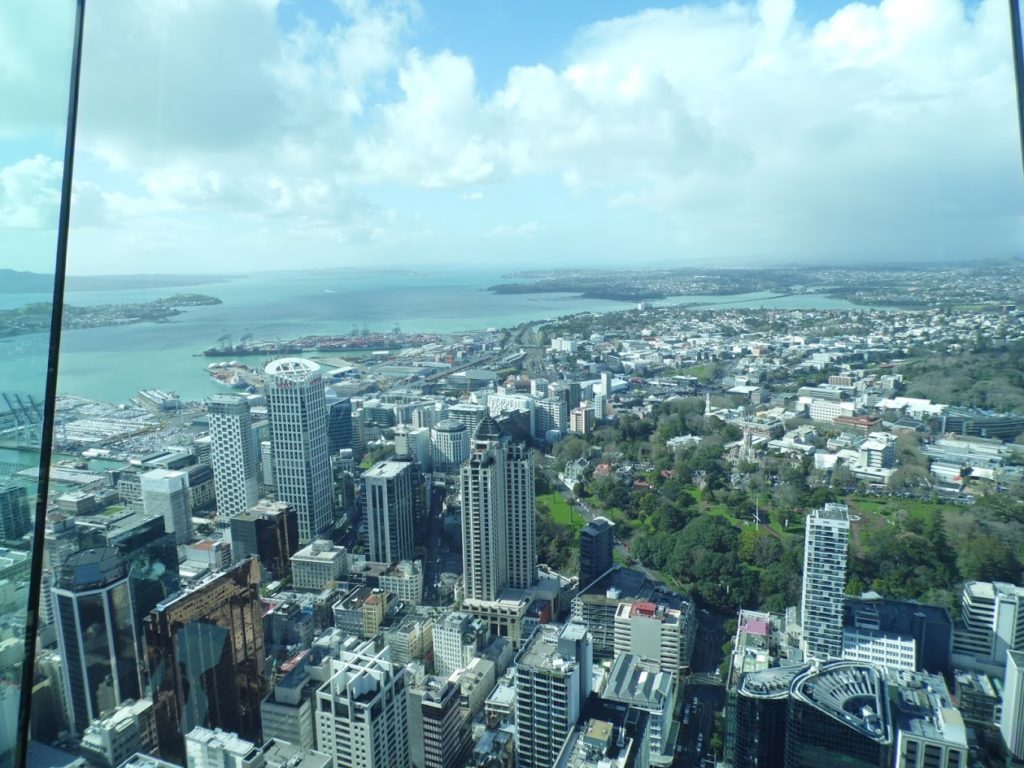 I exited the lift into the Main Observation Deck and upon seeing the City of Sails below me, I felt a wonderful sense of 'wow, I am actually in Auckland, so far from home' and this was just the beginning of an incredible adventure.
Still feeling relatively fresh, I decided to take in the Auckland waterfront, which is a relatively new area full of cafes, shops, restaurants and the very interesting New Zealand Maritime Museum.  This is a great place for young and old alike with such exhibitions as New Beginnings, telling the fascinating story of the early immigrants to New Zealand and also Sir Peter Blakes 1995 America's Cup winning boat and his red socks.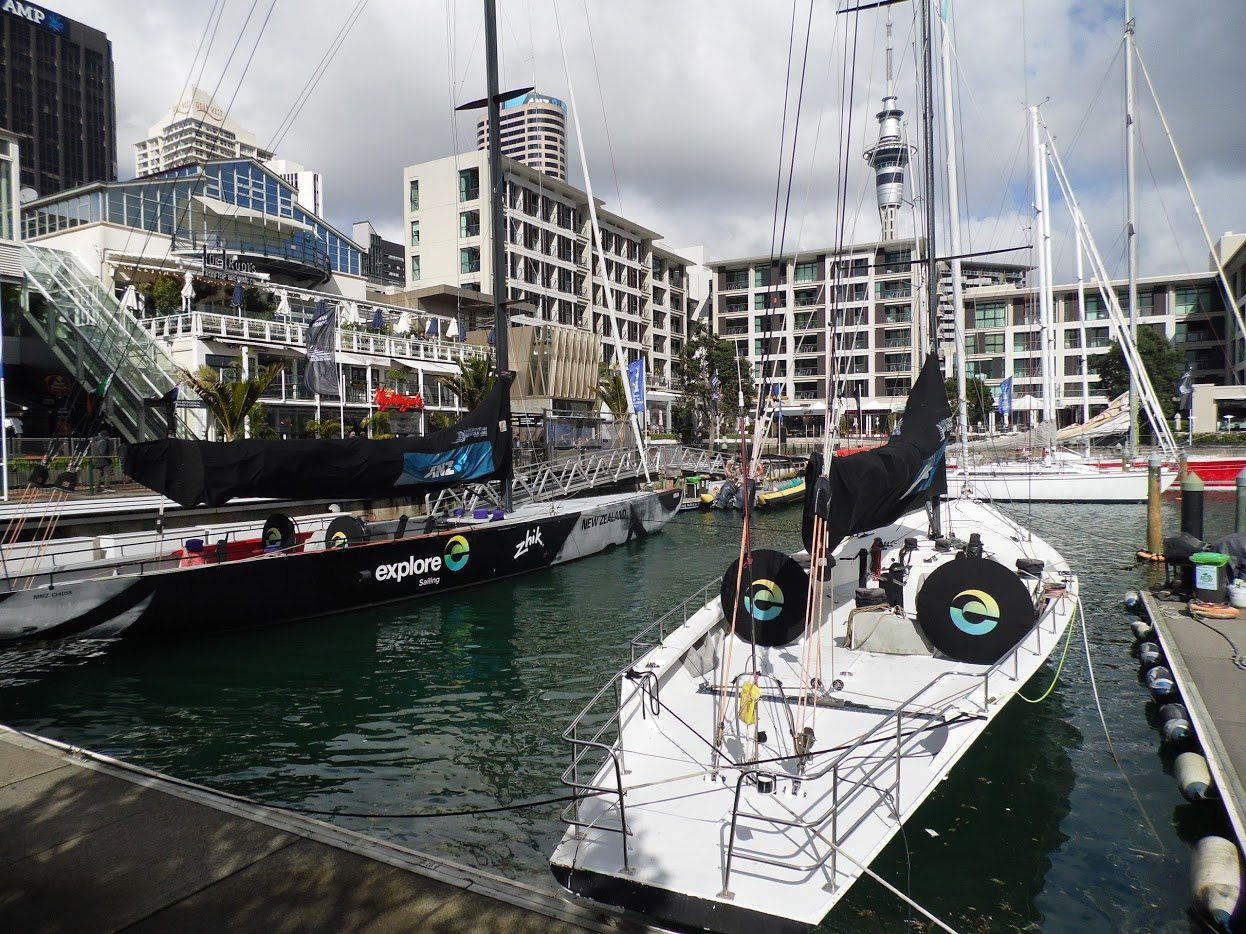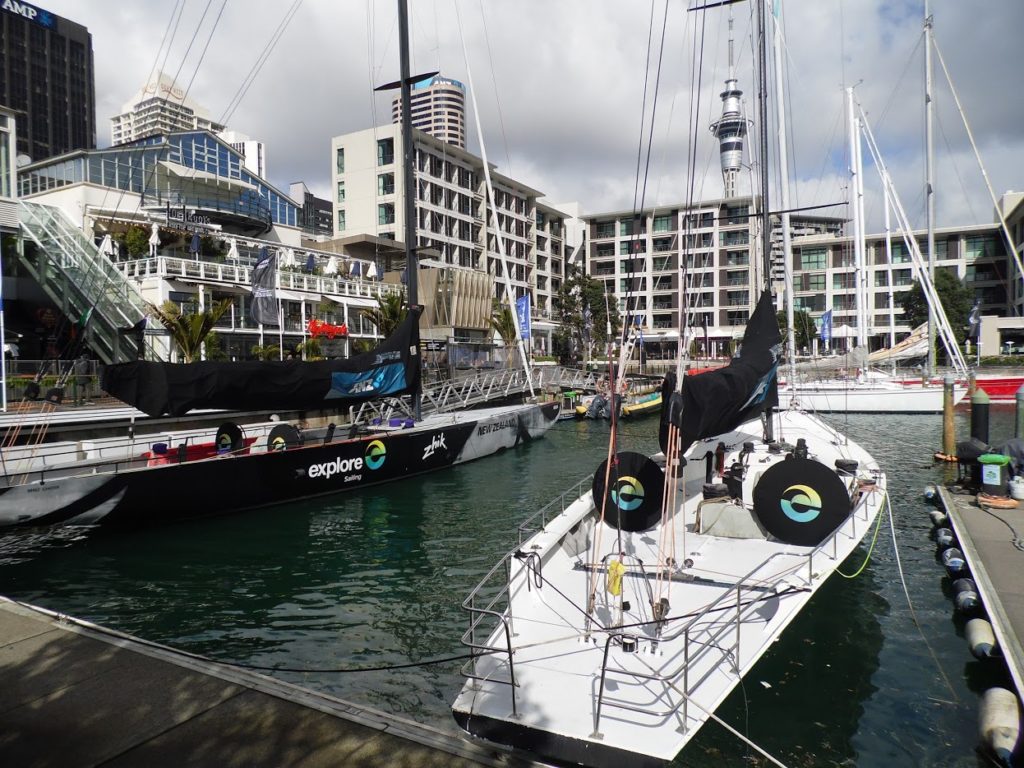 As the lights of Auckland started to come on in the early evening,  I went to one of the many restaurants on the Waterfront and which I had only just realised at the time was to be my first meal in New Zealand!  Auckland offers a wealth of dining options including many healthy eating options. I opted for Soul Bar & Bistro and wasn't disappointed.
So, my first day in Auckland was nearly over and as I walked back to my hotel I thought about the National Express bus that got me to Heathrow, the three flights to New Zealand and the bus to the hotel and what a journey it had been to get me here.  Walking through the streets of Auckland where people's nights were just beginning, I felt far too tired to join in any revelry and retired to my bed… It was 8pm.
But the good thing about having such an early night, is that you are up and about early the next morning !  So after a wonderful big breakfast in my hotel , I decided to choose a different method of transport today.   I strolled down to the harbour and found Fullers who offer a range of harbour trips to places such as Waiheke Island, Rangitoto Island and even the Coromandel! But I decided that I would like to take the regular ferry to the Devonport.  The ferry is every 15-30 minutes during the day and takes 12 minutes and costs 12NZD which is roughly £6.50.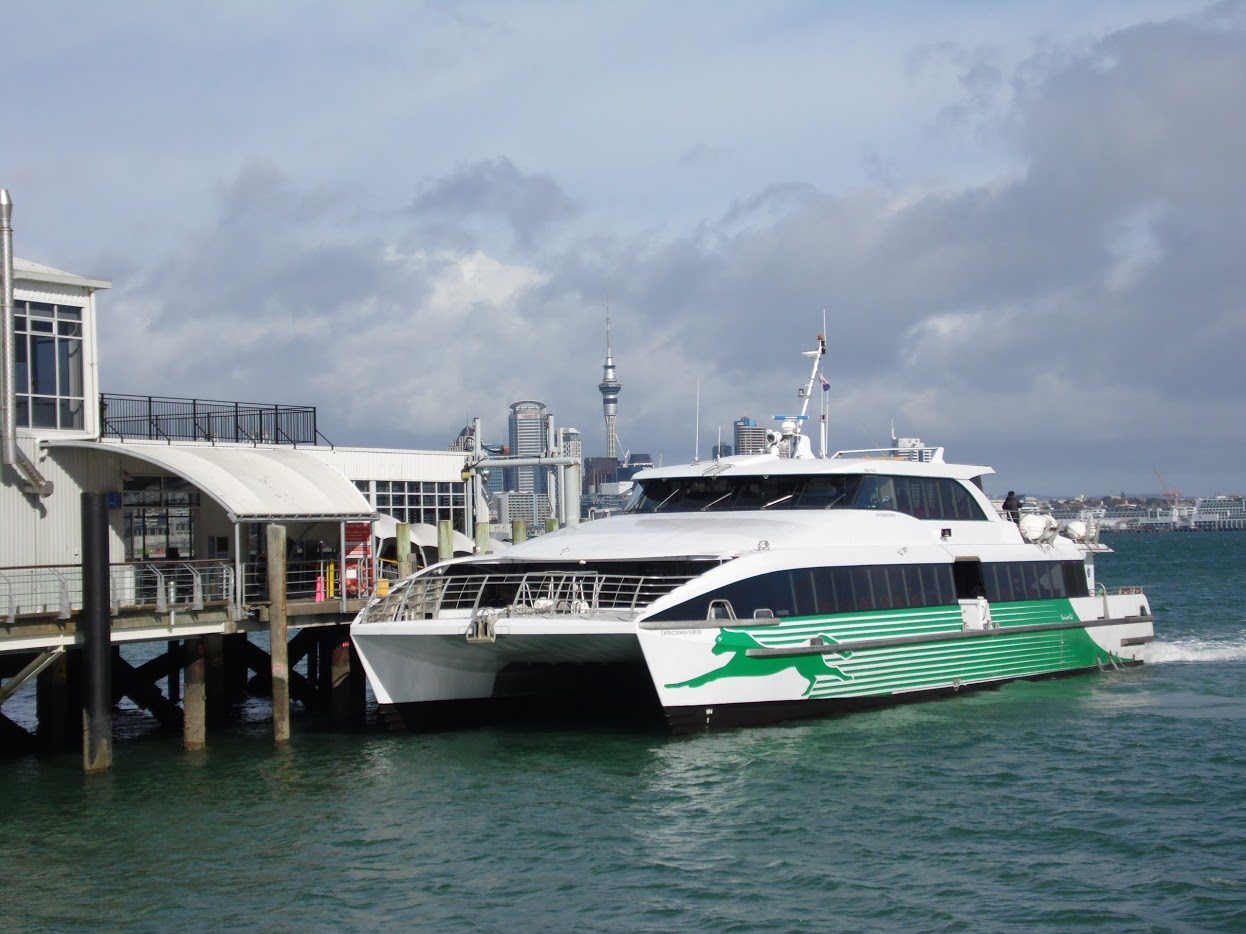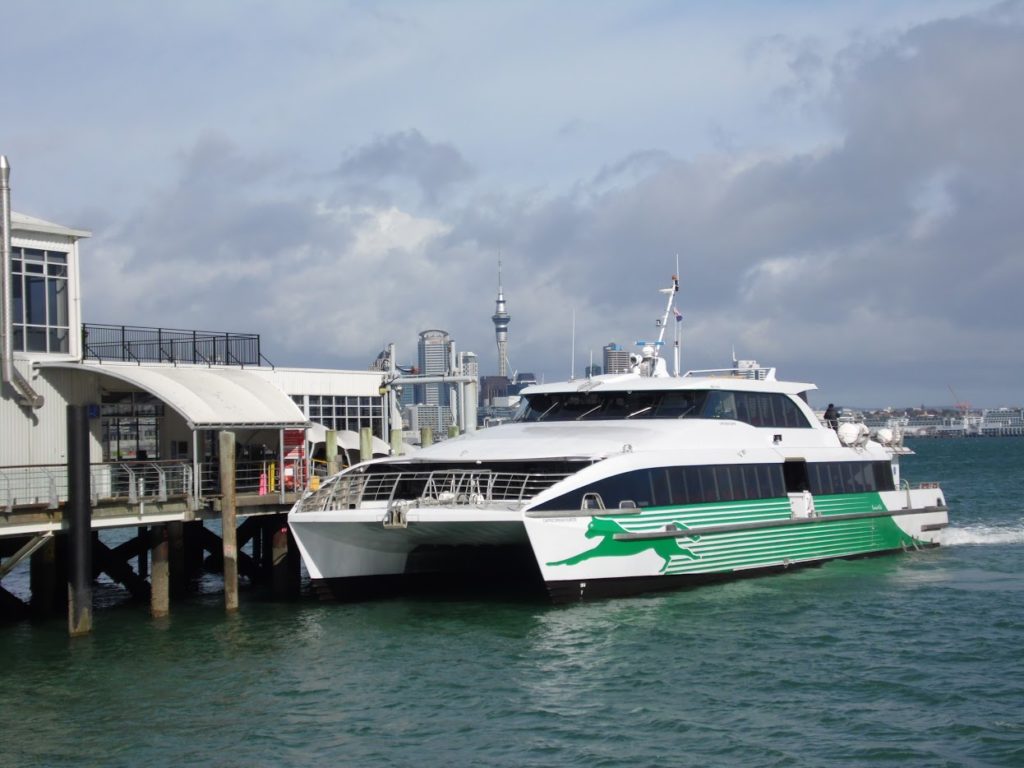 Devonport is one of Auckland's oldest suburbs and features beaches, stylish boutique shops, old Victorian Houses and oh the Volcanic Cones of North Head and Mount Victoria. I think every suburb should feature at least one volcanic cone!  My immediate thought as I was straight away struck by its beautiful location and laid back lifestyle was, this is where I want to live.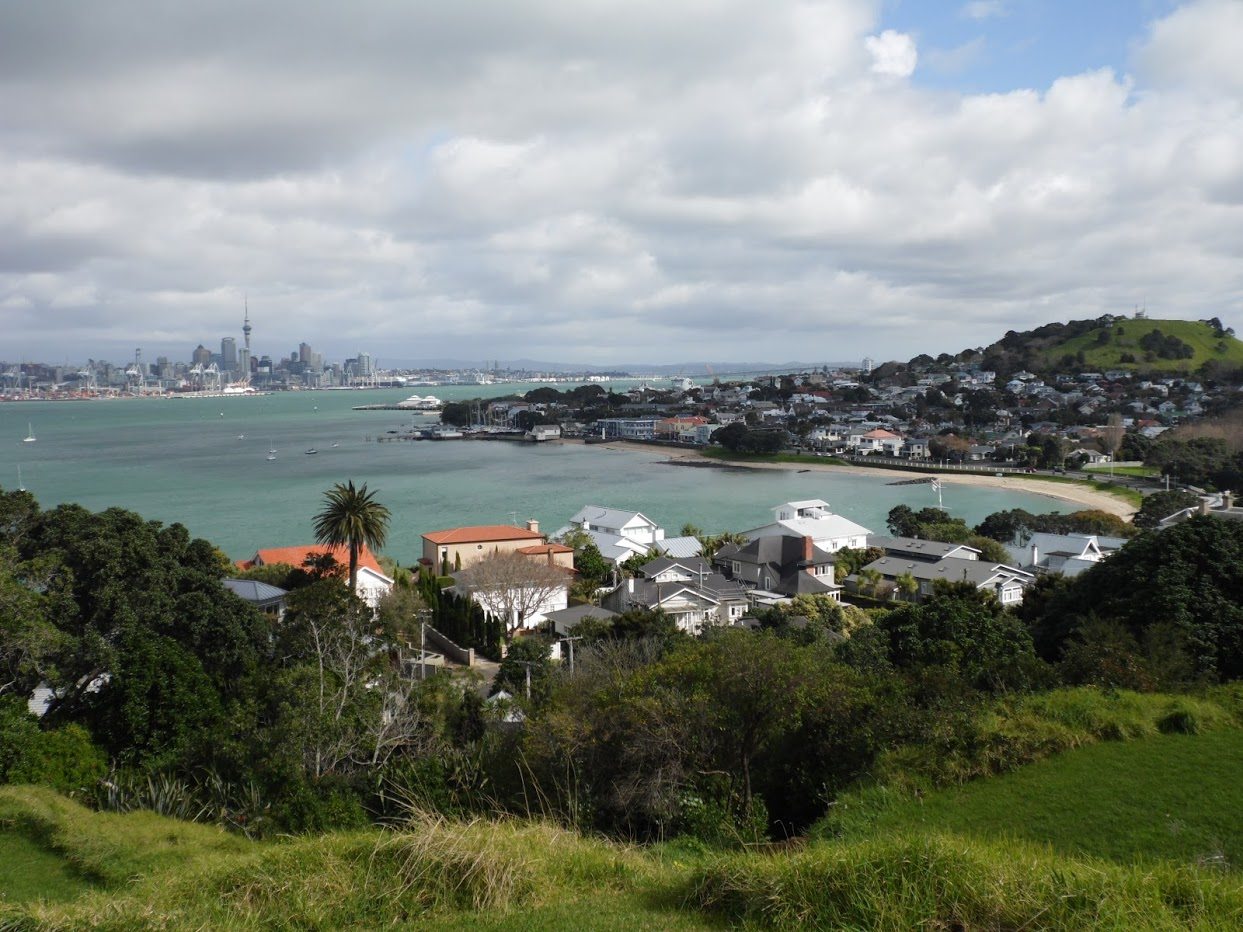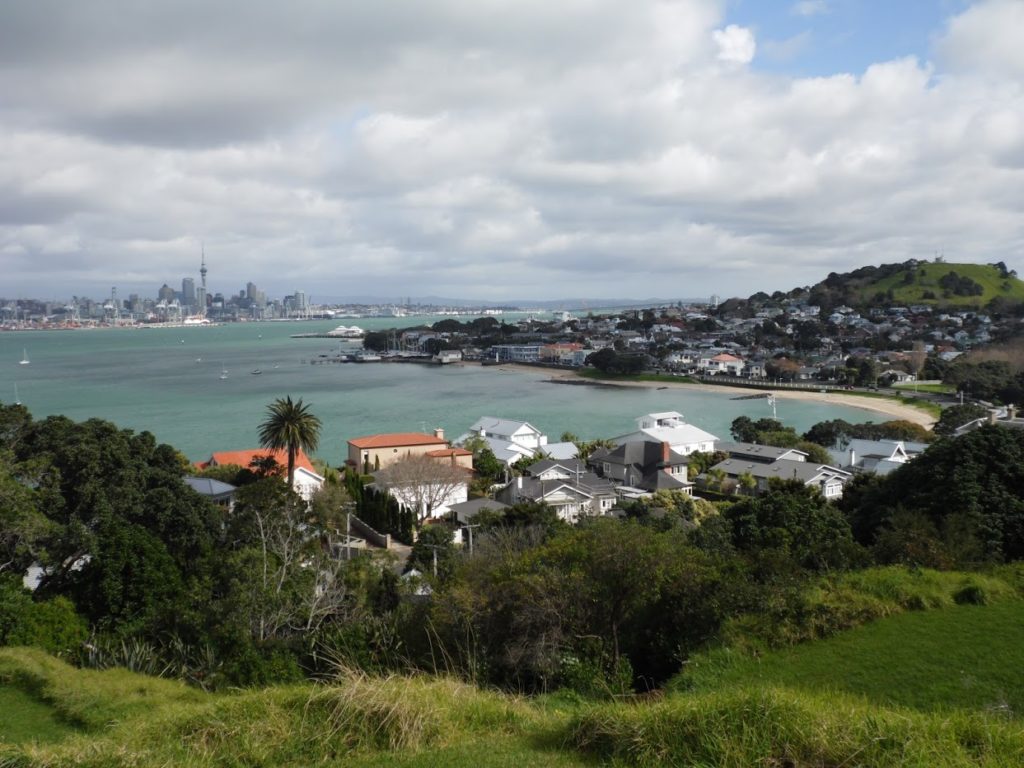 Being an ex-sailor myself, I marched with much purpose to the Torpedo Bay Navy Museum which tells the story of the New Zealand Navy and the connection it has to the mother country and our own Royal Navy.  It really is worth a visit and admission is free and does have a little café serving nice coffee.
After chatting with the reception people about lots of different subjects, I then proceeded to walk up North Head. But as I was to become accustomed to during my time in New Zealand, someone wanted to stop and have a chat.  A bus driver admiring my walking shoes!  He was originally from Scotland but had lived in New Zealand for 30 years and was telling me how he moved over with his wife. Then their friends followed them over and then their friends, friends!  Looking down the road to Devonport and beyond into the beautiful sunlit harbour I could see why.
Walking over the volcanic cone of North Head was stunning, with wonderful views over to Auckland and towards Rangitoto.  A series of paths that lead all the way to the summit circle the cone, but what was surprising was the old military tunnels and guns that apparently protected Auckland from a Russian invasion!  The excellent Department of Conservation website has lots of information about walks in New Zealand including this one in Devonport.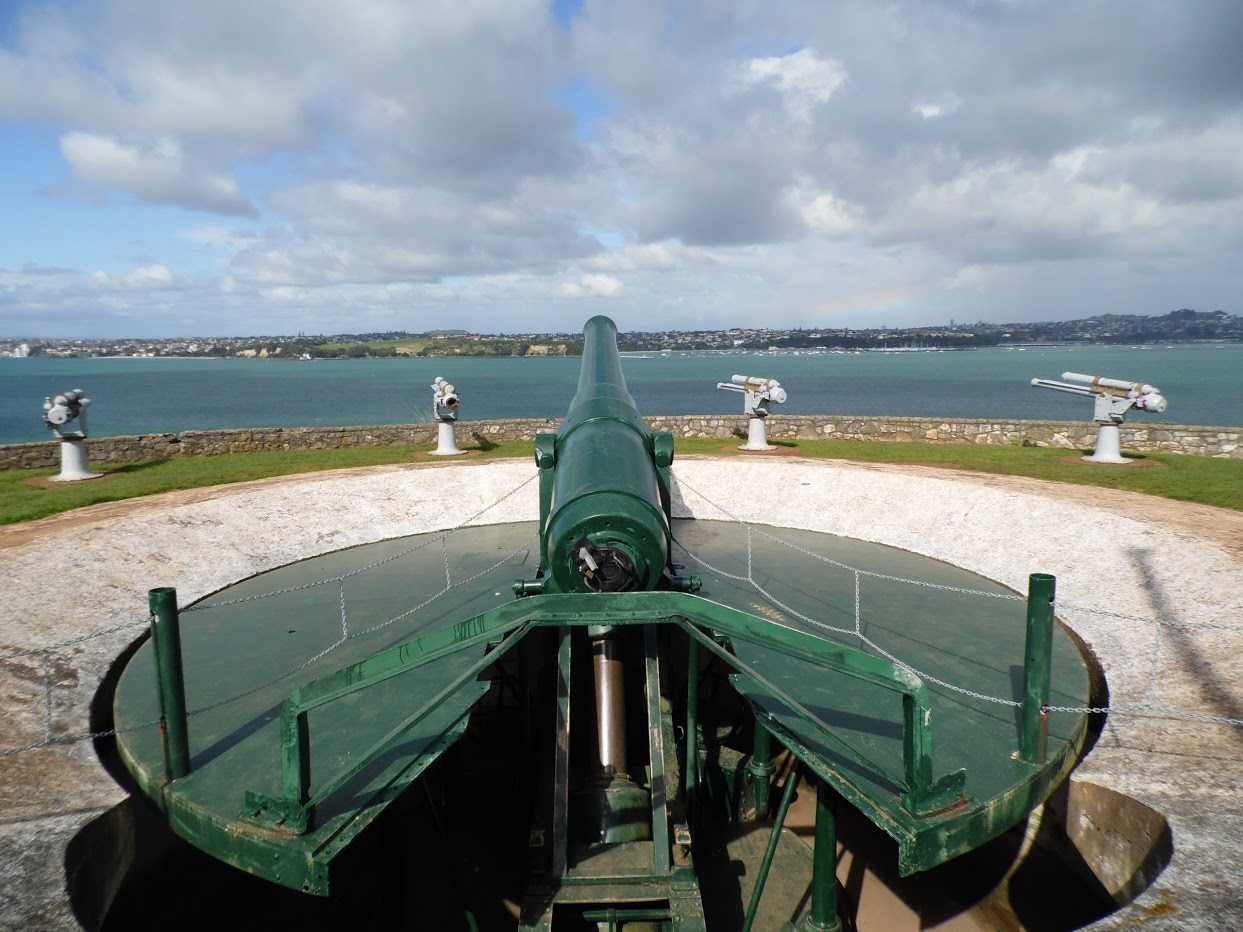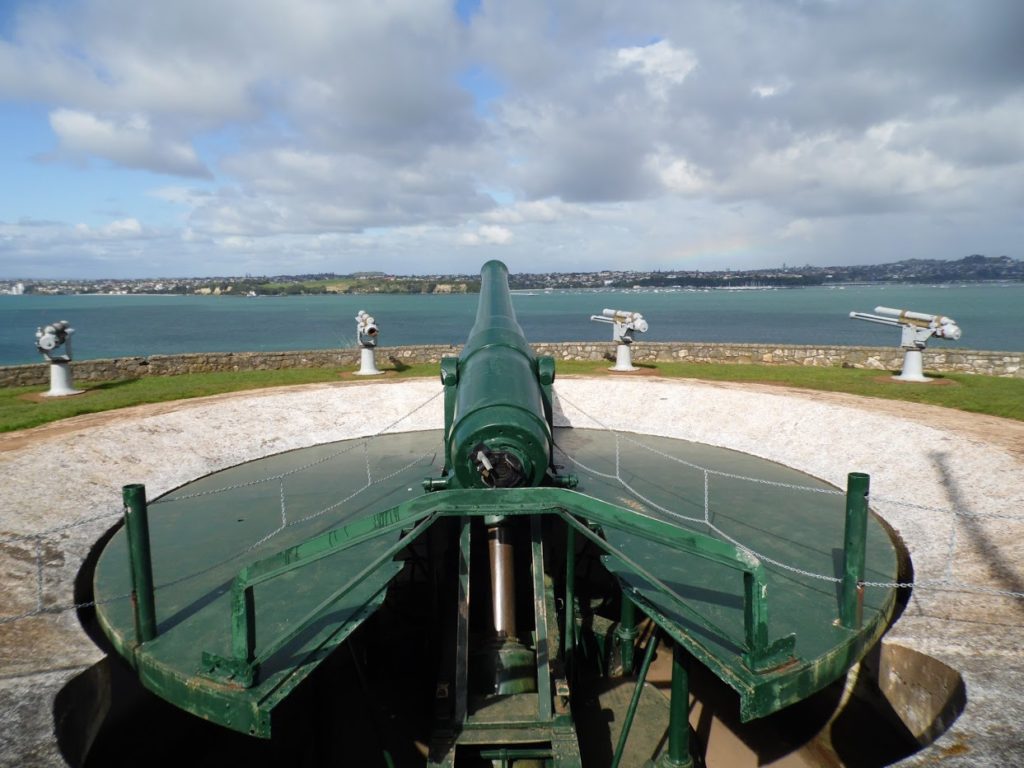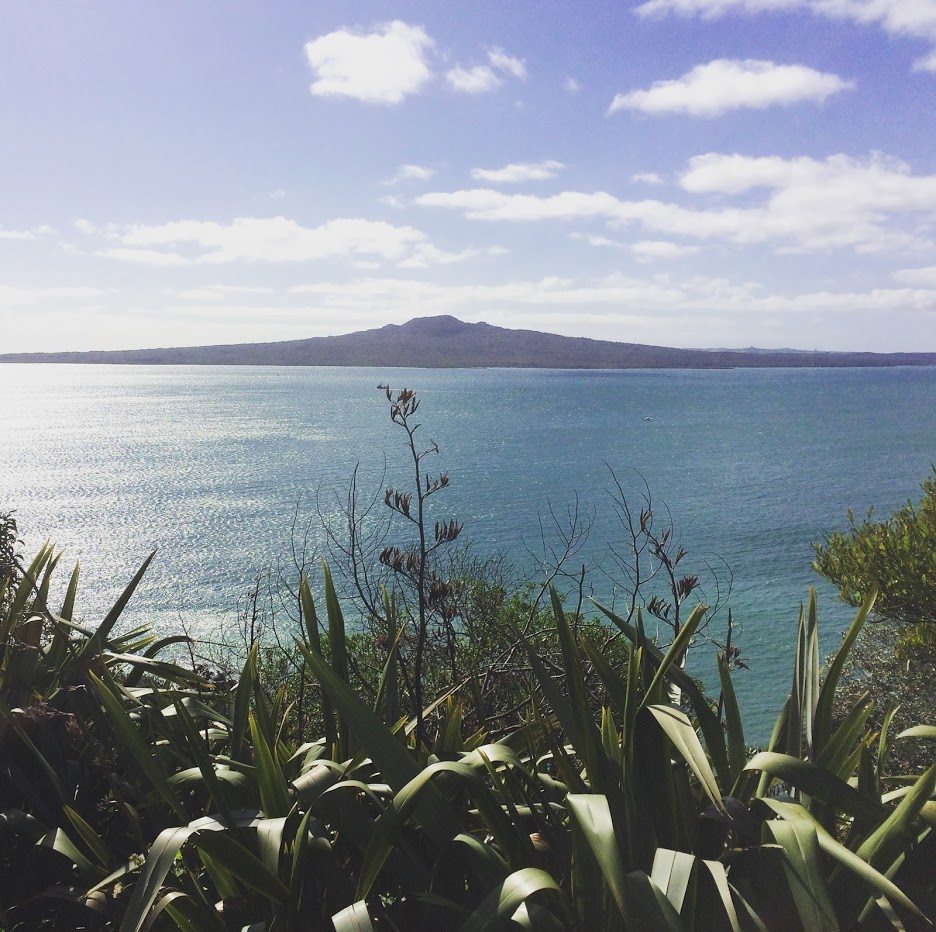 I ended up spending a very enjoyable day over in Devonport and had a wonderful time walking on North Head and Mount Victoria and met some very friendly people and would thoroughly recommend a visit to Devonport. Eventually I got back over to Auckland in the late afternoon where once again I ate on the Waterfront in O'Hagans which I suspect did a roaring trade during the recent Lions Tour judging by the scarves and shirts on the bar walls.
Tomorrow, I pick up my hire car and will drive the 3 – 4 hour drive up to the Bay of Islands.
Part 2 will be coming shortly…