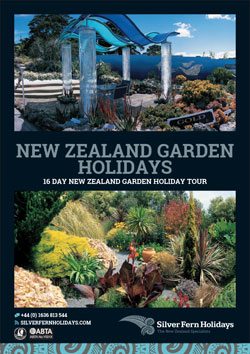 New Zealand's geographical isolation, unique microclimates and variety of habitats has provided the ideal conditions for a huge range of flora to thrive. In fact, the Department of Conservations suggests that there are over 200 species of fern in New Zealand including the national emblem which has inspired our name; the Cyathea Dealbata, also known as the Silver Fern.
If you're a fan of horticulture, then a trip to New Zealand is an absolute must. As you travel across the country, you can explore some of new Zealand's most beautiful natural and landscaped gardens. Some of these public gardens date back to the colonial days and feature European plants brought over by the first settlers. A prime example of a colonial garden can be found in Christchurch's Botanic Gardens. Contained within a loop of the meandering Avon River, just a ten-minute walk from the Re: Start Mall. From a solitary oak planted in 1863, the gardens have flourished and now features one of the finest collections of exotic and native plants in New Zealand.
Plymouth's Pukekura Park, Dunedin's Edwardian Winter Gardens and Auckland's Parnell Rose Garden are also must-visit destinations for gardening aficionados.
Download itinerary
Enquire now
Why Choose Silver Fern?
Our team can arrange visits to some of the most prestigious private gardens in the country, such as Ayrlies Country Garden, the unique Paloma Gardens near Wellington in the North, and the Gwavas Woodland Gardens in Napier. On certain dates throughout the year, private gardens near Dunedin and Queenstown are also open to the public, too.
On this page, you'll find a 16-day example itinerary focused on exploring the flora of New Zealand. This itinerary includes all our favourite places, sights, and experiences, some of which you might be familiar with and others that may be new to you. All our tours are tailored specifically to you. Simply make a list of your must-do's and any other requirements you may have such as trip duration, budget and transport preferences, and our expert team will help you plan and book the ultimate trip.
Unsure where to start? Simply let us know what your interests are and our team will hand-tailor a trip designed to incorporate your favourite things. Alternatively, if you would prefer to join a group, we can suggest an RHS guided tour departure date.
Contact us to have a chat about how we can create a tailor made special interest itinerary for you today.