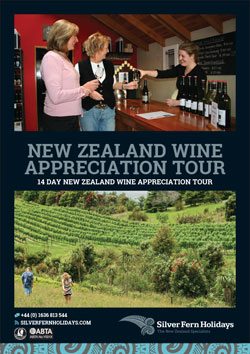 Wine has been a serious business in New Zealand since the 1980's. It was Sauvignon Blanc that put New Zealand on the wine map, but the temperate climate and passion of the wine producers in the country have led to a vast portfolio and impressive array of varieties and styles to enjoy.
The Many Wine Regions in New Zealand
From the tip of the North Island all the way down to the base of the South; New Zealand's wine regions stretch from top to tail and everywhere in between. Hawkes Bay and Martinborough on the North Island, and Marlborough and Central Otago on the South island are the flagship regions for wine-lovers. Whether you decide to drive the classic New Zealand Wine Trail, or follow a bicycle trail around the estates, there really is nothing quite like sampling a glass or two of locally grown wine in amongst the very vines that it came from.
No matter what your preference when it comes to wine, New Zealand really does have it all. Sub-tropical Northland is renowned for its Chardonnays, Pinot Gris, and Viogniers whilst lovers of red can sip spicy Syrahs, Pinotages and Chambourcin.
The most Southerly grape-growing region is central Otago. Nestled comfortably between Wanaka and Dunedin, it produces some of the world's best Pinot Noir alongside aromatic whites such as Pinot Gris, Riesling, and Gewürztraminer as well as complex and elegant Chardonnays.
What Makes New Zealand's Wine So Good?
New Zealand may only produce 1% of the world's wine, but it's still hailed as one of the finest new wine-producing countries in the world! Why? Location, location, location!
No vineyard is more than 80 miles from the coast and it's this cool ocean breeze that helps to preserve the acidity in the wine. Combine this with rich soil and long days of sunshine and you have yourself a bottle filled with bright, crisp notes that will keep you coming back sip after sip.
Download itinerary
Enquire now
Appreciating New Zealand's Wine with Silver Fern
Purely in the interest of research, we have personally visited many of the wine regions in New Zealand and spent many a day sampling the various styles. It's this hands-on experience with the winemaking regions of New Zealand that allows us to recommend stops at numerous wineries that we think you'll particularly enjoy.
We also have a close relationship with the New Zealand Wine Guild, meaning that we can arrange private visits to boutique wineries such as Mount Difficulty, Wooing Tree, and Cloudy Bay as well as tastings at the larger wineries of Montana, Villa Maria, and Corbans.
Whether you're a true connoisseur or just starting your wine education, there are plenty of opportunities to visit some of New Zealand's top wineries and their beautiful surrounding locations. The team at Silver Fern can tailor-make a wine-focused itinerary that highlights the best of the bunch alongside some of the unmissable attractions in the land of the long cloud.
On the right, you'll find a 14-day sample itinerary that showcases the kind of activities, locations and experiences that our team can arrange for you. From cruising through the spectacular Milford Sound to touring the boutique wineries on Waiheke Island, we can pack in as much as you like, or leave you plenty of room to explore freely.
Not sure where to start? Have a look at our recommendations, highlight places you wish to include and get in touch with us: together we can create a unique and unforgettable holiday experience.