Discover Captain Cook's New Zealand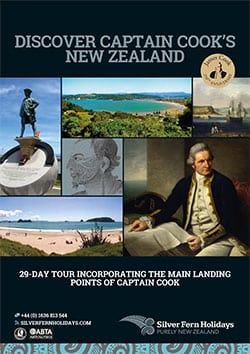 Captain James Cook set sail from England in August 1768 on a brave voyage to the South Pacific and 'unknown southern lands', arriving in New Zealand on 8 October 1769.
The 250th anniversary of HMS Endeavour's expedition was marked worldwide and we marked the event by creating a unique itinerary 'Discover Captain Cook's New Zealand'. The itinerary takes in both North and South Islands, includes historic Endeavour landing sites and adds the Southern Alps to deliver an amazing 29-day holiday that can be enjoyed by anyone with an interest in maritime or colonial history.
Who discovered New Zealand?
Polynesian explorers arrived in New Zealand by canoe 700 years ago, and named it Aotearoa, which means 'the land of the long white cloud'. Dutchman Abel Tasman was the first European to discover New Zealand in 1642, but after a violent encounter with Maori 'waka' off South Island, he set sail without landing. 127 years later, Cook's landing in Poverty Bay changed the history of New Zealand and Britain, when he became the first European to discover this spectacular country!
How did New Zealand mark the 250th anniversary of Cook's voyage?
The anniversary was not without some controversy in New Zealand. The Government called the commemorations Tuia 250, a Maori word meaning 'to weave' or 'bind together' to reflect that fact that Cook's story is also the Maori story. Most New Zealanders – and most Maori – were happy to recognise the anniversary, but a few Maori felt it celebrated 'colonialism'.
Thousands flocked to see the full-sized replica of Endeavour sail to New Zealand in ahead in October 2019 and call in at various ports in North Islands from Gisborne to the Bay of Islands, before crossing the Cook Strait to anchor in the Captain's favourite South Island anchorage Ship's Cove.
We were glad to introduce more travellers to the East Cape because it's one of the least visited corners of New Zealand yet is one of the most authentic, with a large Maori community. The area offers stunning beaches, coastal drives, dramatic promontories and a thriving Maori culture.
Cook sites to visit in the East Cape include Cape Kidnappers and its gannet colony, Young Nick's Head, Tolaga Bay, and of course the town of Gisborne. Do contact us to discuss discovering Captain Cook's New Zealand.
Download itinerary
Enquire now