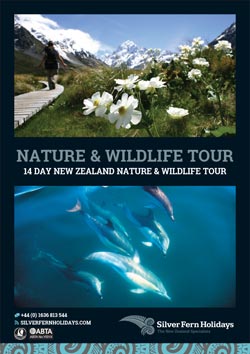 Isolated from the rest of the world for tens of millions of years, New Zealand has always been home to a wonderfully diverse collection of wildlife. From unique native fish, insects, birds, lizards, and frogs; an encounter with the local creatures and crawlies is truly a once-in-a-lifetime experience.
Unusual Animals Unique to New Zealand
Birdwatching in New Zealand is a must for any keen ornithologist. Recognised as the seabird capital of the world, the land of the long white cloud is home to hundreds of unique birds. The most treasured being the kākāpō. A flightless parrot with a cheeky personality and a unique scent, there are less than 160 of these beautiful birds in the world; all of which reside on the islands of New Zealand. The Department of Conservation is currently working hard to look after the few remaining kākāpō and protect them from extinction.
Sea life fanatics will also be spoiled for choice with Hector's dolphins, the smallest dolphin species in the world, as well as Orcas, blue whales, humpback whales, Southern right whales, and sperm whales all hiding just off the coast. You'll also be able to get up close and personal with the fur seals which laze on the rocky shores up and down both the North and South island.
If you're interested in creepy crawlies, then New Zealand's interested selection of invertebrates is sure to grab your attention. There are over 70 different species of Wētā, which looks like a cross between a grasshopper and a crayfish, alone, as well as snails, protected coral species and crayfish. (For those looking for a delicious fresh crayfish dinner, we highly recommend a stop at the Kaikoura Seafood BBQ kiosk, on the way to the Point Kean seal colony.)
Walking on the Wild Side
For those more interested in the flora than the fauna, New Zealand will spoil you rotten. There are thousands of stunning walking and hiking trails for abilities which will take you through all manners of terrains. Choose from challenging, single day ascents like the breath-taking Roy's Peak in Wanaka, or multi-day hikes such as the incredible Queen Charlotte Walkway, there are plenty of great walks in New Zealand for you to choose from and enjoy.
For night owls, the Aoraki Mackenzie dark sky reserve is a must-visit. The southern hemisphere's first, and the world's largest, dark sky reserve is gold-rated due to the light-pollution-free skies of the Mackenzie Basin. From the Mt. John observatory you can gaze at the stars in near pristine-darkness whilst getting to grips with the secrets of the cosmos.
Download itinerary
Enquire now
Why Choose Silver Fern?
New Zealand really does deliver bang for your buck; around every corner there's something to be amazed by, be it views, nature, culture, food, or the people you meet. This can make deciding where to visit and what to do a little tricky. That's where we come in!
The team at Silver Fern are experts in creating tailor-made self-guided itineraries and guided group tours. All you need to do is let us know what you're interested in, what your budget is and how long you've got and we'll design an itinerary just for you! We'll take you whale-watching and swimming with dolphins in Kaikoura, tramping and kayaking in one of the world's most beautiful national parks, The Abel Tasman, and planting trees on Mou Wahu island in Wanaka.
Have a look through our 14-day sample itinerary available to download at the top of this page to see the kind of trip that we can create for you. Then contact us to have a chat about how we can create a tailor made special interest itinerary that focuses on experiencing the best of New Zealand's nature and wildlife today!