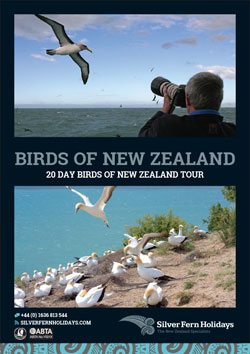 Isolated from the rest of the world for tens of millions of years, New Zealand has always been home to an extraordinary range of birds. From the flightless Takahe to the cheeky Kea, graceful Kotuku White Herons and impressive giant Albatross, New Zealand is a must-visit destination for bird enthusiasts. The Silver Fern team are here to help you plan the ultimate trip to New Zealand; experiencing the scenic highlights, learning about the rich culture of the country, and witnessing some of the rarest and most majestic bird species in the world, all in comfort and style.
Why Visit New Zealand for Bird-Watching?
Whilst some of New Zealand's native birds, such as the Moa, were hunted to extinction after the settlers arrived, a conscious effort has been made to protect the countries birdlife. This dedication to preserving and protecting the local birds has firmly cemented New Zealand as the seabird capital of the world. Today, the endemic birds that have survived as the focus of innovative conservation projects on offshore islands making it an absolute haven for ornithology experts and birdwatching beginners alike.
One of the most accessible of these islands is Tiritiri Matangi; a Department of Conservation bird sanctuary which has been cleared of rats, cats, and other predators to allow rare and endangered birds to breed in relative safety. Following a scenic 75-minute cruise from Auckland's main harbour, visitors to the island will have the chance to spot birds including the Takahe. There are only a few hundred of these flightless, rainbow-hued birds in the world and Tiritiri Matangi is one of the few places where you can readily see and walk amongst them; a once-in-a-lifetime experience. You'll also find Saddlebacks, Stitchbirds, Bellbirds, Tuis, Kereru, Bush Robins, and Kokako in amongst the lush foliage, too.
If you'd like to explore the native birdlife from the South Island, Kapiti Island is easily accessible from Wellington. Particularly enthusiastic visitors can embark on an after-dark visit to witness the Little Spotted Kiwi in its natural habitat. In the city, you'll also find the Kaori Wildlife Sanctuary. Fenced to prevent the entry of predators, the Sanctuary is home to over 30 species of native birds as well as 18kms of walking tracks winding through native New Zealand bush, not one but two lakes, and a wetlands area.
Download itinerary
Enquire now
Why Choose Silver Fern?
These islands are just the very tip of the ornithological iceberg that Silver Fern can help you discover.
We can also arrange for you to see the world's only mainland breeding colony of Royal Albatross on the Otago Peninsula whilst our guides on the Milford and Doubtful Sound overnight cruises have particularly keen eyes and will point out dolphins, fur seals and, if you're lucky, the rare yellow-eyed Fiordland Penguins. For those keen to go the extra mile, we can arrange a trip to Stewart Island, where you may be rewarded with sightings of the Stewart Island Brown Kiwi.
We can also ensure that you don't miss spectacular experiences such as seeing the 8500 hectares of mud flats on the Firth of Thames supporting tens of thousands of migratory wading birds from October to March.
On the right, you'll find a link to a 20-day example itinerary. This itinerary includes all our favourite places, sights, and experiences, some of which you might be familiar with and others that may be new to you. All you need to do is make a list of your must-do's and any other requirements you may have such as trip duration, budget and transport preferences, and our expert team will help you plan and book the ultimate trip.
Contact us to have a chat about how we can create a tailor made special interest itinerary that focuses on experiencing the best of New Zealand's birdlife.
Have a look through our 14-day sample itinerary available to download at the top of this page to see the kind of trip that we can create for you. Then contact us to have a chat about how we can create a tailor made special interest itinerary that focuses on experiencing the best of New Zealand's nature and wildlife today!