New Zealand by Motorcycle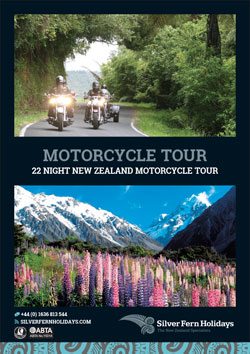 We're always looking for new and exciting ways to discover and explore New Zealand and we pride ourselves on offering the widest variety of travel options. From trains, planes, and automobile to saddling up for an adventure or horseback or pushbike, we thought we had it all covered. Until we discovered another unforgettable way to see New Zealand; from the seat of a classic Harley Davidson motorbike.
New Zealand by Motorbike
New Zealand boasts a diverse terrain which makes it an exciting and exhilarating place to explore on two wheels. From winding mountain passes with plenty of sharp corner and spectacular views to longer, flatter, plains between ranges, it's the perfect playground.
We recommend that visitors to New Zealand wishing to ride, or drive, around the country spend a little time learning about the rules of the road. New Zealand's tourism site has a great section dedicated to driving in New Zealand that explains weather-related hazards that you might encounter, what to do when you approach one of the infamous one lane bridges and how to tackle the rail crossings which zig-zag across the country.
Motorcycle Tours in New Zealand
The team at Silver Fern are old hands at designing bespoke self-guided motorcycle tours of New Zealand. There really is something quite unforgettable about riding through the countryside with the wind in your hair and your hands tightly gripping the handlebars of a classic Harley.
The itinerary at the top of this page outlines a 22-night self-drive tour which takes you along some of the best riding roads New Zealand has to offer. It takes you all the way to the very top of the North island and back down to the tip of the South. Along the way you'll take in some of the most spectacular sights and experiences. From kayaking through twinkling glow worm caves, to cruising the mighty Milford Sound, and stopping in at the Burt Munro Museum in Invercargill (unmissable for biking enthusiasts).
It's a self-riding tour, which allows you the freedom to explore independently, but with your accommodation, routes, and all the necessary equipment (including satellite GPS) provided.
Download itinerary
Enquire now
Got a little less or a little more time? No problem! Get in touch with our team today and let us know your requirements and interests and we'll get to work designing you your very own tailor-made New Zealand motorcycle tour. It's not just about the destination, it's also about the journey…