Although New Zealand is perhaps best known for its breathtaking scenery and natural wonders; as well as being a paradise for those wanting to make the most of the great outdoors, it's also a fantastic destination for food-lovers too.
From pavlovas and fish and chips to traditional Maori Hangi's, green-lipped mussels and whitebait fritters, the last few years have seen the Kiwis begin to rival the rest of the world as a must visit destination for anyone who enjoys good food (especially when you can pair it with such fantastic wines too!). Join us as we share some of our favourite dishes, destinations, and restaurants to sample whilst you're in New Zealand.
Kiwis are extremely lucky to have a wealth of incredible ingredients home grown on their doorstep. Beautiful lamb, vension, crayfish, shellfish and seafood are all abundant, and taste that much better due to the lush open pastures the animals are reared in, and the short distance and seafood has to travel from the ocean to your plate.
Of course, all of these ingredients go into some wonderful dishes, prepared by some excellent chefs (New Zealand is home to some of the most highly-regarded chefs in the world) and usually matched with some fabulous New Zealand wines too, but there are also plenty of slightly less glamorous, but equally as un-missable foods that Kiwis like to call their own.
The National Dish of New Zealand
So what do people actually eat in New Zealand? What, if any, is considered to be the 'National Dish'?  Rather than one single plate that the Kiwis are especially famous for, we've narrowed it down to a few of their most loved and enjoyed foods – foods that we've been introduced to on our travels, that just are Kiwi and that you're sure to experience and enjoy during your holiday. Sampling any or all of these dishes is a right of passage…
Pavlova
There are always arguments over whether the Pavlova originated in New Zealand or Australia, but all the kiwi's we have ever spoken to are quick to claim the fame! To try out a perfect example of this dish, visit Colenso Café in The Coromandel – It's the best we've ever tasted!
Hangi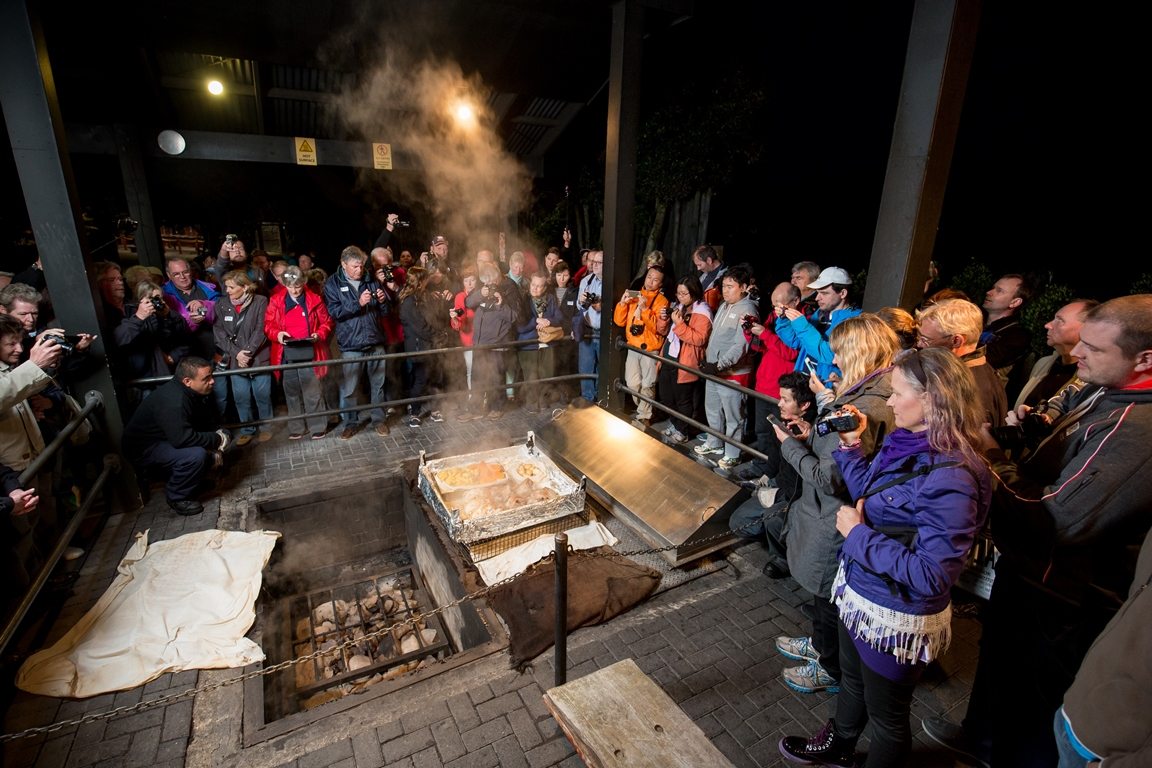 The Hangi is a traditional New Zealand method of cooking, where food is cooked in a pit under the ground, called a 'Hangi'.
We always recommend our travellers to visit Tamaki Maori Village in Rotorua where you can experience a wonderful Maori cultural experience that culminates in a traditional Hangi for your evening meal.
Lamingtons
Although Lamingtons are usually associated with Australia, they were actually 'invented' in New Zealand, and were apparently originally called 'Wellingtons'!
Keep your eye out for the delicious sponge cake available in most bakeries and cafes, coated in jam or chocolate they are covered in desiccated coconut, that apparently depicted the snow capped mountains of New Zealand.
 Mince Pies
Not the sweet kind that we associate with Christmas time, Kiwis love their savoury mince (meat) pies. You'll find them in a little food warmer at virtually every 'dairy' (Kiwi for corner shop) in almost all New Zealand villages, towns and cities. A hand held sized pie, they're a staple kiwi snack, enjoyed also at some of the best bakeries and even restaurants across the country. The best we've found are from Greenland Bakery and Café in Auckland.
Anzac Biscuits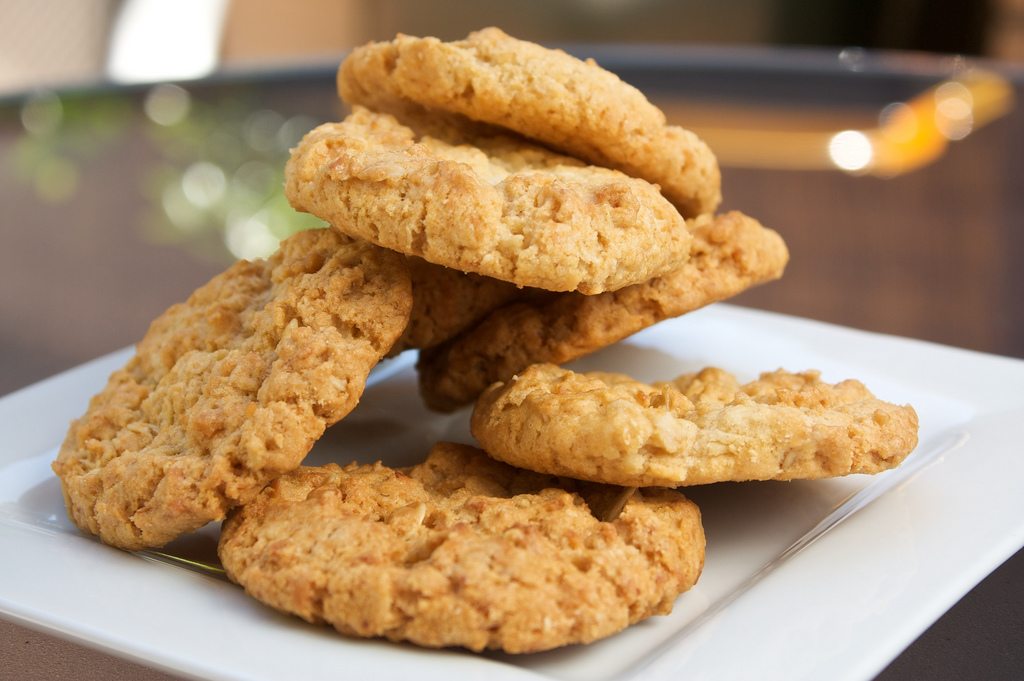 An acronym for Australia and New Zealand Army Corp, ANZAC biscuits have been part of New Zealand's food story for many years now. They were sent to husbands and sons fighting in WW1 by their families back home, using ingredients such as oats and golden syrup that wouldn't perish if they weren't delivered and eaten for a while and the name stuck long after the war was over. You'll find them at any bakery and most cafes across the country and they're easy and tasty to make yourself too – there's a great recipe that we often use here.
Whitebait Fritters
Tiny fish, cooked in a batter made of egg whites and a little flour – almost like a kind of omelette and usually served with lemon, salad and a tartar sauce, Whitebait Fritters are another fishy New Zealand treat. Unlike most of New Zealand's beautiful seafood, rather than coming from the Pacific Ocean, whitebait are fished in New Zealand rivers and are often referred to as a gourmet version of Fish and Chips!
Whittakers Chocolate
Whittakers is to New Zealanders what Cadbury is to us Brits (though, dare we say it, we think its actually better than Cadburys chocolate and regularly have it sent over to us from our New Zealand office to keep us stocked up!)
Chocolate makers for well over 100 years now; it's a creamy, smooth, completely delicious chocolate in a huge variety of flavours – the peanut slab is probably the most indulged in and famous – a definite must try while you're exploring New Zealand, and great to keep energy levels up on all those long walks!
Bluff Oysters
Said to be the most delicious in the world, Bluff Oysters are so named as they are grown in the water of Foveaux Strait, at the very bottom of the South island and the town of Bluff is home to the fleet of boats that go out to collect the oysters.
Oyster season runs from March until June/July and every year in May, the town of Bluff celebrates its harvest with a wonderful Bluff Oyster Festival, well worth a visit!
Green-Lipped Mussels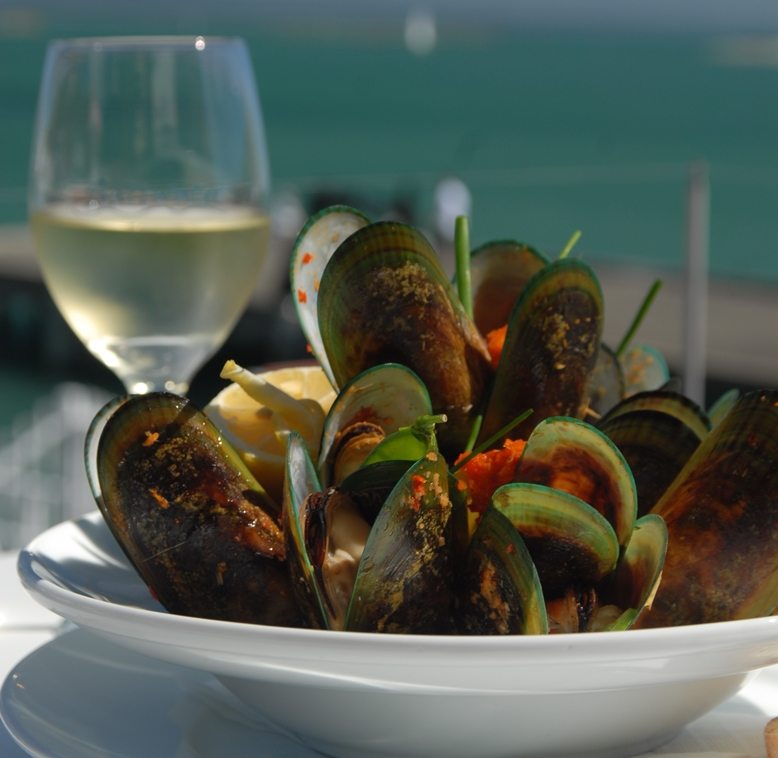 Another absolute must try on your trip – Green Lipped Mussels are not only very tasty, but more recently they've also been linked with helping reduce inflammation for conditions such as Arthritis and other joint problems.
Havelock is the centre of the green Lipped Mussel Industry, and you can take a Green-Lipped Mussel Cruise, out in the magnificent Marlborough Sound, where you can enjoy sampling the mussels, alongside a glass of cool New Zealand Sauvignon – Heaven!
Fijoas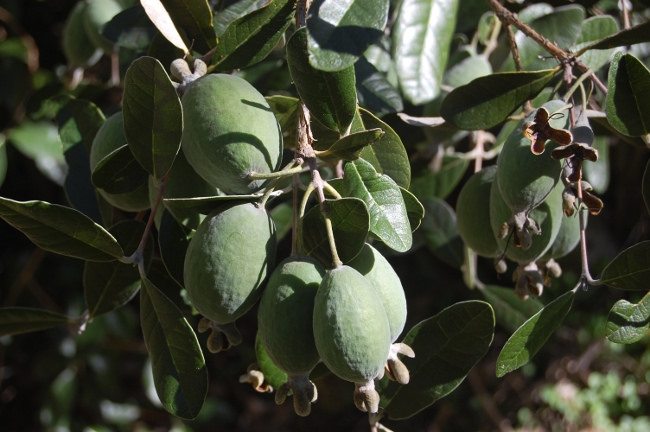 If you've never even heard of a Fijoa before – you're probably not the only one. We've never seen one anywhere other than in New Zealand, although they're actually native to South America.  A fruit that's quite unique, the nearest relation we can think of is a kiwi fruit – they're similar in size and colour, but they have a distinct, almost perfumed flavour, and are commonly found in all sorts of Kiwi baking. Similarly to a  kiwi fruit, you can scoop out the flesh to eat, or add them to a smoothie or a crumble. Their season runs from March until June every year.
Hokey Pokey Ice Cream
Vanilla ice cream, with little honeycomb balls stirred through it – it perhaps doesn't sound that exciting, but trust us it's delicious, and there's a reason it's the favourite flavour Ice Cream for Kiwis.
What to Eat in New Zealand and Where To Eat It
The Best Place to Eat Crayfish in New Zealand: Kaikoura
Kaikoura is almost as famous for its Crayfish as it is for it's whale population – the name itself actually means 'to eat crayfish' so you can understand why we argue that a visit to this seaside town isn't complete without a stop off at Nin's Bin; a roadside ' caravan'  that has the freshest, most delicious crayfish we've ever tasted.
The Best Place to Try Maori Hangi: Rotorua
Rotorua is home to some of the countries best Maori Cultural Experiences, most of which culminate in a Maori Hangi Feast for your evening meal. Many of our tours include a visit to Tamaki Village, which includes an opportunity to take part in traditional ceremonial rituals, watch powerful performances and listen to the stories that have been handed down through generations, before you sit down to feast on food cooked underground in the traditional way – it's a real experience!
Everything You Can Get Your Hands on at the Night Markets
Auckland and Hamilton have night markets on various evenings in the week, Serving wonderful street food, the only thing to be sure of is that you arrive with an empty tummy and your hands free to sample some of the culinary delights on offer.
If you're in Wellington, their night markets on a Friday and Saturday evening with food, live bands and cultural dance performances too.
And the Farmers Markets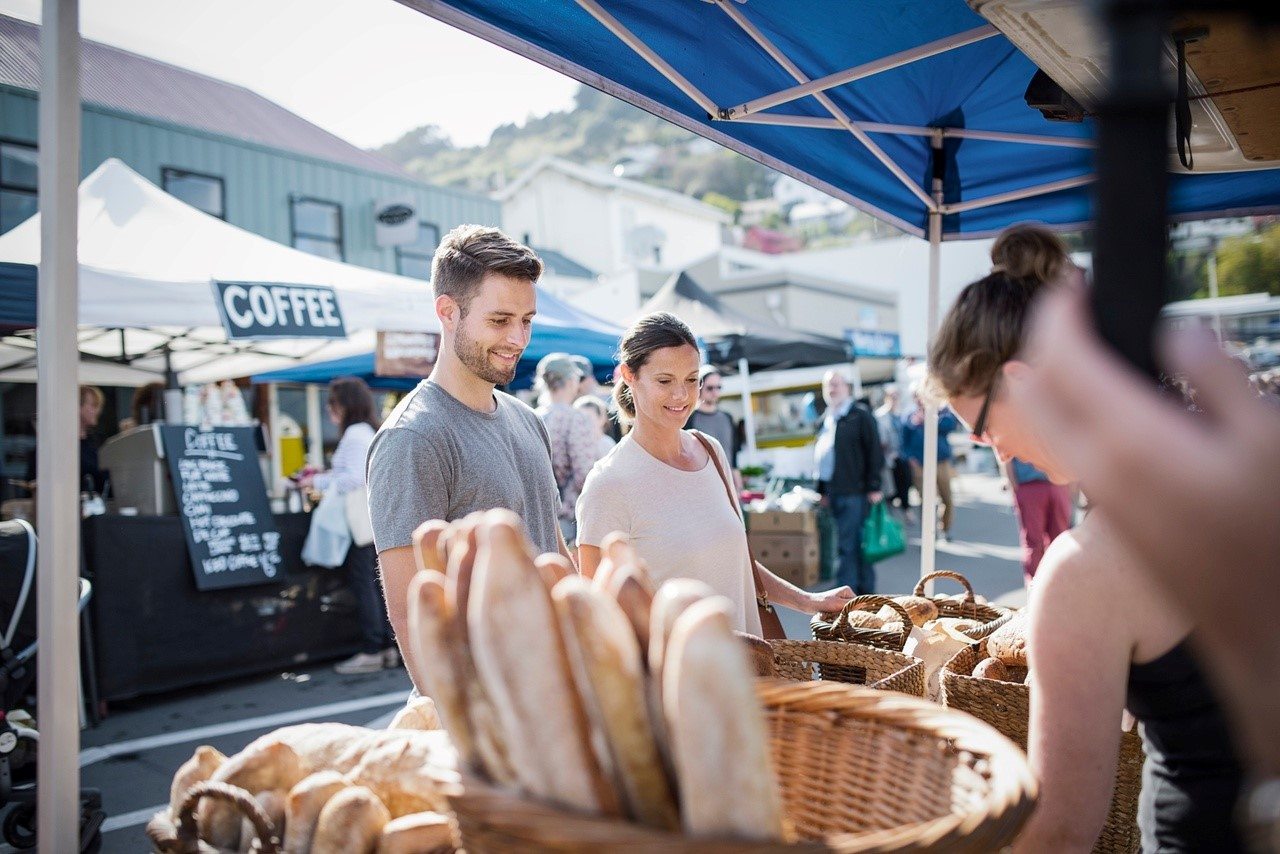 The Farmers markets in New Zealand are unlike any others we've ever been to. Our favourite is one held at the Hawkes Bay Showgrounds in Hastings on a Sunday morning. The Hawkes Bay region is such a hub for fantastic locally grown produce, and this weekly market is a true celebration of what the area has to offer. It's a great place to go to for a wander, to sample some great food, chat to the locals who have worked to hard to grow/bake/make it and stock up of a few treats for a picnic. After you've shopped you can sit back on the grass with a coffee and listen to the live music that's always played there.
Most decent-sized towns have a Farmers Market, usually on a Saturday or Sunday morning, other good ones include Clevedon (a 40 minute drive from Auckland) Matakana (North Auckland) Fielding (Near Palmerston North) Tauranga (In the Bay of Plenty)
The Best Place to Eat Mussels in New Zealand: Green Lipped Mussels in Havelock North
Visit The Mussel Pot in Havelock North for some incredible New Zealand Seafood. Famous for it's huge Green Lipped Mussels, the restaurant specialises in seafood and uses organic sustainable ingredients to create their dishes where possible, matching them with some super New Zealand wines and craft beers.
The Best Place to Eat Oysters: Bluff
The Bluff Oyster Festival is well worth a visit for foodies, and happens every May. It began as an opportunity for the town to celebrate the heart of the oyster harvesting season, but has grown over the years. Now, as well as lots of Oyster related activities, its also a celebration of Locally sourced and produced New Zealand food in general, and a real feast! It's a bit of a 'destination' but a great stop off to combine with a trip across to Stewart Island to explore some of New Zealand's more remote landscapes and wilder bird and wildlife.
Our Favourite Places to Eat in New Zealand
We all have our favourite places to dine in new Zealand, whether its a coffee and cake at a cafe, or a delicious meal in a restaurant with wonderful views to accompany a meal, here are some recommendations …..
Hooked on Marehau in Abel Tasman. Great views fresh food, amazing service
Relishes in Wanaka – Delicious food and friendly, super helpful staff
The Chocolate Frog café in Wellington – right by the beach, a wonderfully laid back spot for a relaxed coffee on a sunny day.
Logan Brown in Wellington – Housed in an old bank, this superb restaurant has a great atmosphere as well as top class food.
Looking for more recommendations for places to eat in New Zealand? Check out our post on the best restaurants in New Zealand as voted for on Tripadvisor!
For more information about planning your New Zealand holiday to ensure that you make the most of all the culinary delights on offer, drop us a line or give us a ring at our Southwell office where we'll be more than happy to help share more of our New Zealand food experiences and recommendations with you