Taupo is fast becoming New Zealand's second favourite destination for those looking for a bit of adventure on their New Zealand holiday behind Queenstown, but although it's popular for those wanting to try a bungee jump or a sky dive, It's also a great place to visit for walking, fishing, and soaking up a little more laid back culture and nature.
Situated on the edge of Lake Taupo – the largest inland body of water in New Zealand, measuring an impressive 616 square Kilometres – Taupo Township is a popular destination for those on their way to walk the Tongariro Crossing, or making a beeline for the magnificent Huka Falls.
Lake Taupo was created 2000 years ago by a huge volcanic eruption, and you'll find existing evidence of the lakes history if you visit the Craters of the Moon attraction. The lake itself offers a huge wealth of activities from sailing, kayaking and wakeboarding to its most famous pull – trout fishing.
What to do in Taupo
Visit Huka Falls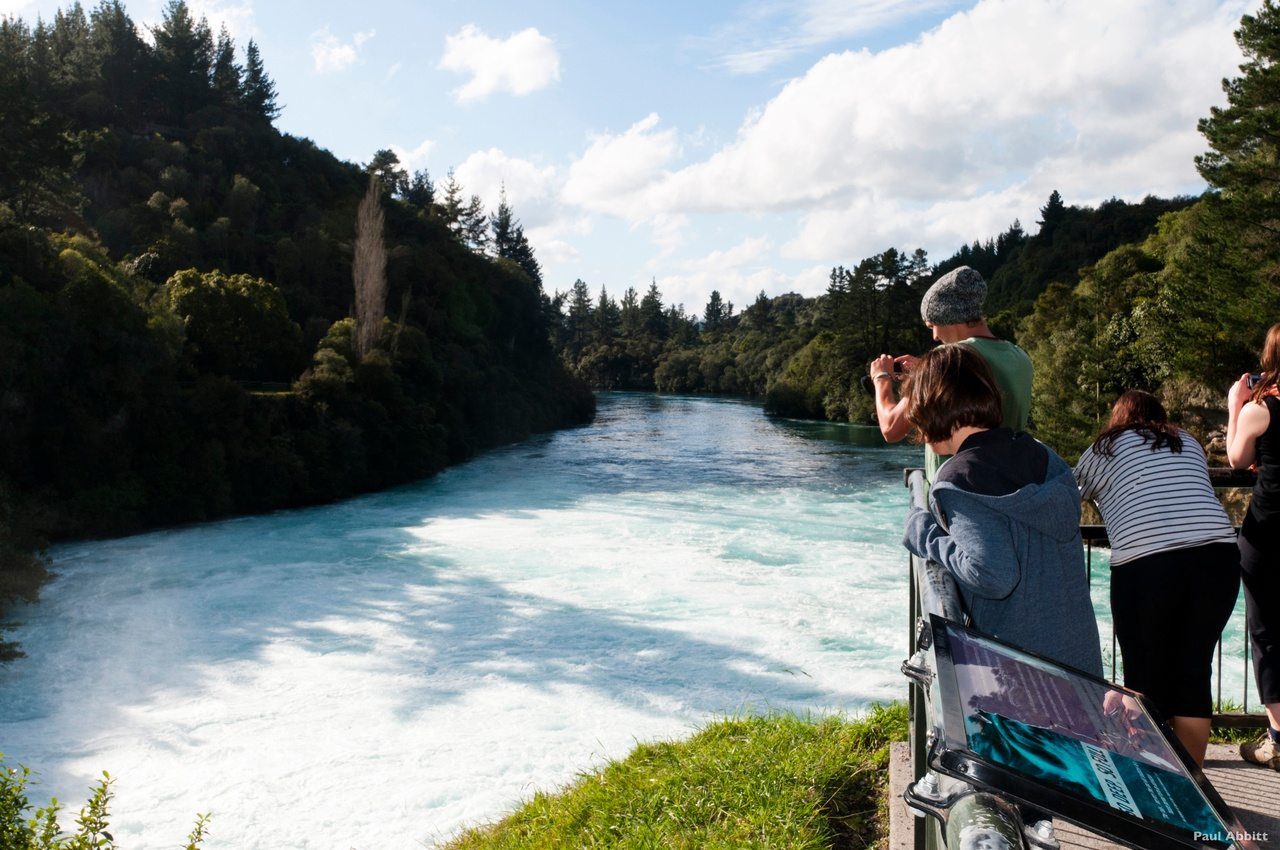 One of the most visited natural attractions in New Zealand; Huka Falls is 11m high, and a staggering 220,000 litres of water crashes down the falls every second. Created by the water flowing from the wide banks of the Waikato River narrowing through a volcanic ravine it offers a spectacular, jaw dropping display that's not to be missed.
There are lots of scenic walks and trails that take in the views from different vantage points offering some wonderful photograph opportunities and a chance to marvel at this natural wonder relatively close up!
Hike the Tongariro Alpine Crossing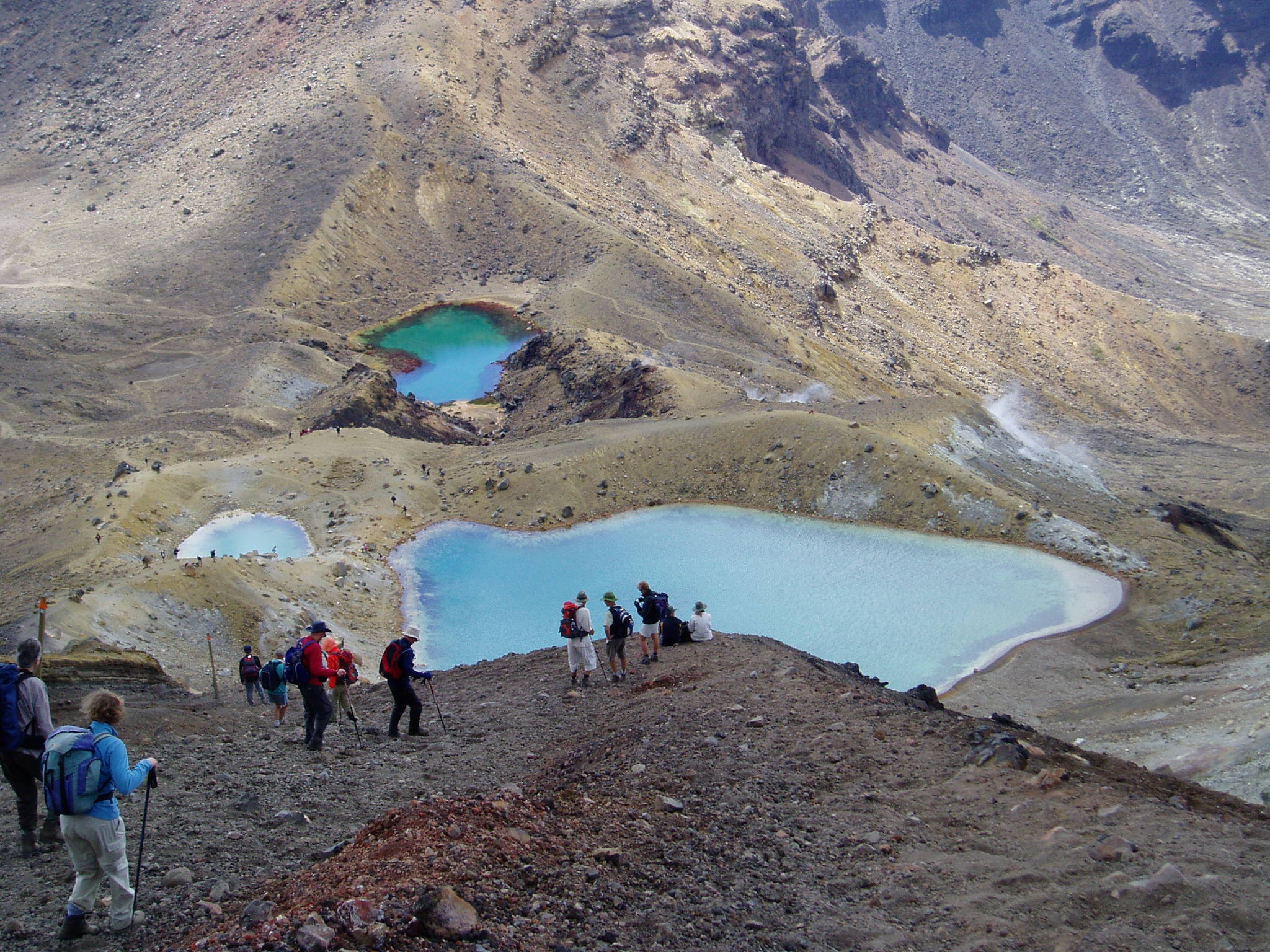 Hailed as "the finest one day walk in New Zealand", this is a stunning journey across the volcanic terrain of Mt Tongariro.
Among its highlights are steaming vents and hot springs , old lava flows , beautiful water filled explosion craters and stunning views .
20km in length, and taking on average around eight hours to complete, the hike takes you across mountains, through forests and over volcanoes' and is well worth the sometimes challenging route.
Go Tandem Skydiving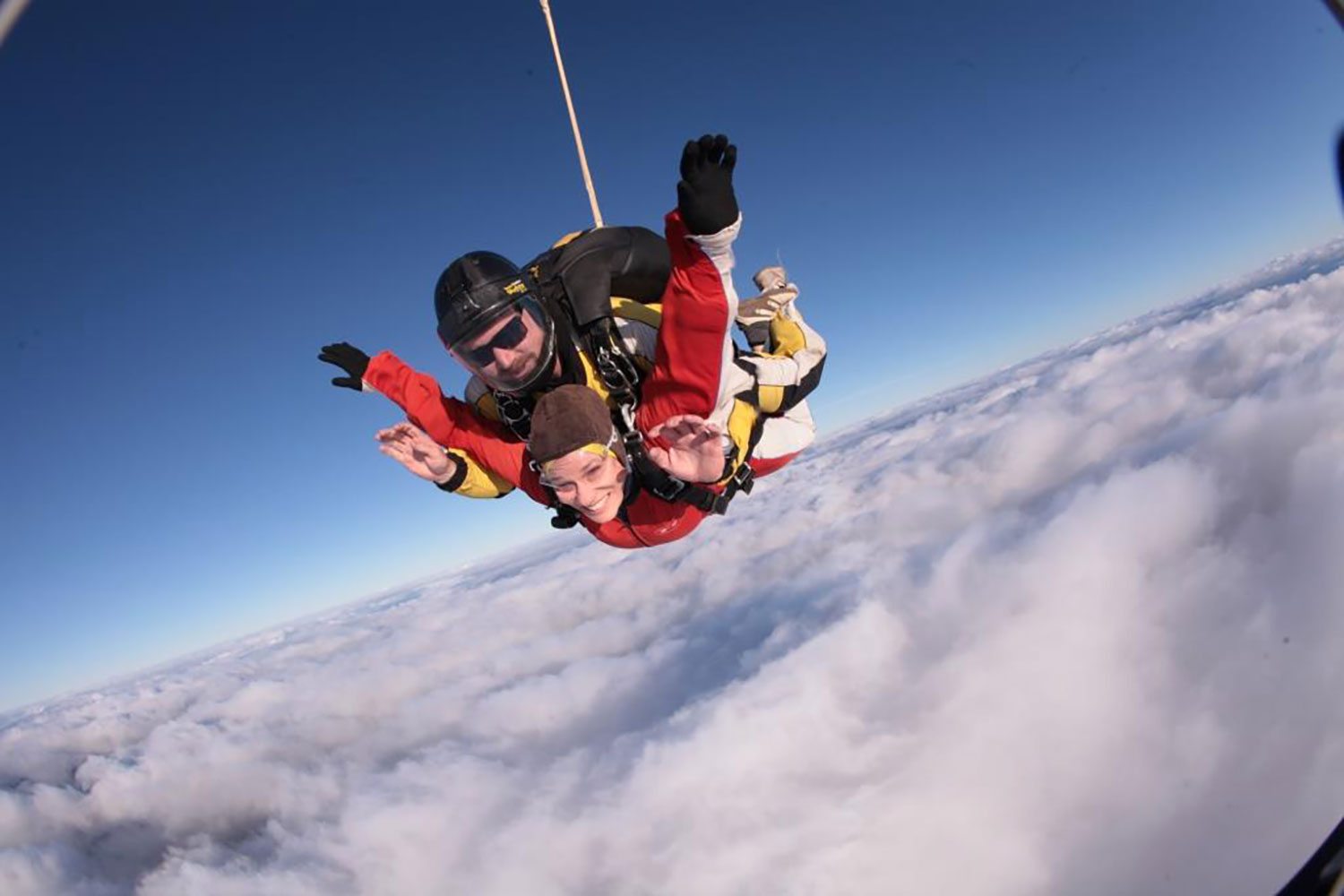 It's definitely not everyone's idea of an ideal way to spend an afternoon, but for those who enjoy heart stopping, adrenaline fuelled adventure a skydive over Lake Taupo is an experience not to be missed! With more than 3000 jumps taking place every year, we're clearly not the only ones that think so!
It's definitely not for the faint hearted, but the huge ear to ear smiles on skydiver's faces when they land says it all!
Try Trout Fishing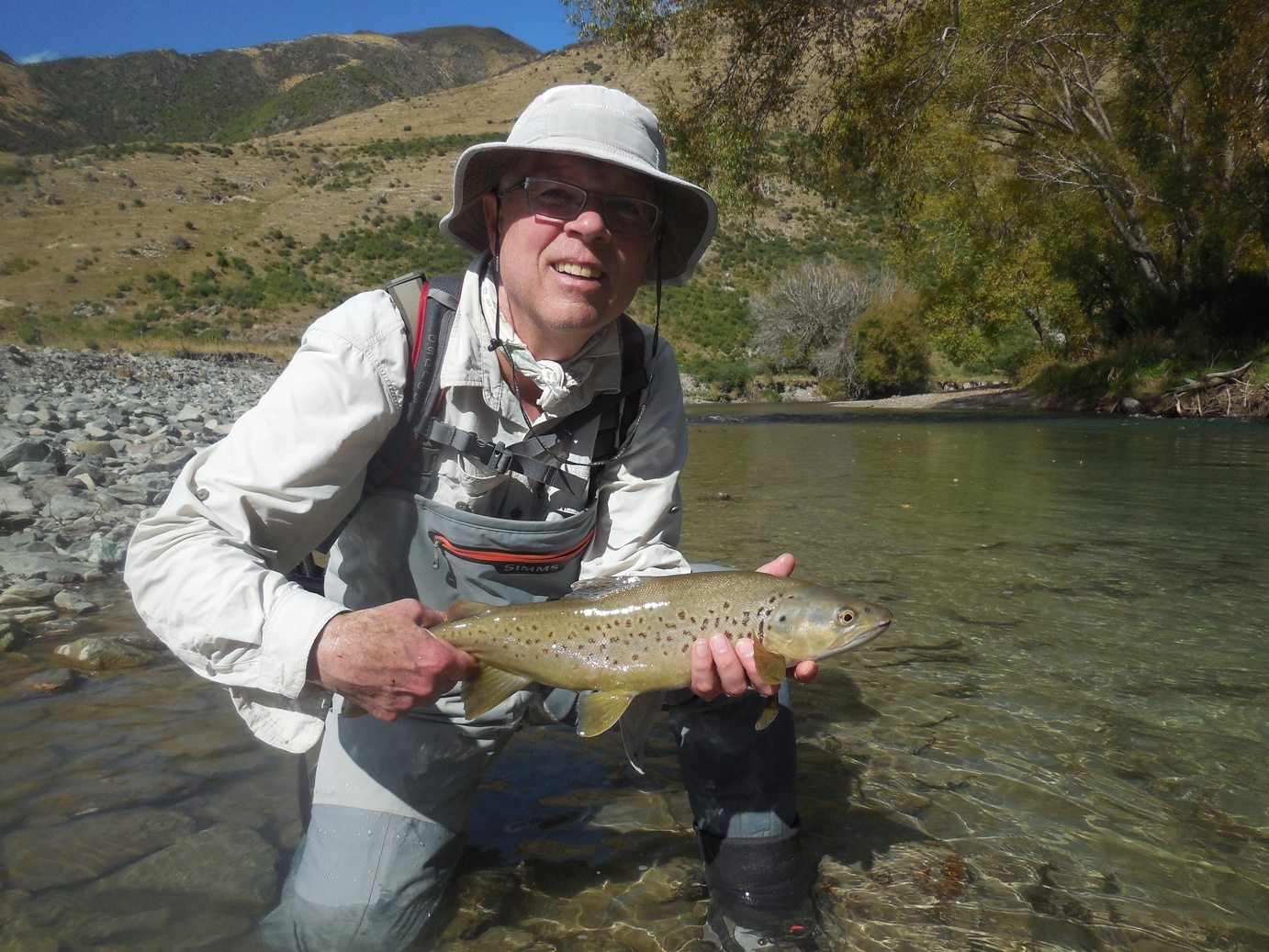 Undoubtedly the most popular activity on Lake Taupo is fishing – a real experience – with everyone ranging from novices to experts being catered for, and opportunities ranging from trips in small boats, to large boats, or even to combine fishing on the lake with helicopter flights and jet boating trips.  A popular option is fly fishing, visiting some of the tributaries of Lake Taupo that can only be accessed by water, and there are plenty of crayfish and whitebait in the lake itself.
Visit Lake Taupo Museum and Art Gallery
You'll find this fascinating little museum near the centre of town, and its exhibits help you to learn more about the early European history of Taupo, as well as explaining more about the huge volcanic eruption that created the Lake itself.
There are also regularly changing exhibitions by local artists and craftspeople that are well worth seeing.
Where to eat
Taupo offers a great variety of relaxed, casual cafes that are perfect for brunch or lunch, as well as some of New Zealand's best new restaurants where you'll find excellent food and a really high standard of service too. These are some of our favourites…
Spoon and Paddle
A great stop for brunch, this relaxed little café in the centre of town, is well known and loved for its friendly staff and excellent coffee.             http://www.greatlaketaupo.com/shop-eat-drink/listings/spoon-and-paddle/
The Bistro
Offering European style dining, The Bistro's menu is centred on seasonal, local ingredients with a relaxed and non pretentious service that has locals and visitors talking about it. We can highly recommend their ravioli, having sampled it on more than one occasion!   http://thebistro.co.nz/
Plateau
If you like New Zealand craft beers, this is the place to come to! Its contemporary warmth and relaxed vibe with an a'la carte restaurant and a cosy fireside lounge area, as well as offering outdoor eating when the weather's right.  With a great range of tap and bottled beers, and an extensive wine list, you'll be both well fed and well hydrated there! http://www.plateautaupo.co.nz/
Where to stay
Most of our travellers don't tend to stay in Taupo itself, but in the general area, perhaps choosing to visit Taupo for the day, but overnighting in Tongariro National Park – here are some of our favourite local accommodation option
Oreti Apartments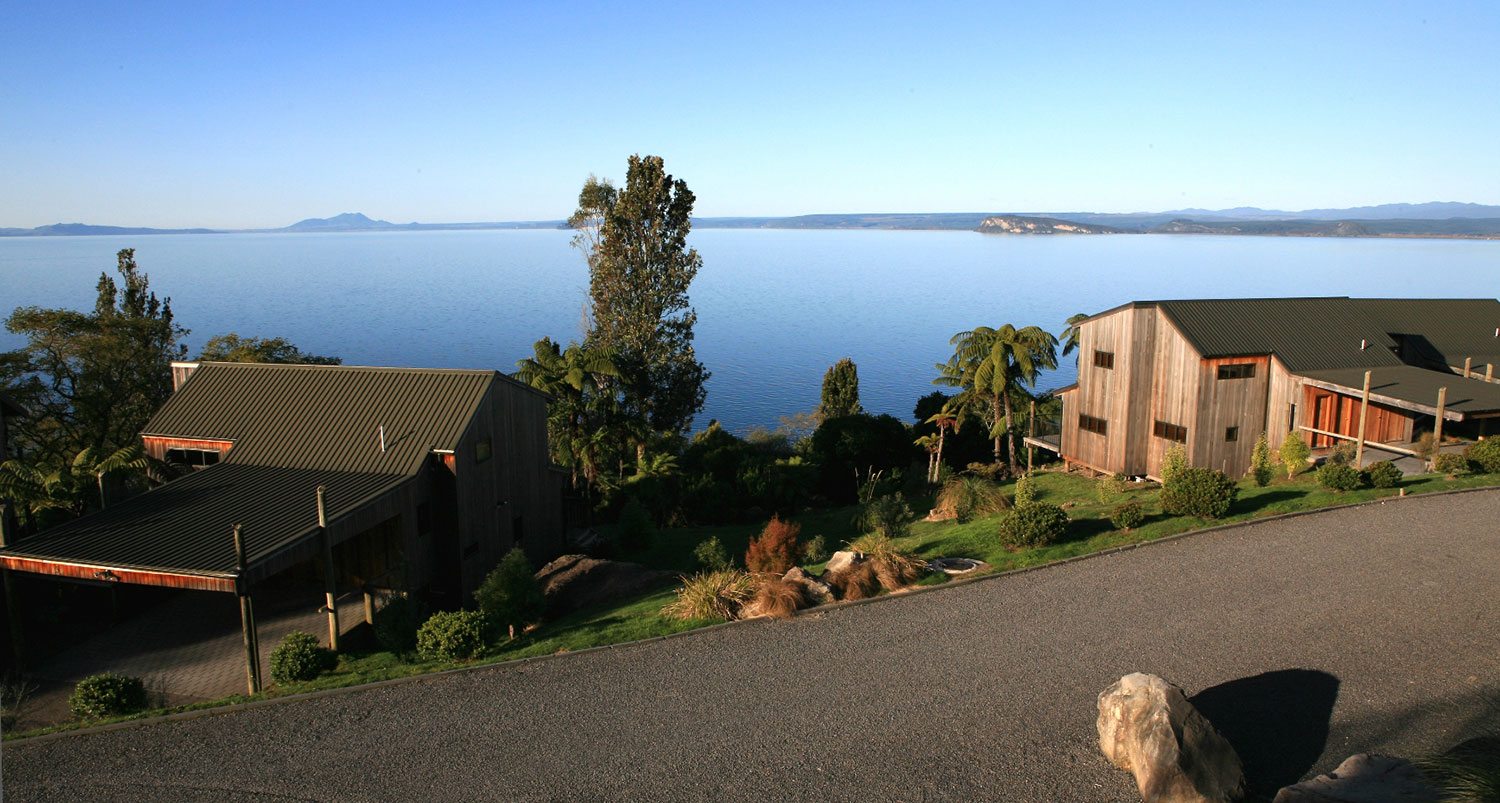 Oreti Apartment village is set on the southern shoes of Lake Taupo at Pukawa Bay enjoying stunning views of the lake and mountain range beyond. There are several bush and lakeside walks right on the doorstep, and it's a great place to relax and recharge after a busy day of Taupo activities!
Chateau Tongariro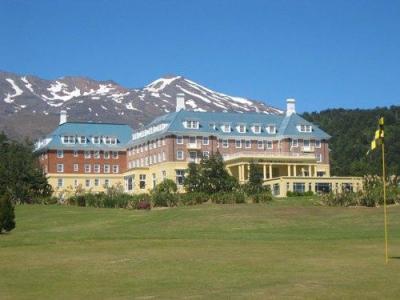 Chateau Tongariro is located right in the heart of Tongariro National Park, and its old world grandeur is always popular with guests. We love taking time out in the complimentary in house cinema and settling down to watch a movie.
Skotel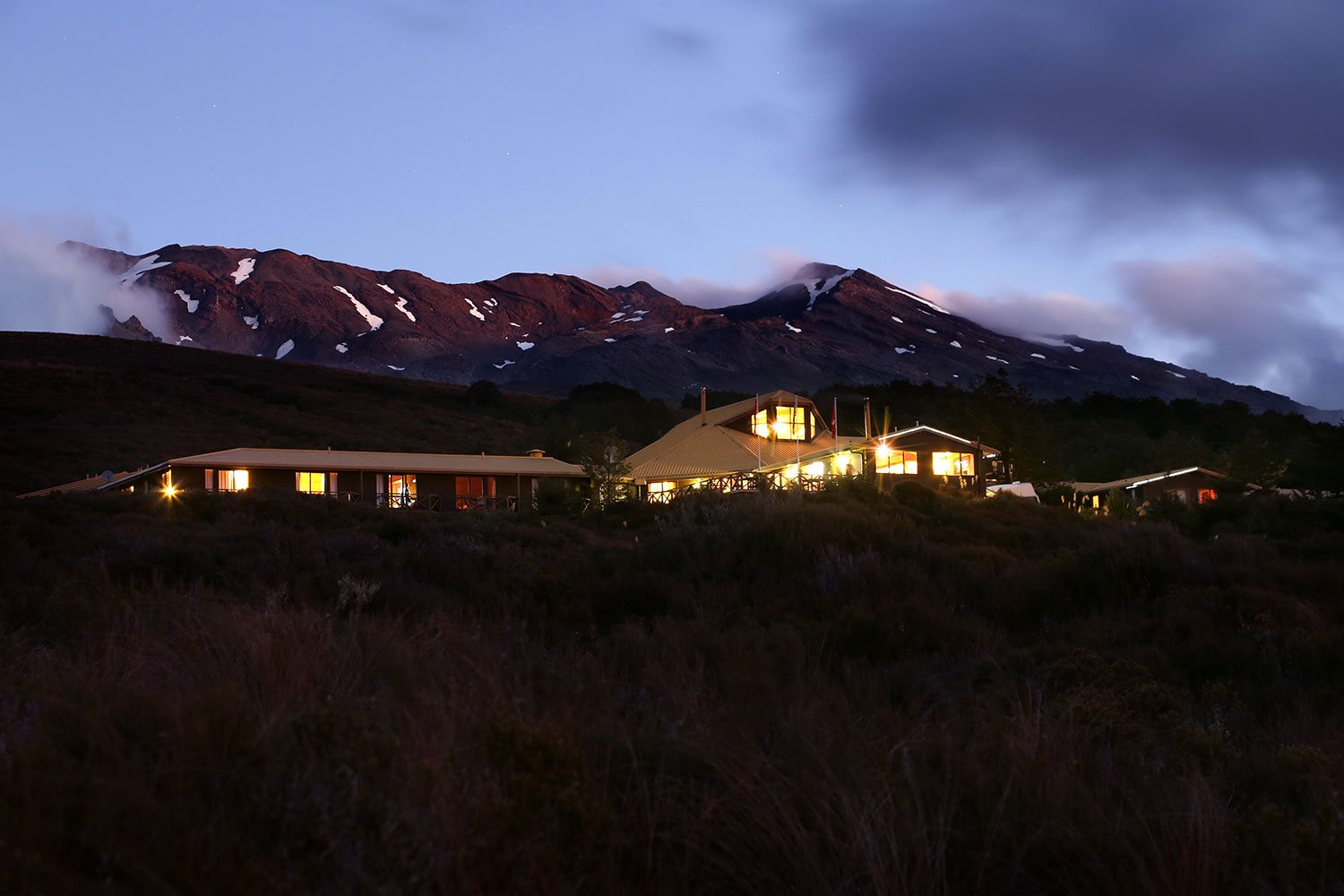 More of an Alpine lodge than a hotel, Skotel has lots of different accommodation options, and it's location right on the edge of Whakapapa village makes it a perfect base to explore the area from. A great starting point for the Tongariro Crossing.
Want to know more about Taupo and what is has to offer? Do get in touch to have a chat with one of us.
Whether you're a first-time visitor or making a return, there's no-one better equipped to help you plan the perfect holiday to New Zealand. Every member of our team has travelled the country extensively, with many living there for several years.
We specialise in planning tailor-made itineraries focused on your personal interests. Want to have a chat? Our team are always on standby ready to answer any questions you may have. Talk to someone now by calling +44 (0) 1636 813 544. Alternatively, email us at or use our handy contact form to request a call back.