A country as beautiful and varied as New Zealand is a joy to visit whatever time of year that you go. But April, in the thick of autumn, is probably the perfect time for an understated yet still awe-inspiring holiday here.
Autumn really show the breathtaking beauty of New Zealand at its best advantage. The bright, clear days make exploring the landscape a pleasure all across the country, and the turning of the season sets the already stunning scenery aflame.
Though the foliage of New Zealand was originally evergreen, visitors and migrants over the years have brought a range of deciduous trees such as oak and maple to the country. In autumn these trees spark into vibrant reds, golds and yellows and an extra dimension of awe is added to the landscape.
In particular around Central Otago and Hawkes Bay, the contrast between the crisp, blue skies and the flaming trees is a wonder to see.
Another bonus for this month is that flights to New Zealand in April tend to be less costly. It is officially off-peak, and this means attractions may also be cheaper and less crowded. If you want to join tours or book tickets, you may have more luck last-minute than in other months as well.
You don't need to worry about empty or boring excursions though. New Zealand school holidays often fall in April, ensuring family attractions bustle with energy and life from the locals.
What's New Zealand Like in April?
April days can be crisp though they are rarely cold. On the North Island, highs will still hit 18 – 20 degrees and in the South Island will still reach 16 – 18. Just beware that the clear nights are a lot cooler, going as low as 6 degrees in the South Island and 9 degrees in the North.
In this part of the world though there is little fear of April showers, as the month still boasts long sunny spells. Wind tends to be minimal as well. This makes it a great time to be out exploring the terrain, though it is advisable to have a jumper or coat close to hand and keep an eye on the forecasts.
New Zealand does have quite changeable weather all year round, so it pays to think ahead if you're tackling long distances outdoors.
What To Do in New Zealand in April…
April is one of the country's shoulder seasons. This gives it distinct advantages on a visit. Queues are a little shorter, places a little quieter and costs a little cheaper, giving you the opportunity to cram loads in to your trip.
You might actually find it tough to narrow down your choices, so here's our pick of New Zealand activities in April:
Hit the trails (hiking and biking)
Take a train ride
Seek out a botanical garden
Find a festival
Go fishing
Explore the Beautiful Landscapes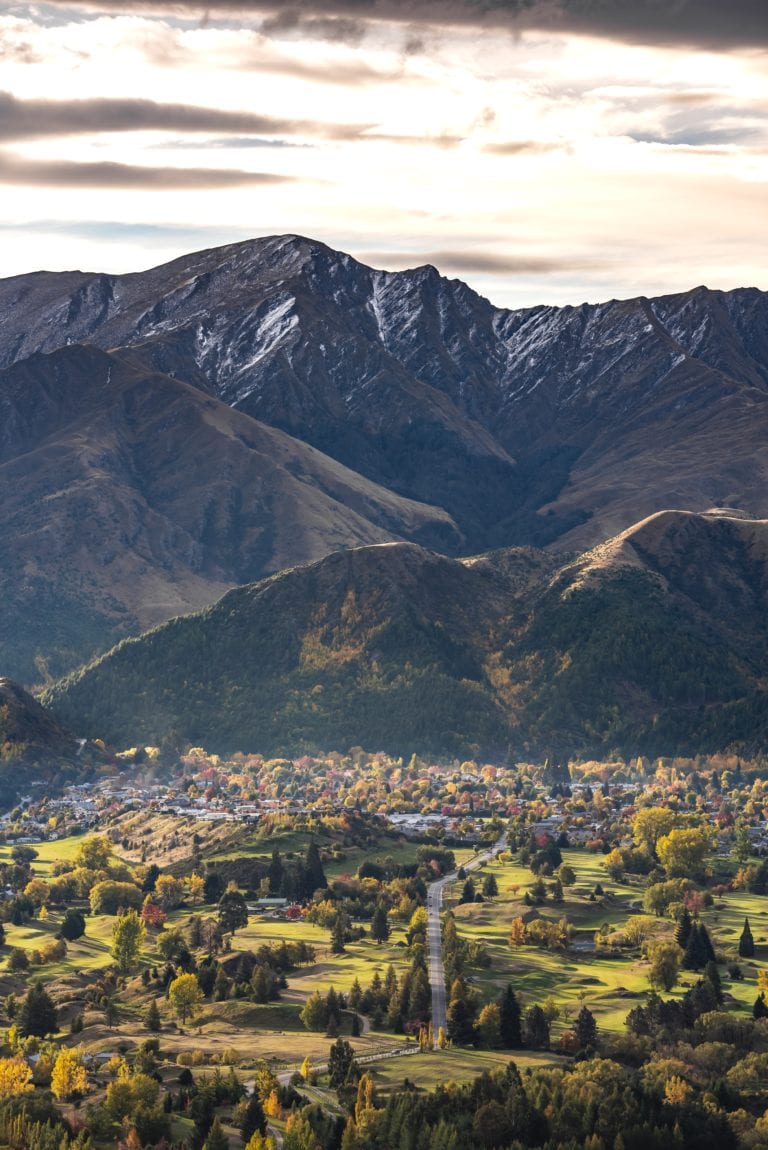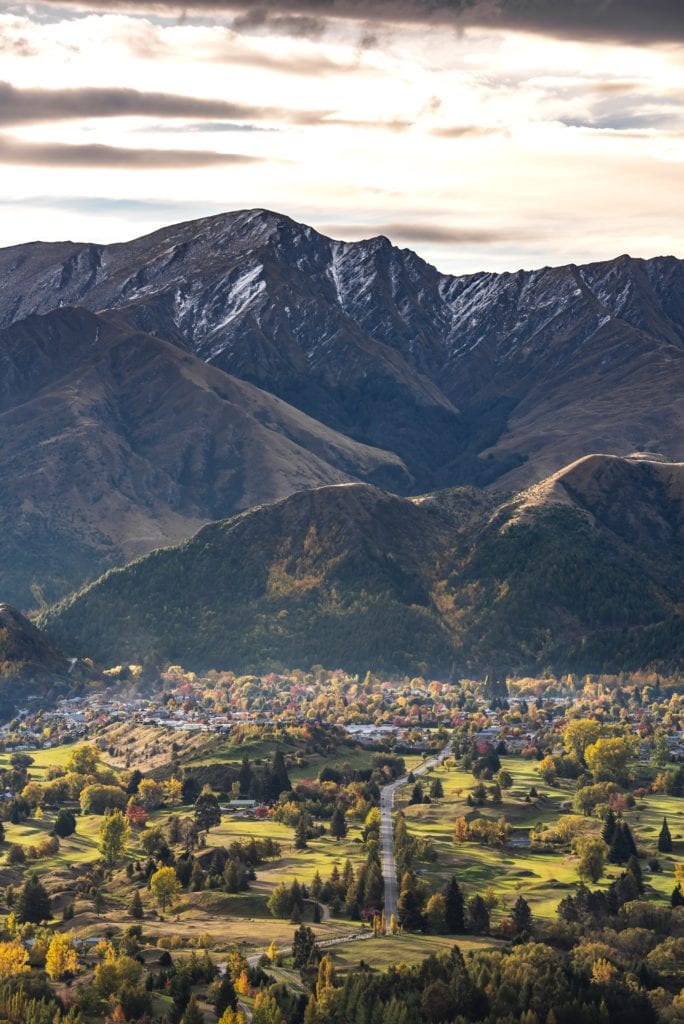 The New Zealand April climate makes autumn the best time for the exertion of exploring the landscape.
The moderate temperature and clear skies provide the perfect conditions for hiking or cycling around a country that is basically one massive area of outstanding natural beauty.
If you're looking to tackle one of the country's many hikes, you'll find yourself thankful for the cooler weather. Head to Roy's Peak or the summit of Mt Maunganui and you will still have a more comfortable climb and still be rewarded with a brilliant blue sky, panoramic views and plenty of photo opportunities.
Don't miss the vibrant autumn colouring that paints the country on your walks. Head to Wanaka, Arrowtown and Queenstown on the South Island, or Hawkes Bay in the North Island. Here, the trees are at their most rowdy, giving an inspiring background to any trail you take.
Take a Train Ride
If you find the thought of all that exercise a bit too much, the country is criss-crossed with epic train journeys.
From half-hour short hop's to day-long expeditions, there are plenty of journey options if you want to admire the landscape at speed. Check out the Kiwirail website in particular, to find out about their world famous scenic journeys. Available on both the North and South Islands, these could be the most comfortable New Zealand tours on offer.
Seek Out Botanical Gardens
If you want to experience the colours of the season without losing the reassurance of human maintenance, New Zealand has plenty of lush botanical gardens to see.
Hamilton in particular has an award winning garden which still looks lovely in autumn, or try Rapaura Watergardens, The Coromandel.
This tranquil water garden will still be in bloom at the start of the month but, even on days when the flowers are fading, the meandering walks amongst the running water and evergreen foliage is still a calming, lovely way to spend your time.
Find a Festival
If you find yourself on the South Island in April, make sure to head to Arrowtown in Otago, for their autumn festival.
Europeans flooded the town in the 1800's, seeking gold, and left behind their own treasures in the form of european trees that ignite every autumn into a riot of reds and golds. The locals celebrate this legacy every year with the variety of events that make up their autumn festival.
There's shopping opportunities at an arts, crafts and food market and exhibitions by local and national artists. Street performers line the roadways, and a whole host of workshops are arranged on everything from circus arts to dancing.
If you want to explore the lovely town, you have a pick of guided tours lead by the people who know the town best – those who live there.
Alternatively, if you're staying on the North Island for your trip, the Cambridge Autumn Festival offers an equally varied programme.
Go Fishing
Okay, so this last one is kind of niche, but if fishing is your thing, April is a brilliant time try it in New Zealand. The country's waters are cooling after the summer heat, which welcomes back a range of species. Inland, an abundance of trout and salmon can be found across both the North and South Island. While offshore, the North Island has some of the biggest-recorded swordfish in the world.
If you're in need of more guidance, there are fishing days and tours bookable across the country.
What to Pack for New Zealand in April
Versatility is the watchword when you're packing for New Zealand in April. With all the activities on offer and terrains to explore, you want to make sure you have luggage that a scout would be proud of.  Make it an aim to pack for every eventuality.
The warm days, cold nights combination puts the concept of 'packing light' into shaky territory. If you want to be comfortable at all times, we recommend a collection of lightweight clothes that can be layered and stripped as the effects of exertion or the weather dictates.
Try to avoid too many formal clothes. Men in particular should stay away from suits and ties. New Zealand is a very casual country, particularly in the South Island and you could find yourself sticking out if you rock up looking city-smart.
Finally, here are some specifics you definitely shouldn't leave home without:
Sunscreen
The O-Zone layer above the New Zealand is incredibly thin, and those crystal clear skies can leave you exposed even when the wind chill factor whips the sun's heat away.
A Waterproof Jacket
Although New Zealand is generally dry in April, it won't hurt to be prepared. A waterproof will also provide great protection against the wind, something you will be thankful for when you venture out into the rural wilds.
(Comfy!) Hiking Shoes
It would be a terrible shame to miss the majesty of your stunning surroundings just because your blisters are burning! Throw in warm, quick-drying socks as well and keep your thoughts focused on scenery.
Zip-Off Trousers
Again, the weather can be quite changeable, even in autumn, so if you're spending a whole day away from your luggage, convertible trousers could come in handy.
There's no denying April is an excellent month to explore New Zealand. We hope this post have given you plenty of information, ideas and inspiration. There is so much to see, so much to do, and visiting in autumn makes it that little bit more do-able.
Featured Photo by Peter Blair on Unsplash