New Zealand is a country where sports fans will find an appealing combination. The first component of this happy mixture is a widespread and voracious appetite for sports of all kinds; the second is a series of expansive and gorgeous settings in which to watch them.
Whether you're looking to enjoy a round or two of golf, or to watch the All-Blacks do battle on the rugby field, there's something for everyone in this part of the world.
Of course, what's on offer will vary according to the time of year, so you might want to plan your holiday around the seasons of the sport you're interested in.
Today, we examine New Zealand's sports calendar to see when you should visit based on your sporting interests.
Rugby Season: August to October
The country's most popular sport, naturally, is rugby union. Domestically, the sport is split into four tiers of competition. At the very summit of this hierarchy you'll find nationally-representative sides, the famous All Blacks, and their 'junior' and Maori counterparts. These teams regularly play in international tournaments, as well as entertaining foreign international sides.
At club level, you'll find two fully-professional competitions, a further non-professional nationwide competition, and a regional one in which amateur clubs compete with their neighbours. It's the two topmost leagues, the premier and championship divisions, that draw the largest crowds.
If you're looking to take in the national sport as the locals see it, then it's worth watching a professional game during your stay. The season runs for eleven weeks, during which each team in each of the seven-strong top leagues plays ten games. Six against the other teams in the division, and then four against teams from the other one. This helps to keep local rivalries in good health, while keeping things as competitive as possible. You'll be able to track down tickets to the various games through the websites of the clubs involved.
Of course, the best rugby-playing talent the nation has to offer is drafted into the All Blacks team. You'll be able to secure tickets to see them via the (reassuringly black) All Blacks website.
Need to get up to speed with rugby in New Zealand? Give our "bluffer's guide to rugby in New Zealand", a read. 
The New Zealand Open: March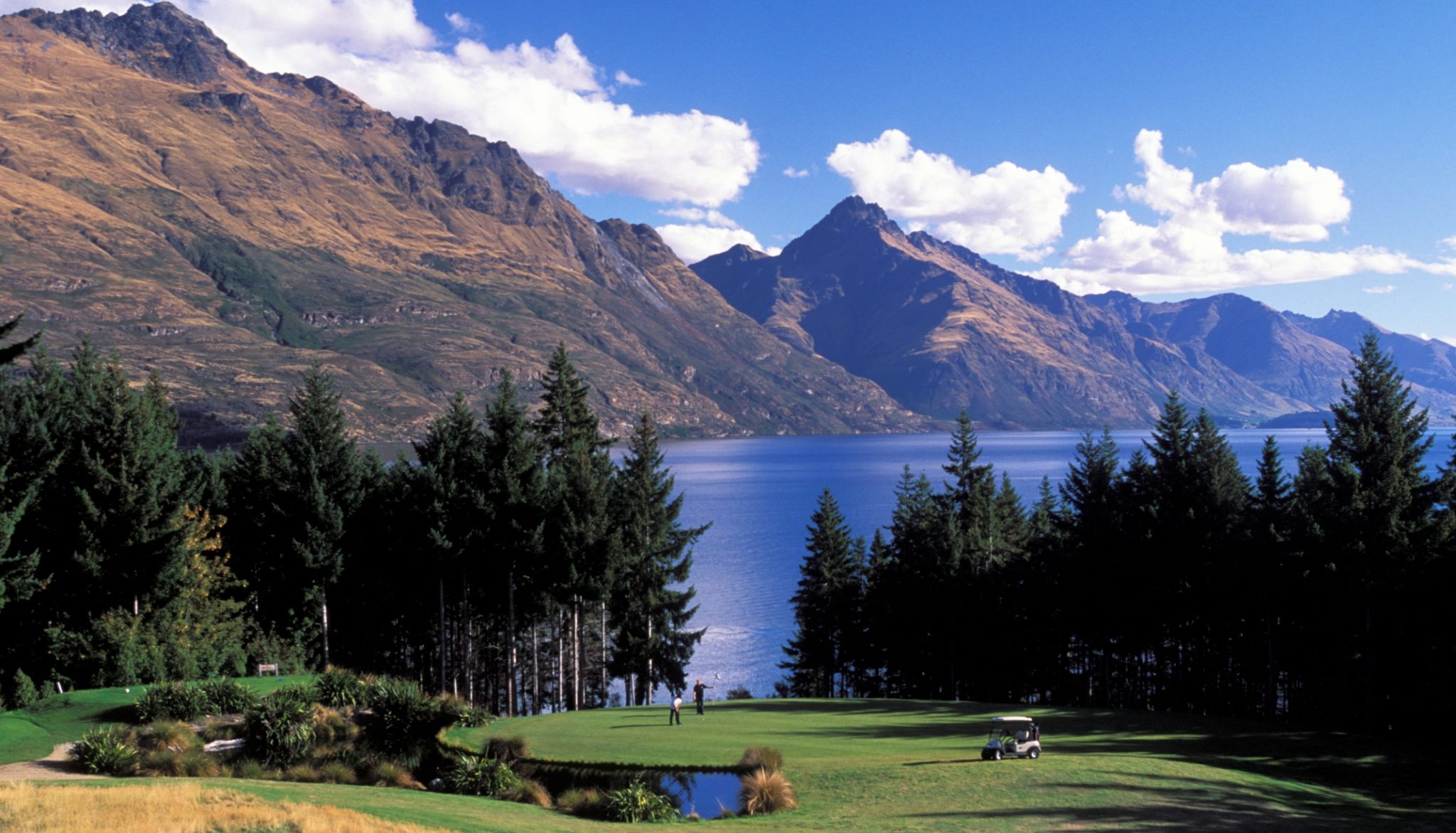 Another sport for which the country is well-known is golf. And, when you look at the sprawling, lush landscape available for New Zealand's golf-course designers, it's perhaps little wonder. There are golf courses scattered across the country available for tourists to whack a few balls around. But if you'd like to see top-quality golfers in action, you'll want to time your trip to coincide with the country's foremost tournament, the New Zealand Open.
For almost a century, the New Zealand Open has hosted golfers from across the country and beyond. Since 2014, it's been held in a pro-am format, which has seen amateurs being paired with professionals for the first two rounds before a second-round cut. The tournament provides a fantastic few days out for golf fans – but it's still riotous fun even if you're only casually acquainted with the sport.
The venue of the New Zealand Open has changed fairly regularly over the course of its existence. The most recent tournaments have been held in Millbrook Resort, which covers two-hundred hectares of a glacial valley known as Wakatipu basin, and in The Hills, another course just around the corner. If you're interested in scouting the courses themselves, you'll find a comprehensive hole-by-hole overview of both The Hills and the Millbrook courses on their websites. Tickets are available online, and cost just $60 for all four days.
Auckland Cup Week: First Two Weekend of March
The Auckland Cup week is the most significant occasion on the horse-racing calendar in New Zealand. It runs between the first two weekends of March, during which you'll get a host of races, and all of the associated fine food and drink. There are a number of different tickets available – ranging from general admission, to stand and hospitality-area access.
The Auckland Cup is held in Ellerslie racecourse, which is named after the suburb in which it's situated. There's a long and rich history of horseracing here, with the first meeting taking place in 1874 – when it took Auckland's natives several hours to reach Ellerslie by carriage. Nowadays, you can get from the centre of Auckland to the racecourse in just a few minutes – so you've no excuse not to attend!
This particular occasion isn't as expensive as you might think. You'll be able to save on food by taking along your own picnic and soft drinks – but not your own alcohol, which you'll need to purchase onsite. It's worth bearing in mind that there's a dress-code to adhere to if you're going to be entering the hospitality areas – and jeans are strictly forbidden. They're a little more forgiving of general-admission attendees, but you'll still want to be sure that you're dressed smartly. Trainers are to be left back in your hotel room!
If you're a fan of racing, of course, then this is something that you'll expect – and probably welcome! Pick up your tickets online here.
Auckland Darts Masters: June to August
Since 2015, Auckland has been one of the stops on the World Series of Darts tour. If you're a fan of this particular sport and you're paying Auckland a visit, then you'll want to squeeze this particular tournament into your stay in the country.
The precise date for the occasion varies slightly depending on the year. The first took place in August, before moving to June in the following year and then back to August the year after. You can rely on it to take place during the New Zealand winter, however – when more active outdoor sports aren't quite as popular. Tickets for the Auckland Darts Masters are available via the Professional Darts Corporation website. You'll pay slightly more for a table ticket than you will for a tiered one – but the pleasure of getting a little closer to the action is sure to be worth a few extra dollars!
The Auckland Open: January
The Auckland Open is among the first tournaments on the international tennis calendar, and serves as a warm-up tournament for the Australian Open. It often attracts some of the world's biggest stars, who'll play some lesser-known names as they look to build their fitness for the grand slam. If you're a fan of Tennis and you're in the Auckland Area for the New Year, then why not stick around and take in a few international stars in their natural habitat – as well as a few promising up-and-coming players who might be big news in years to come?
Tickets usually go on sale early in September, and the tournament is split into two phases, with the women playing in the first week and the men in the second. The best value tickets are probably ground passes – which will grant access to everything except centre court; they're to be had for $20 for all sessions. If you absolutely must watch the biggest names that the tournament has to offer in the final few games of the open, then centre-court tickets are probably indispensable.
The Winter Games: End of August to Early September
Thus far, most of the games we've covered are best played during the height of summer. But there are other sports that demand quite different conditions. If you're a fan of snow sports, then New Zealand has a tremendous amount to offer. Like Canada, it combines the twin virtues of having an abundance of snow-capped mountains and an English-speaking populace.
The most notably winter games are called, imaginatively, the Winter Games NZ. They take place in the Southern Alps on the South Island, and play host to a varied roster of Olympic, Paralympic and x-games sportspeople. New Zealand's snowboarding culture is, much like its surfing culture, in rude health. You'll therefore be able to take this occasion as a chance to see the best gravity-defying stuntwork in a host of ramp and halfpipe competitions, in which participants fling themselves high into the air, rotate several times in mid-air, before landing gracefully on the powder (or, in some instances, landing not-so-gracefully).
As well as the events themselves, you'll also get a raft of entertainment to see you through the night. Apres-ski comes in the form of a range of venues and bars, each of which is bristling with high-quality bands, DJs and alcohol. If you're looking to enjoy a fantastic nightlife outside the country's big cities, then the Winter Games provide an opportunity to do exactly that.
The games themselves kick off toward the tail end of August, and run through to September – by which time the Kiwi summer should be well and truly on the way. Why not wave goodbye to the winter in the most spectacular setting possible – by enjoying a smorgasbord of winter sports amidst the snow-capped peaks of the South Island?
Interested in incorporating some of these fantastic local sports events in to your holiday to New Zealand? Get in touch with our team today and we can start planning your perfect, tailor-made, itinerary, today!