This post covers just some of our favourite New Zealand spots that were immortalised in the Lord of the Rings trilogy. A country this big, a trilogy this rich, there are plenty more places to see and they are all pretty breathtaking.
Whether you're a die-hard fan, or someone looking to structure a sightseeing holiday, follow in the footsteps of a team of native, knowledgeable Kiwi film producers and take a Middle-Earth tour of New Zealand.
When a country has landscape as gorgeous and as varied as New Zealand, of course it's going to catch people's eye. It's no wonder it has stolen the show as the shooting location for several movies.
In particular, director Peter Jackson didn't just choose to set his fantasy film adaptation of Lord of the Rings in New Zealand because it's he was born there (though he is a kiwi!)
He chose it because he saw, in New Zealand's breathtakingly stunning scenery, the only possible place to match with Tolkien's epic, beautiful and terrible vision for Middle Earth. From the snow-tipped spines of its mountain ranges to its vibrant woodland and sweeping rivers: New Zealand is every bit as fantastic, every bit as epic as Middle Earth.
(In fact, it was such a perfect match that from all three films, only a single scene was shot outside of New Zealand, and that was simply because they couldn't find a waterfall high enough!)
This post is our guide to some the most memorable locations featured in the Lord of the Rings Trilogy. We'll cover where they are in New Zealand, where they are in Middle Earth and what you can expect if you decide to stop by for a visit.
For fans, this may just be putting scenes to names but even if Elves, hobbits and Gollum's aren't really your thing, read on. The locations we've picked are beautiful in their own right, and well worth seeing even for LOTR newbies!
Lord of the Rings Filming Locations in New Zealand
Matamata: The Shire and Hobbiton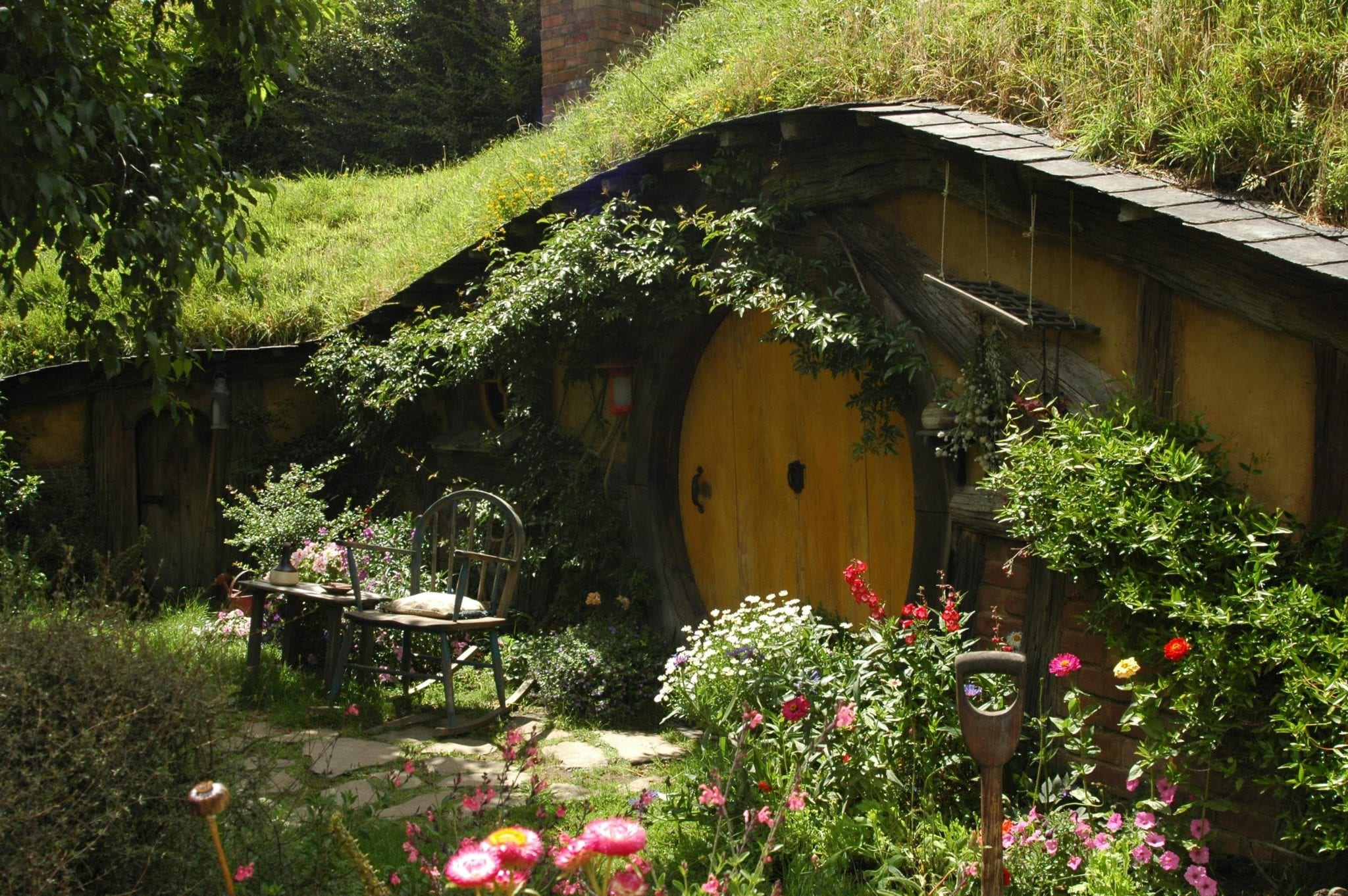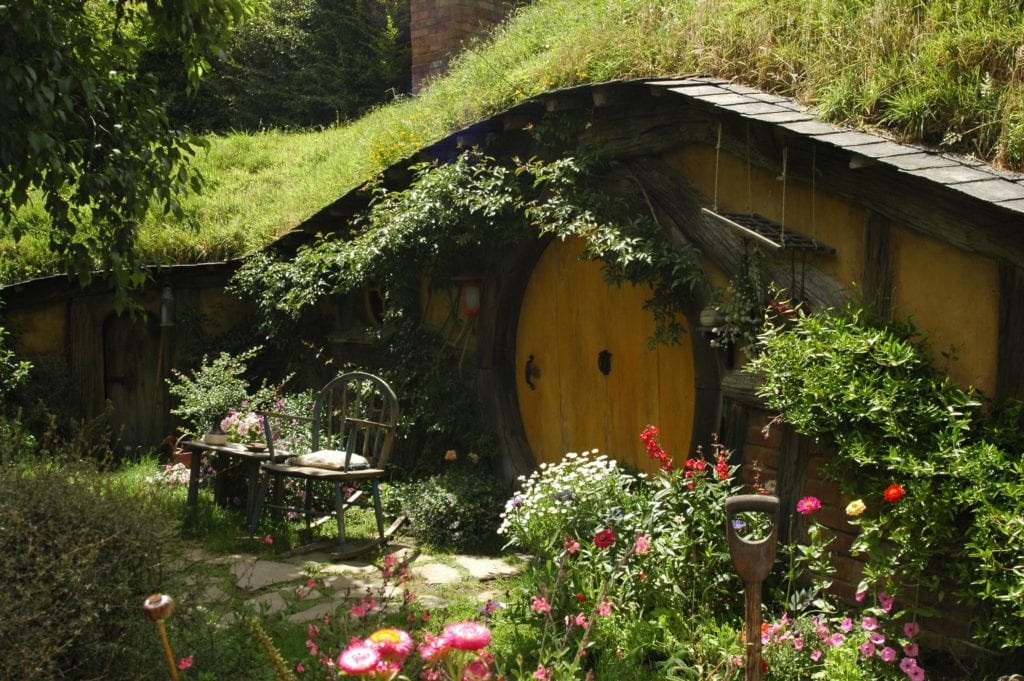 Director, producer and hobbit-enthusiast, Peter Jackson knew exactly what he wanted when he sought the location for The Shire, home of the hobbits. 'Warm, comfortable and […] lived in' was his vision and he found it in the rolling hills of Matamata, in Waikato on the North Island.
This iconic set was so loved, that after filming for the Hobbit wrapped, the set was left standing. This unique place should be the first stop for any LOTR fan seeking a slice of Middle Earth.
It isn't the cheapest trip on our list. It's about $84 for a standard two-hour tour, but it is an absolutely essential visit. 44 hobbit holes stud the hills, along with their carefully tended gardens: you will basically be walking through Tolkien's beloved town made real.
Plus, if that isn't enough, you will even get to try the only drink for the brave and true: a flagon of Southfarthing Finest (™) from local hostelry The Green Dragon.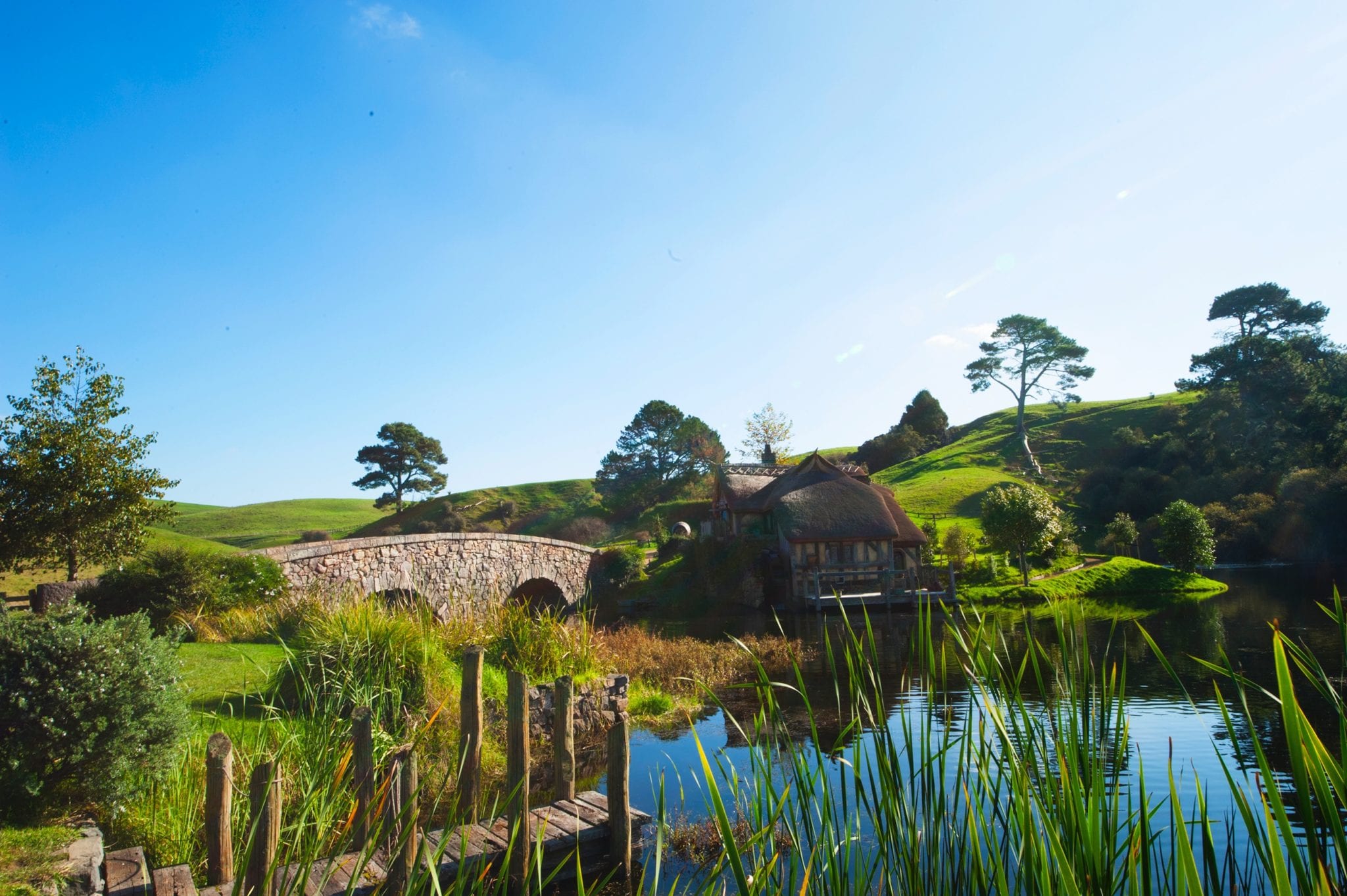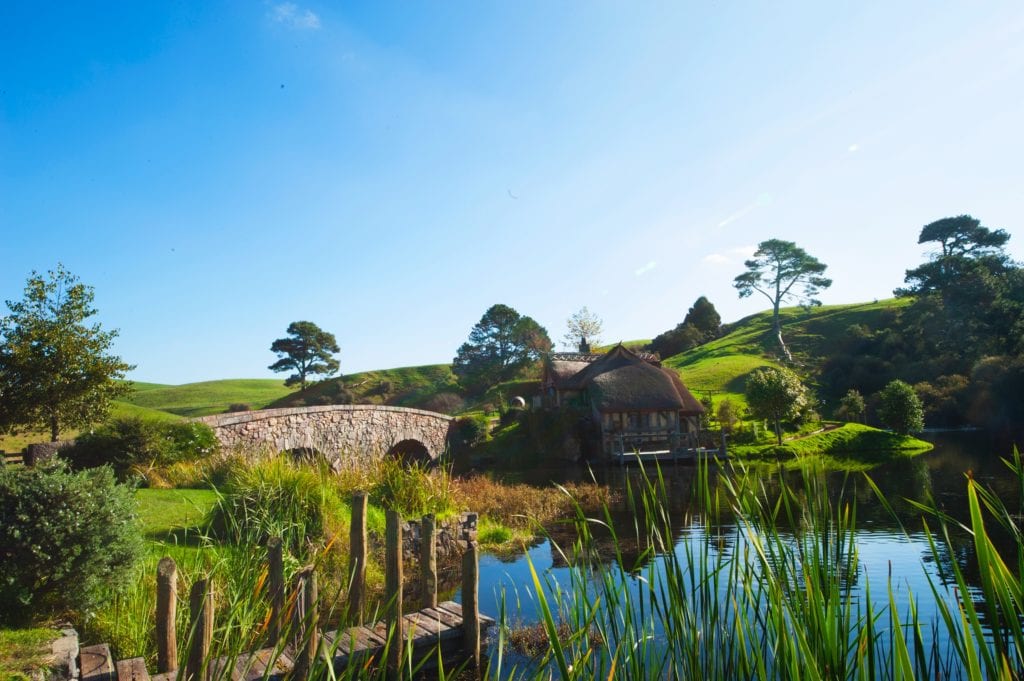 Kaitoke Regional Park, Upper Hutt: Rivendell
Find the magical, healing Elven land of Rivendell out in Kaitoke Regional Park, 50 mins outside Wellington. A haven of tranquil streams, tall trees and dappled sunlight, it's easy to picture Elrond and his kin choosing this lush forest for a home.
As well as it's natural beauty, Kaitoke is worth a visit as it's so proud of it's Elven heritage. The walk to the Rivendell filming location is signposted from the car park, and scattered along the trail is loads of information linked to the films. A must-take photo opportunity also awaits, in the form of a specially placed Elven gateway.
Southern Alp, Queenstown: Misty Mountains
The Misty Mountains can be spotted in every LOTR film, though they are perhaps most firmly featured in the first one: Fellowship of the Ring.
In the movie, they are the mountains that prove impassable thanks to a combination of swirling snow and shivering hobbits. In real life, they are a majestic mountain range that can be spotted on the horizon throughout the Queenstown area.
Snowcapped, sky scraping, it's hard not to flash back to the film any time you see them, conquering the horizon. But, if you really want to recreate the sweeping panoramas the filmmakers caught, then local helicopter tours will give you a birds eye view of the path the Fellowship forged.
7 Mile Scenic Reserve, Queenstown: Amon Hen
Those of a sensitive disposition might choose to avoid 7 Mile Scenic Reserve, outside Queenstown on the North Island.
One of the trilogy's most tragic scenes was filmed here, at the location for Amon Hen.  The untimely death of Boromir, the disbanding of the fellowship and the kidnapping of two hobbit, it's an eventful woodland whose beauty is rich with emotional memories.
So if you're looking for places to explore around Queensland, but your heart can't face something this emotive, try Te Anau or Milford Sound. Loads of locations can be found around here, including Fanghorn Forest, the Dead Marshes,  and the Great River Anduin.
Mount Sunday, Canterbury: Edoras
Rohan, home of men, is possibly one of the most instantly recognisable locations you can find in the 'wild'.
The windswept plain, tufted with long grass,  and the sheer-sided hill will immediately conjure the image of the castle at Edoras dominating the view,  although sadly none of the set remains.
It's fun fan-walk though, with a lot of the signage making nods to Middle Earth. It's popular with tours, and has become a lot more accessible over the years. It's a place worth exploring on foot, being generally flat with well-worn trails.
Tongariro National Park: Mordor, Mt Doom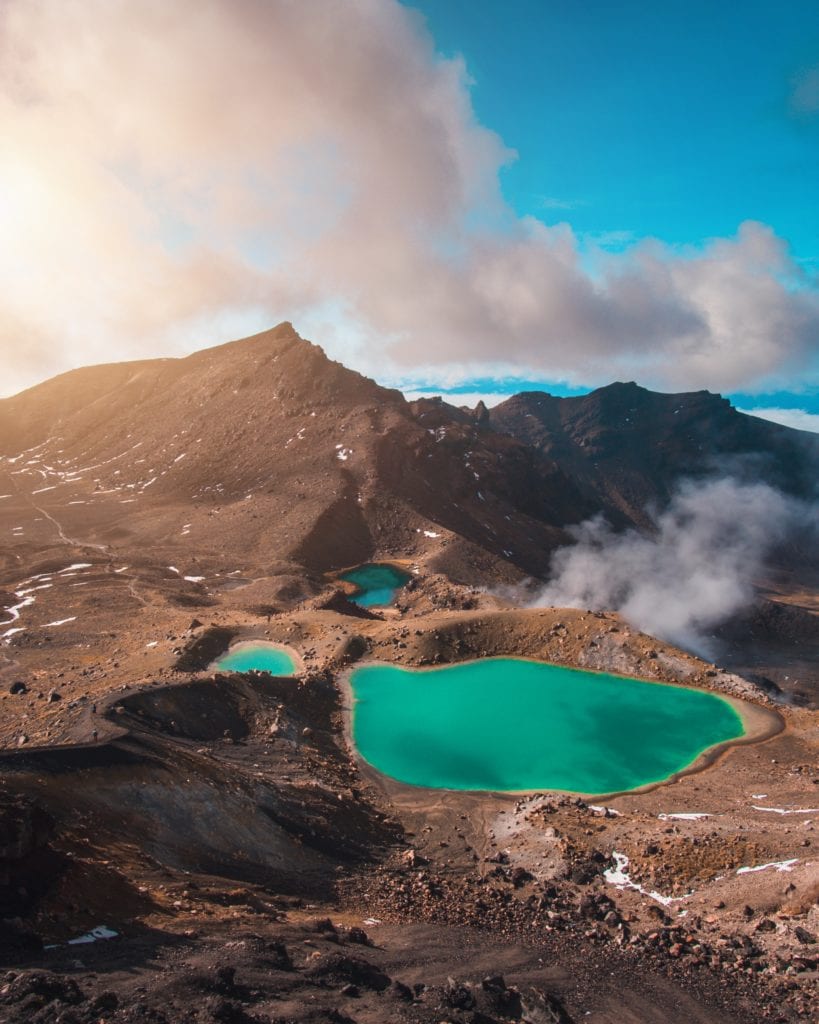 Turns out, if one wishes, one can simply walk into Mordor. Just lace-up your hiking boots and trek the Tongariro Alpine Crossing on the North Island.
Is it's easy to see how this spot was chosen to be the volcanic wasteland of Sauron's Kingdom but even in this desolation is stunning beauty.
Fittingly though, Mount Ngauruhoe (known in Middle Earth as Mount Doom) is actually a pretty difficult climb. The loose rocks and ash make it a tough surface to walk on, and the summit is over 7500ft high.
Still, any LOTR fan's will feel a rush of joy when they stare down in to the centre of Mount Doom, see the ashy remains at its heart and imagine molten lava swallowing the One Ring.
Bonus Visit: Wellington and the Weta Workshop
Technically, this location wasn't featured in the film, but the Weta Workshop is your second must-see after Hobbiton.
Home of the company responsible for all the props, sets and miniatures on the film, the Workshop offers a variety of tours showcasing their work.
There's a mini-museum, housing some of their best creations, plus the opportunity to buy some brilliant replicas. There's also a special half-hour documentary that you can view, about the work WETA have done across multiple Oscar-nominated films.
The Weta Workshop is in Wellington at the very tip of the North Island. Entrance prices vary depending on what you want to see or do there. Full on fans can splash $45 for a feature-packed combo tour but those strapped for cash can still visit the Weta Cave absolutely free of charge.
Best Lord of the Rings Tours
With so much to see, spread all across the country, it will probably be tempting to join a raft of guided tours to make sure you catch every single movie mention.
Or, maybe you're drawn to the idea of entirely setting your own itinerary. This way, you will be able to prioritise all your favourite locations and won't end up wasting time on a spot you don't remember.
Both options have their advantages, which is why we would honestly recommend mixing up a combination of them.
Some of the more remote, rural spots like Edoras and Amon Hen are definitely best enjoyed on foot at your own pace. These spots are about more than fond film memories, and worth an explore in their own rights.
There is just so much to see though. Tackling it alone would be an epic quest in itself.  Talk to us here at Silver Fern and we can help you put together a personalised itinerary, combining guided and self-guided excursions to help you all the sights you want to see.
Alternatively, for those who truly know their stuff and wish to put together a completely independent itinerary, we recommend Ian Brodie's Extended Edition Guidebook to help you research your perfect trip.