Were we mad enough to undertake the last walk on the Milford Track for the season with snow forecast? Yes we were! – along with another 35 brave souls who we met up with on the first day for the trip over Lake Te Anau to Glade House, the first lodge on the track. It's only a 30 min walk to the lodge, if that, so plenty of time for us to get settled in, have a shower, test the flush toilets and have coffee and cookies before our introductory nature walk with Grace, one of four guides who accompany each group on their walk. The guides are not only superbly trained in mountain safety and interpretation, they're also very sociable and empathetic with everyone on the walk – so a big thanks to Masako, Grace, Richard, and Helen.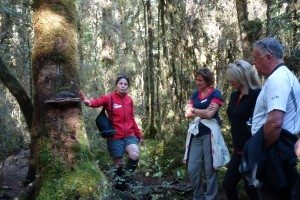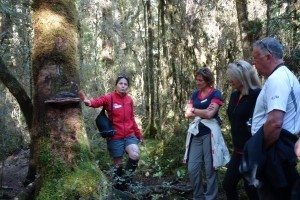 The food at the lodges is excellent and each lodgekeeper, with a full time staff of up to ten, ensures the operation runs very smoothly – from setting up the slideshow presentations at night to providing a veritable smorgasboard of packed lunch ingredients for the next day. Walks generally start around 7.30 – 7.45am – so no lie ins! Oh, but what scenery!
The second day is a relatively easy walk through the valley, alongside the Clinton River, and our walk was punctuated by the sounds of bellbirds, robins, and tom tits, and I think we saw a record number of Fantails during the day. The Pomplona Lodge is a very spacious accommodation with a wide lounge and seating area and, as in all the lodges, an excellent drying room.
So no problems so far, and then during the night there was a heavy snowfall so we awoke to a Winter Wonderland! Great for the first hour but once we starting climbing and it became relentless, quite an achievement for everyone to get over the Pass. Huge celebrations at Quinton Lodge and a big round of applause for our twelve year old daughter, Sarah.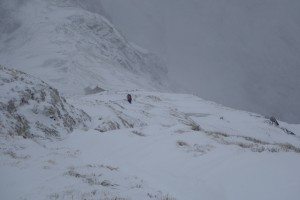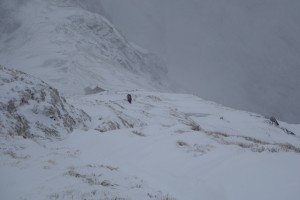 The final day is the longest day of the track walk, around 7 hours walking time, fairly flat or downhill. We didn't have time to walk to the Sutherland Falls, the highest in the Southern Hemisphere, but we did see them from a distance as we made our slow way past Mackay Falls and eventually to Sandfly Point and Crossing to Mitre Peak Lodge for our final night.
Celebrations all round and certificates of achievement, thoroughly deserved by everyone and of course. Memories that will last forever.