A cruise out on the magnificent Doubtful Sound is an incredible experience and one that you won't want to miss on a trip to new Zealand
We're not sure quite how we could describe it adequately– even the first explorers got it wrong and incorrectly named it a Sound – which is a river-fed waterway, when in fact it is a Fiord, since it is a glacier-fed expanse of water. Anyway, who cares about the names – the fact is a trip out on one of the worlds most beautiful stretches of water is truly unforgettable.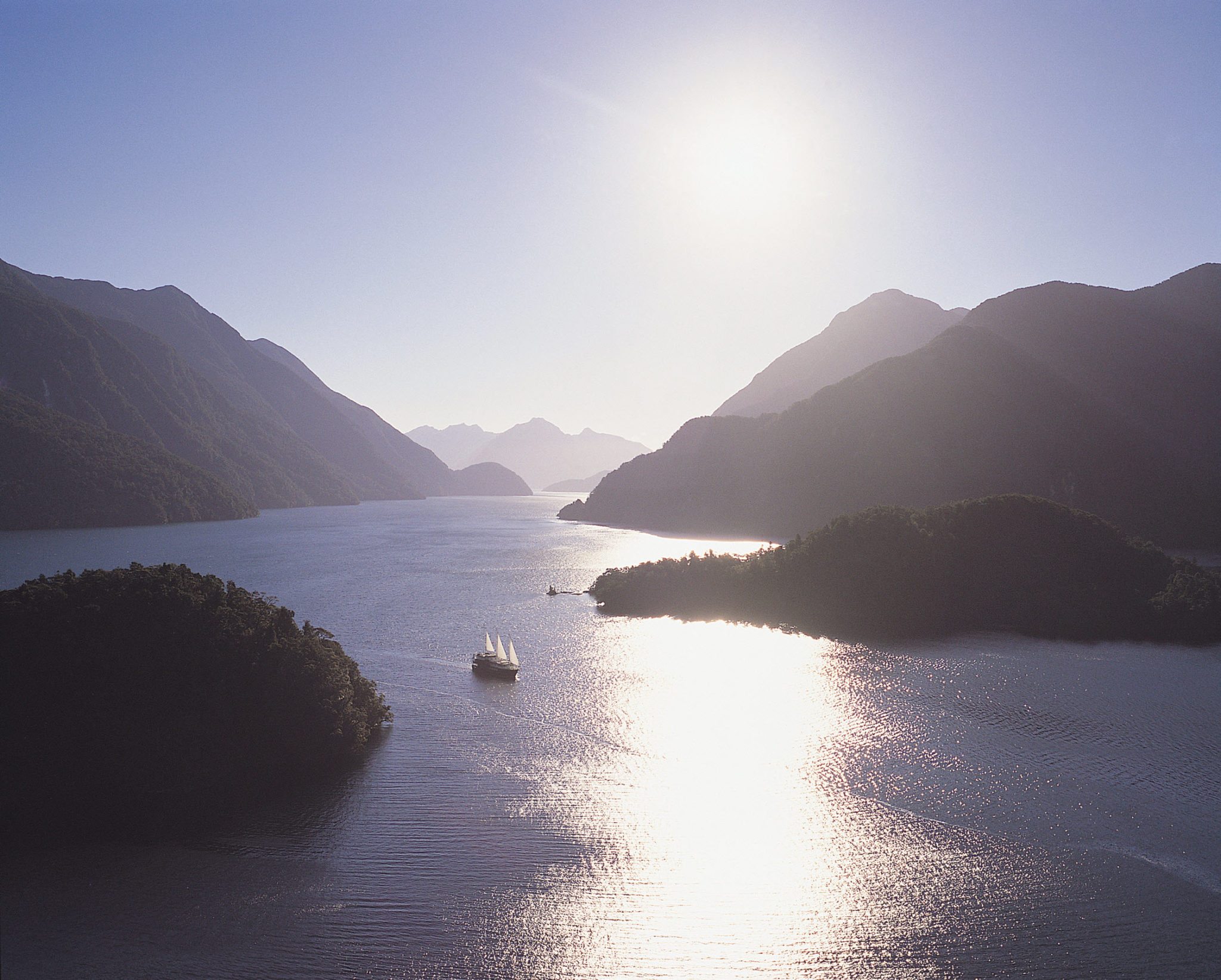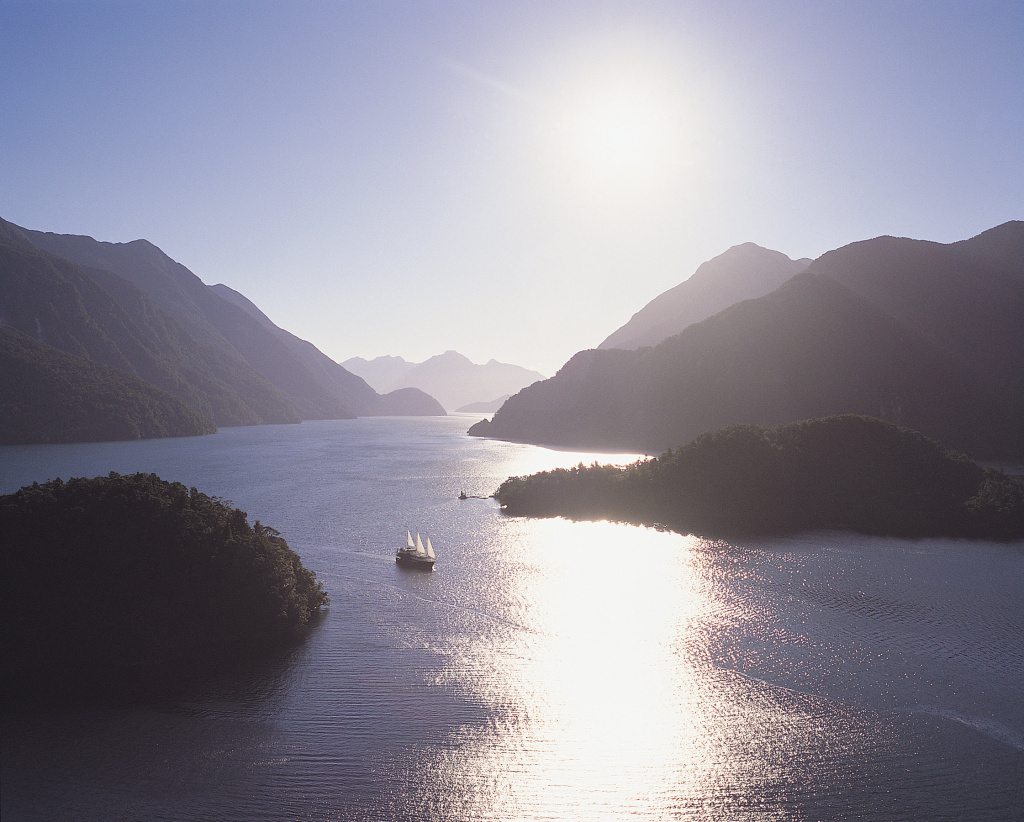 You can visit Doubtful Sound on a day trip from Queenstown, departing around 7am and returning around 7pm, but this makes for a very long day, so we would always recommend taking the coach from Te Anau where possible, or even better – forget the day trip and do as we did, overnight in one of the boats' comfortable cabins.
We left Te Anau at 11am on the coach to Manapouri, which is only half an hour's journey, and were dropped by the wharfside, where you can get hot drinks, ice creams and sandwiches at the small cafe before boarding your boat for the West Arm of the lake. Once you've crossed, you board another bus for the final drive to meet your ship. We got on the boat around 1pm.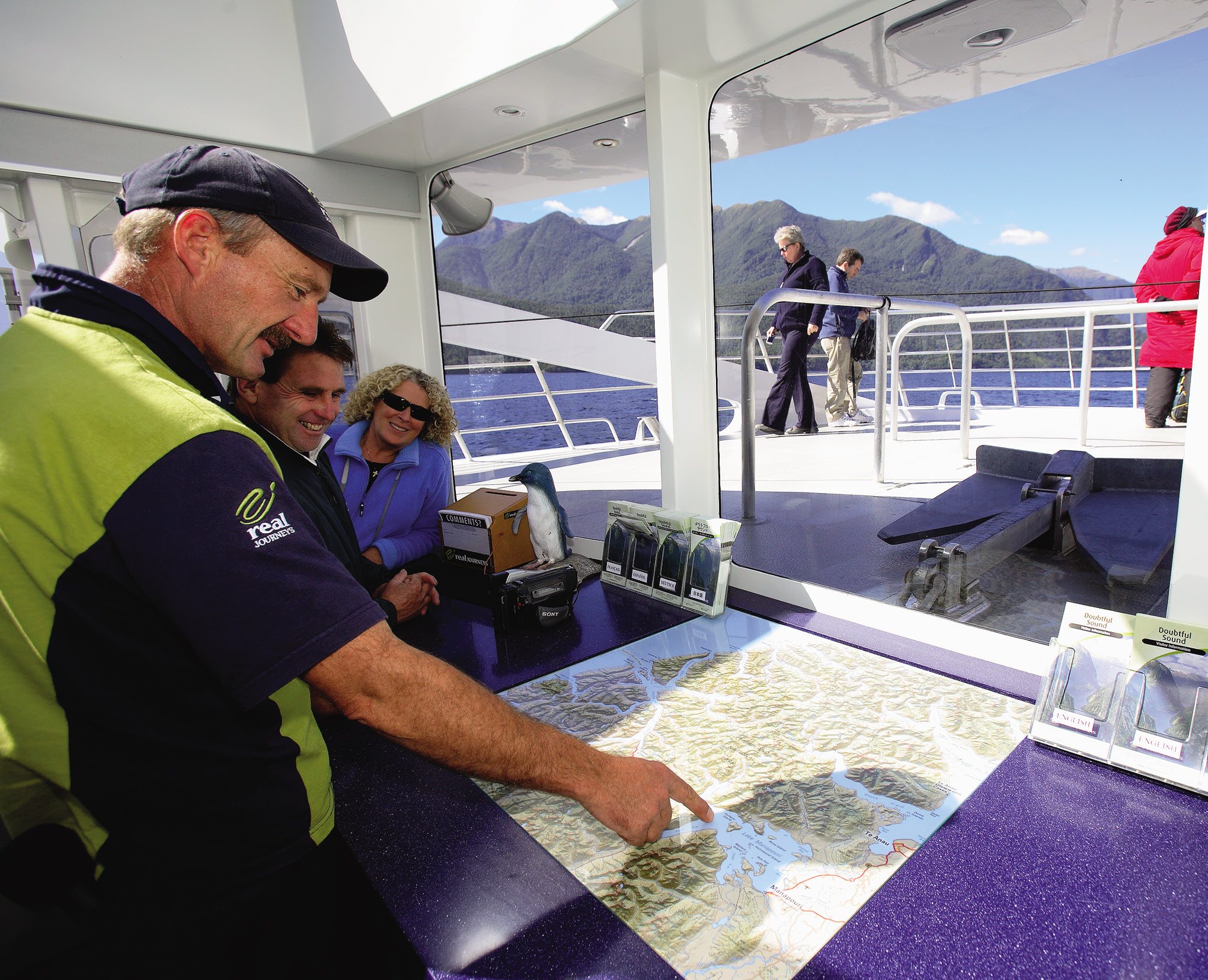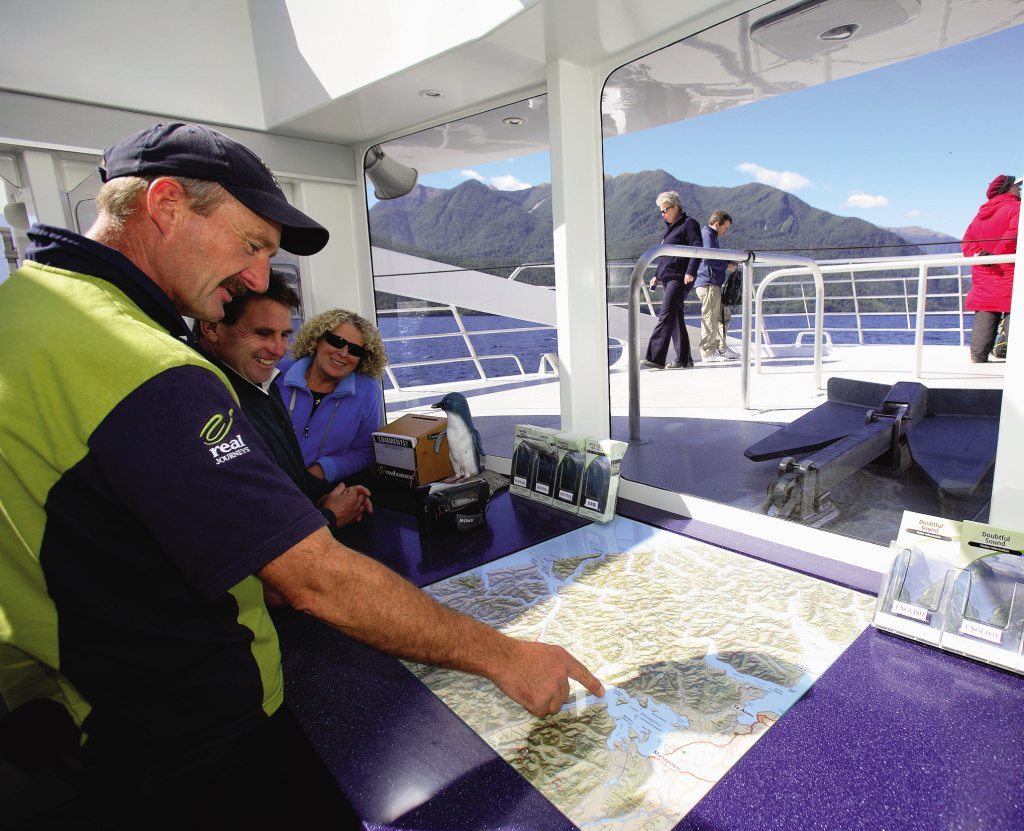 Everything is very laid back but brilliantly organised – once on board, everyone meets in the spacious dining room, where there are four sets of tables on either side and another four sets in the middle of the room. There the captain introduces all his staff and briefly explains the timetable for the rest of the day, then keys are given out and you head for your cabin to leave your overnight bag, before meeting back up on deck with your complimentary cup of coffee or tea (all drinks are free during your voyage) to listen to your nature guide. We had a guy called Sim who had been working on the cruise boats for over five years and was a mine of information, and of course was quickly on hand to point out a pod of dolphins when they appeared and followed the prow of the boat. There was also a chance to see seals on a small island.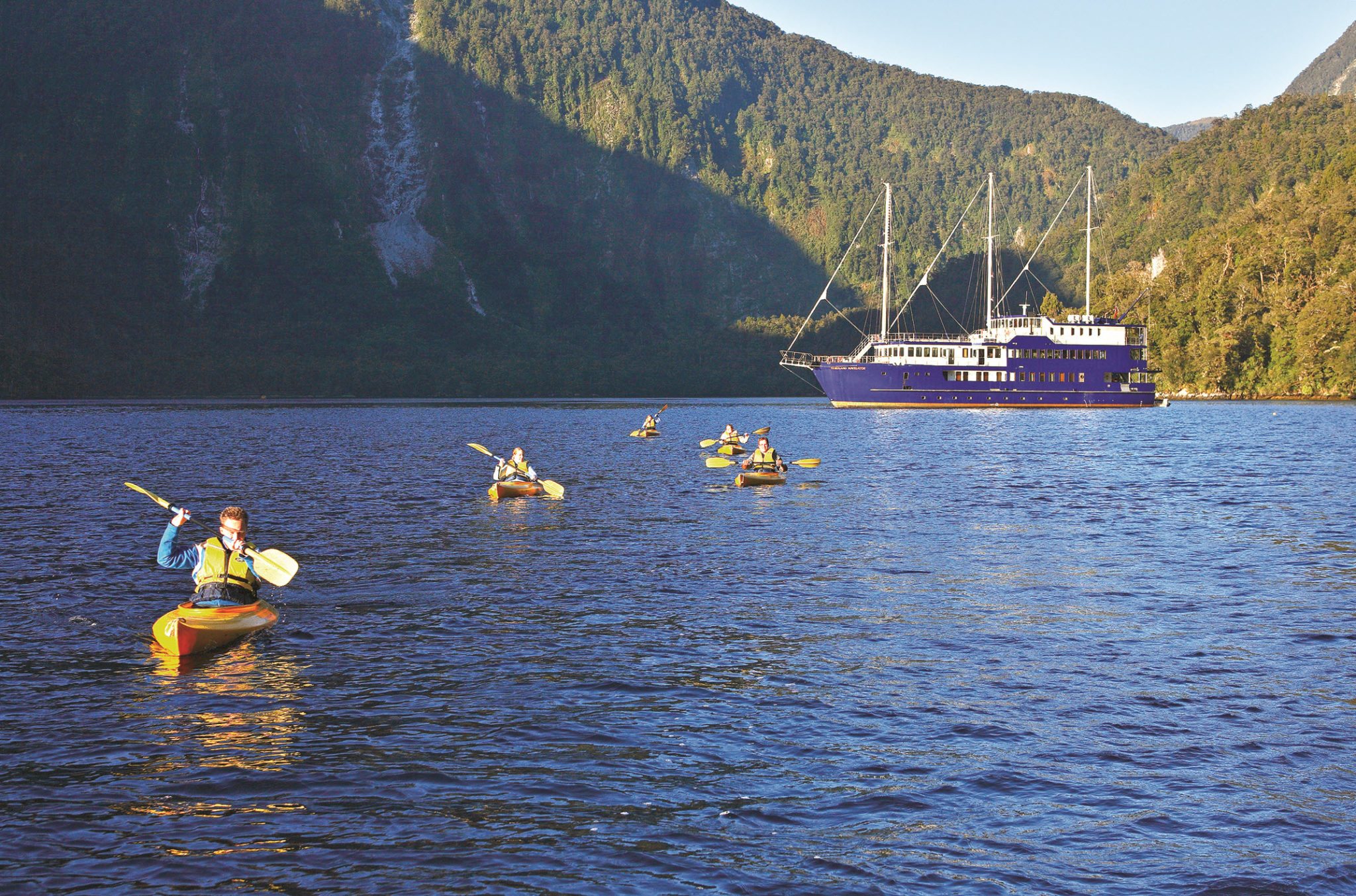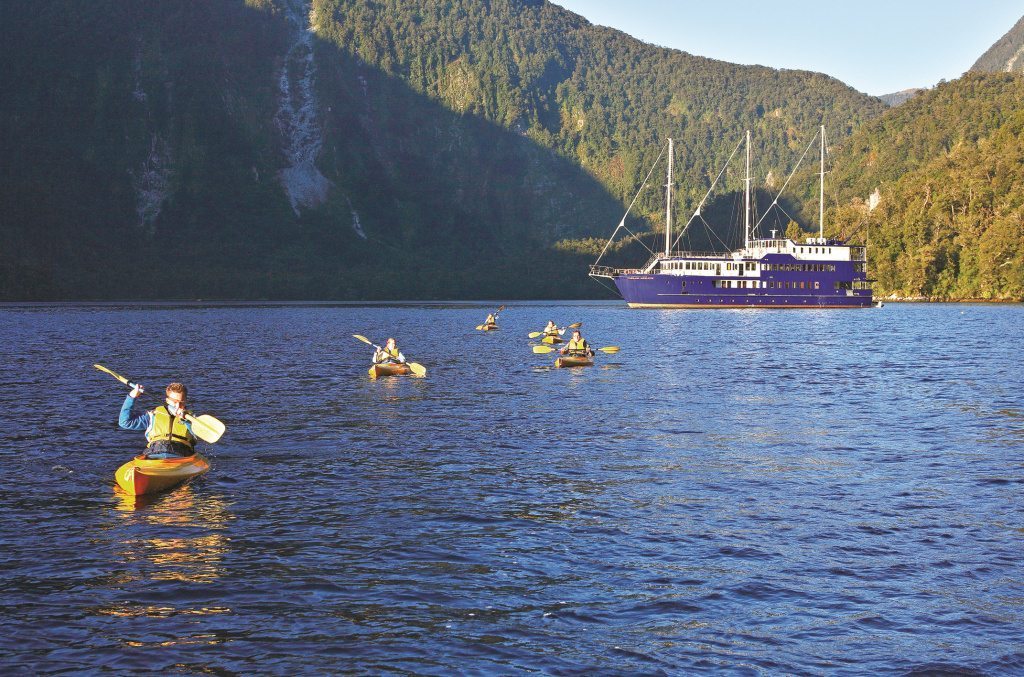 We then had a hearty bowl of soup before donning safety jackets for a one hour kayaking trip out on the Sound. There is also the option to go out onto the water on a small boat for a close up view of the stunning primeval landscape.
Back on board the food was great, with a full buffet of meat and vegetarian choices followed by the most delicious desserts. The cabins have single and twin-bedded rooms with ensuite showers, a small storage cupboard and electricity points for razors or hairdryers.
Breakfast at 7am, fully cooked – then out on the deck again. At 10am, Dave, the captain, switched off the engines and asked everyone to listen to the silence, broken only by the sound of birds for a few minutes – magic!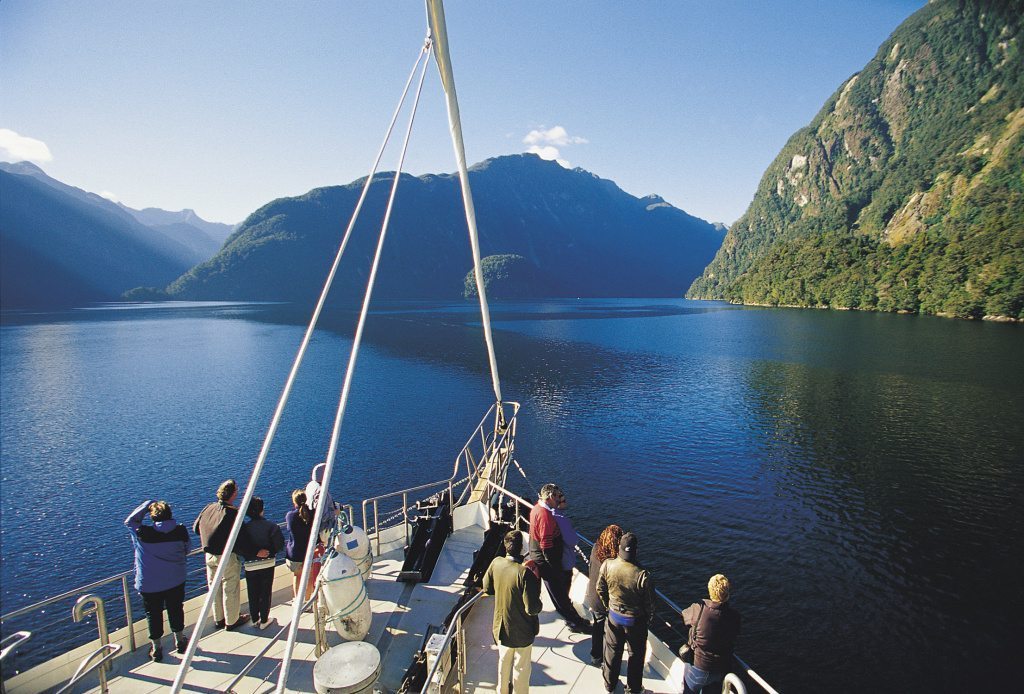 We returned to the wharf for 10am, for the return half hour bus trip to the West Arm of the lake and the final hour cruise back to Manapouri and onward coach to Te Anau. We made it back to Te Anau a little after 12pm.
I'd recommend this or the Milford Sound overnight trip to any Silver Fern travellers who really want to see this area of Fiordland in all its glory. One of the highlights, we think, of any New Zealand holiday.