New Zealand is a wonderful destination for golfers. Whether you play just for fun or more competitively, you'll find a course that will not only challenge you with its exciting and demanding design, but will also wow you with its jaw dropping location and backdrop.
With over 400 golf courses spread across the North and South Islands, you'll find a course close to you, wherever you are. There are a fantastic selection of world class courses and state of the art facilities across the country, and it's no surprise that golf is the highest participation sport in the country played by over 500,000 adults each year.
Here are our top six Golf Courses in New Zealand……..
Wairakei International Golf Course
As well as receiving worldwide acclaim for its course, Wairakei is also a wildlife sanctuary, and the 18 holes are surrounded by 180 acres of native flora and fauna – you might even spot an endangered Kiwi or Brown Teal meandering on the greens and fairways! Owner Gary Lane, has planted over 25,000 native trees and 5000 exotic plants over the past few years, making a huge effort to regenerate the area, and it's created a beautiful natural beauty to enjoy a round of golf in, whether you're a serious golfer or just playing for fun.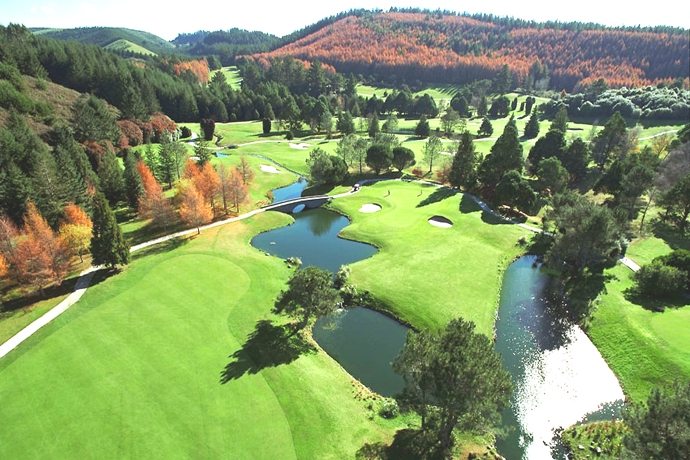 The sprawling course, located in the Taupo region of New Zealand, uses natural contours to their fullest and features 108 large well placed bunkers. In 2010, Wairakei was voted New Zealand's number 1 golf course by Golf Update readers and also in a survey of golf industry leaders.
Cape Kidnappers Golf Course
This is one of our favourite golf courses in New Zealand – Its location is unbeatable, up high on the cliffs and overlooking the Pacific Ocean.   Inland holes wind through marsh, forest and farmland, whilst six of the holes are played right on the edge of the cliffs that sweep down to the sea.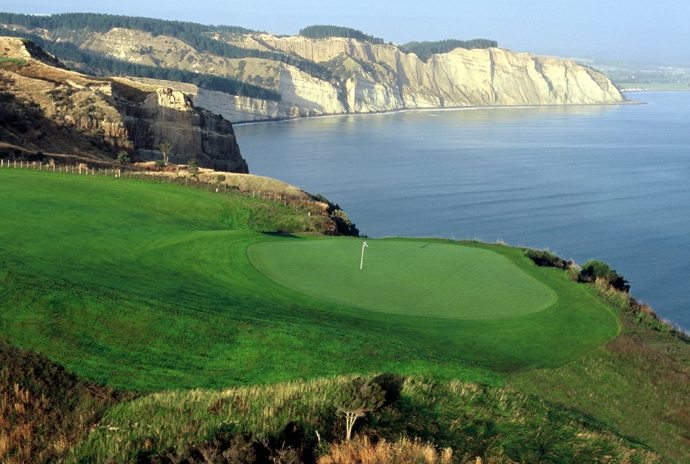 The complex includes a world-class practice range, putting and chipping greens and an excellent shop.
Clearwater Golf Course
Clearwater is currently home to the New Zealand Open Championship, and combines elements of links golf with parkland golf more reminiscent of Florida. Beautiful spring fed lakes, Clearwater really does live up to its name, and its location, close to Christchurch city, but with stunning backdrops of the Southern Alps is hard to beat.
If you prefer to enjoy gold from the sidelines there's a great members lounge with a sweeping deck that offers a great spot to view the closing hole.
Titirangi Golf Course
Consistently voted in New Zealand's Top Five courses, The Titirangi Golf Course was built in 1909 and designed by Alister Mackenzie, who went on to design some of the world's top courses including Augusta, Royal Melbourne and Cyprus Point. The course is located between the Manukau harbour and Waitakere Ranges and features challenging bunkers, elevated tees and beautiful rolling fairways.
Just twenty minutes outside Auckland city it's easily accessible and offers a great round of challenging golf to players of all skill levels.
Jack's Point Golf Course
A spectacular 18 hole par 72 championship golf course, Jacks Point offers golfers of any level of skill an unforgettable and challenging experience.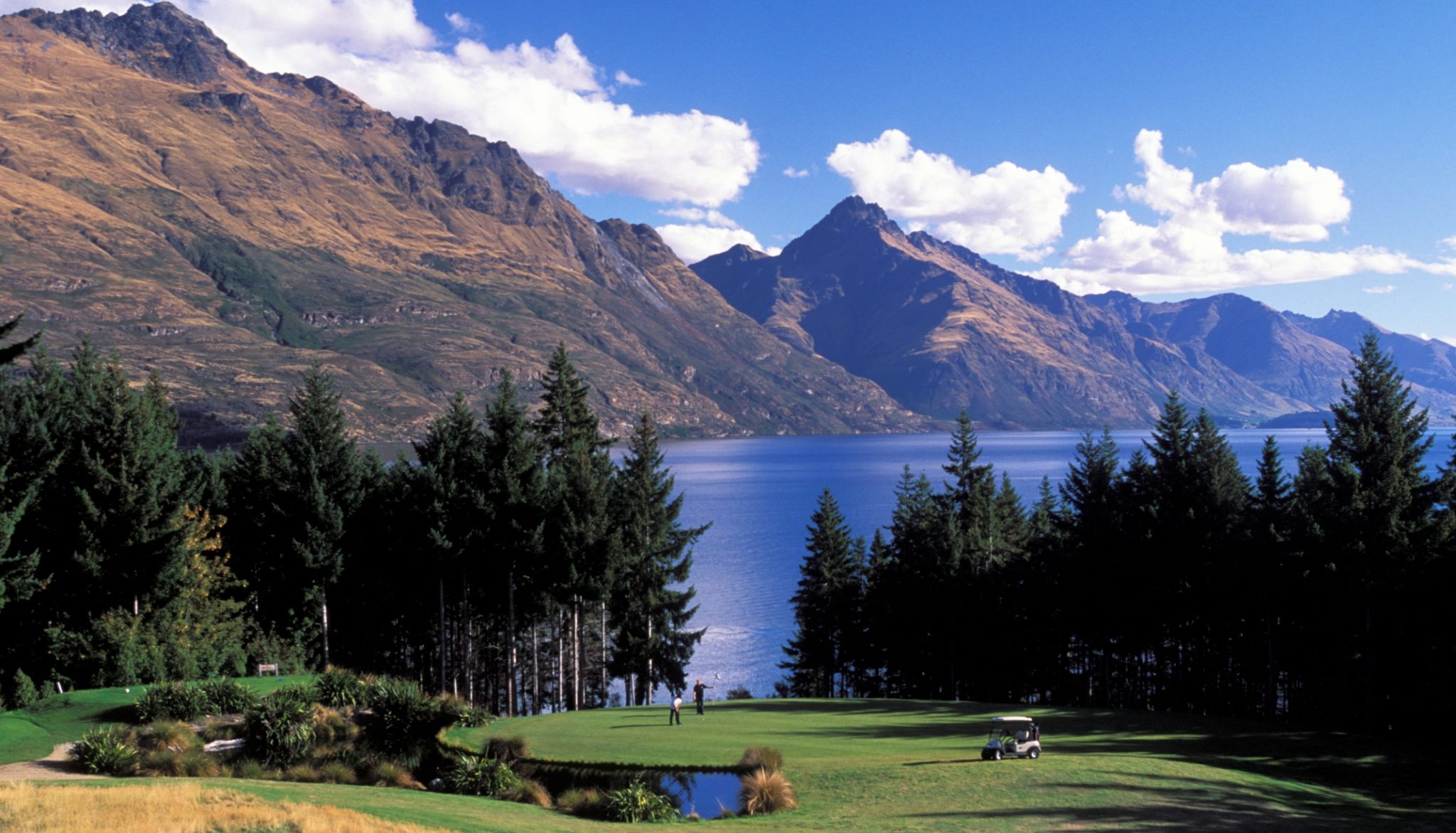 The course is designed around the natural landscape and weaves through grasslands, over rocky outcrops and through native bush right down to the edge of Lake Wakitipu.
Just a short drive out from central Queenstown it's an un-missable golf course for any enthusiast.
Millbrook Resort and Golf Course
With impeccably groomed fairways and greens, the strategic use of water and sand traps here ensures that a round of golf at the Milbrook Resort is exciting and demanding.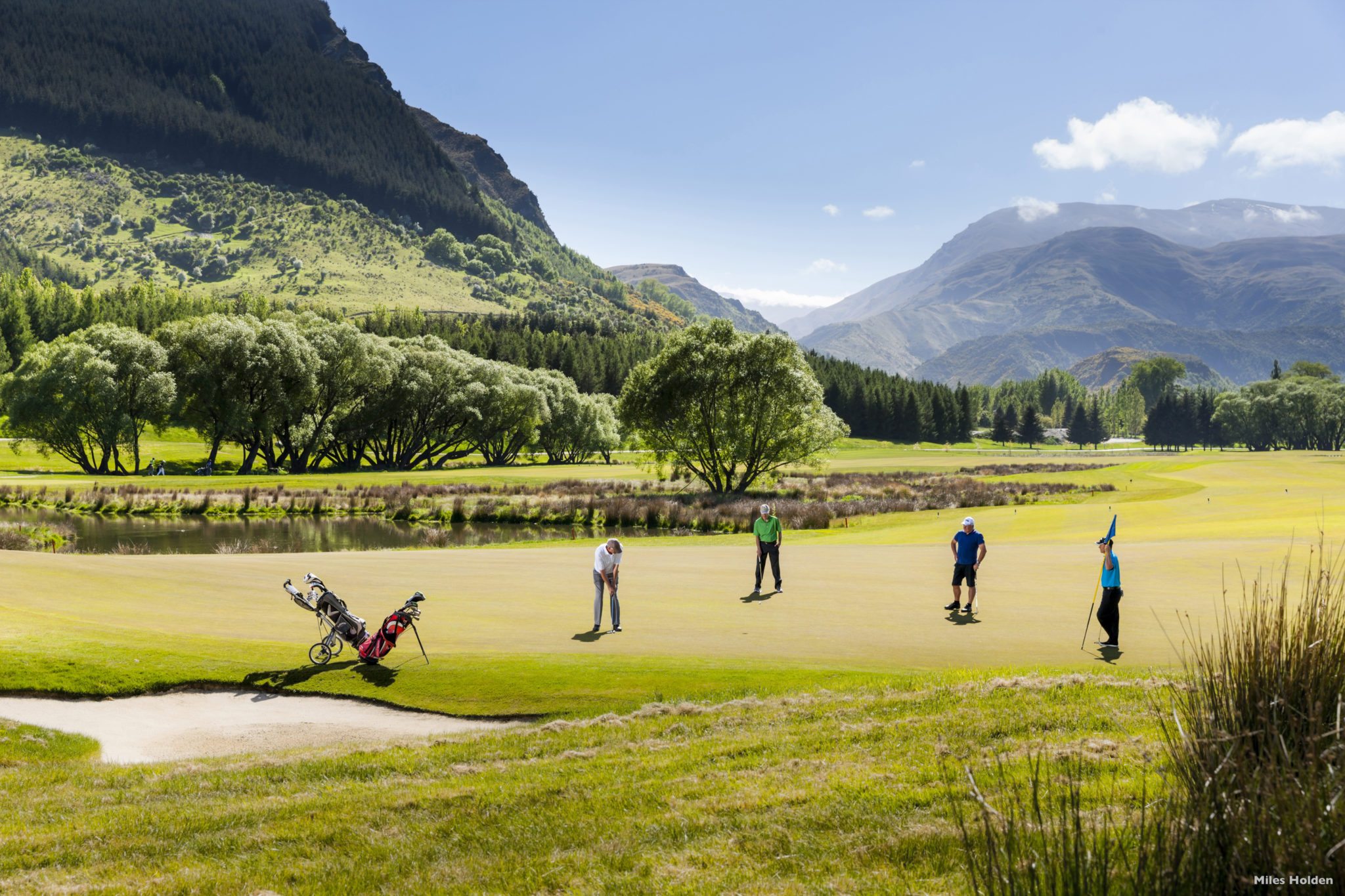 The 6,412 metre course is surrounded by an alpine backdrop of the Remarkables mountain range, which offers a stunning backdrop to tee off against, not to mention countless wonderful photo opportunities!Also voted as best New Zealand Gold Hotel at the World Golf Awards in 2013, you are guaranteed a wonderful stay here, as well as a fabulous round of golf!
A golfing holiday in New Zealand is a great way to combine sport and scenery, and we've put together an itinerary that allows you to enjoy some of the top courses, whilst also highlighting the other unmissable activities and sights in the area. Click Here to download it.  Of course, this itinerary is just a guide, so do get in touch if you'd like to discuss a tailor made golfing itinerary for your New Zealand holiday.