Want to make the festive period extra special? Then, consider Christmas in New Zealand. 
With Christmas on the horizon, we thought it a good idea to give you a picture of what it's like in New Zealand and some of the delights that await you if you decide to visit the country at this time of the year.
Christmas time in New Zealand is unlike anywhere else in the world. Spending the holiday season in New Zealand is an amazing way to learn more about the Kiwi culture, and give yourself a break from the bleak British winter too! 
As New Zealand is in the Southern Hemisphere, Christmas is a much warmer affair than you might be used to. Christmas imagery in New Zealand still features lots of classic wintery designs, but it all comes with a special Kiwi twist. A traditional Christmas in New Zealand takes influence from Britain, North America, and the indigenous Māori population. 
This diversity is a big part of what makes New Zealand the incredibly unique place it is. 
So, we've put together a special guide to Christmas in New Zealand so you can really make the most of your festive Kiwi holiday…

Traditional New Zealand Christmas Food
Let's be honest, for most of us a big part of Christmas is the food! Whether it's a roast dinner with all the trimmings or arguing over the last Quality Street, food is a big part of tradition. 
New Zealand is no different and food plays a big part in Christmas celebrations. 
Like Australia, the warm weather does have an impact on a typical New Zealand Christmas dinner. While some families opt for a traditional roast dinner, it's not the norm. Barbecue or a picnic at the beach is much more common. Seafood and locally grown vegetables are especially popular choices. 
Families with Māori roots often have a Hangi. A Hangi is a traditional form of underground cooking where fish or meat, vegetables and Kumara (which is similar to sweet potato) are wrapped in flax leaves or cloth sacks. They're then placed on hot stones in a pit before being covered with a wet cloth and buried with earth. 
The Hangi is left to slow cook for at least four hours, which gives the food a delicious smoky flavour. Because the Hangi takes so long to cook, it's perfect for Christmas day where people have more time to relax together and enjoy each other's company while they wait. 
A traditional Kiwi dessert is a pavlova pudding but be aware, serving one may end in a heated debate! Both New Zealand and Australia claim to have invented the pavlova, as do England and America. The ribbing is mostly good-natured, and it's already been proven England invented it anyway! 

Decorating for Christmas Like a Kiwi 
Christmas in New Zealand takes inspiration from a number of cultures and you can see this reflected in the decorations. It's very common to have a traditional pine Christmas tree but that's not the only traditional Christmas tree in NZ. 
The Pōhutukawa tree blooms in December and will continue to do so until early January and is known for its bright red flowers. They're most common on the North Island but they do grow on the South Island as well, they're just rarer and tend to bloom slightly later. 
Pōhutukawa trees are heavily featured on Christmas cards and in songs and poems, and because of their bright colouring, they don't need as much decoration as a pine tree. 
Not only does the ​​Pōhutukawa tree feature heavily in festive imagery, but it's also incredibly important to Māori culture. On the windy clifftop of Cape Reinga is an ancient ​​Pōhutukawa tree, which the Māori believe is where the spirits of the dead begin their journey to Hawaiki. 
Hawaiki, in Polynesian mythology is considered the ancestral homeland and is where all life begins and where spirits return to at death. 
You can find out more about Hawaiki in our blog post where we take a closer look at some of our favourite Māori myths and legends.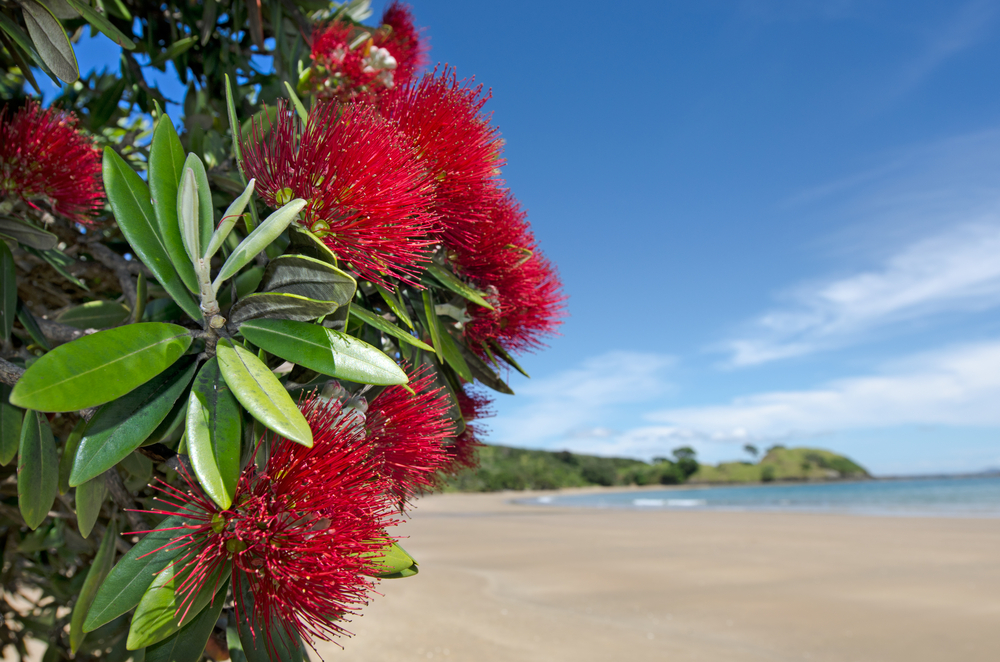 Traditional Christmas Gifts in New Zealand
Every Christmas, you're almost always guaranteed to get a pair of fluffy socks. As children, we might not get that excited by socks but as adults, we realise they're actually a pretty great gift. New Zealand has a similar tradition with jandals. Jandals is slang for 'Japanese Sandals' and have been a popular gift since the 1950s.
If you want to make sure you're on the good list and get plenty of great gifts from Santa, make sure to leave a treat for him. In New Zealand, it's traditional to leave Santa some pineapple chunks and his reindeer carrots. Probably a healthier choice than cookies and milk!
Where To Spend Christmas in New Zealand
Now you know how to celebrate like a Kiwi, you just have to decide where to spend Christmas! You'll find plenty to enjoy on both the North Island and the South Island. 
Christmas in Auckland 
If you're looking for some traditional festive cheer, Auckland might be the perfect place for you. For over 80 years, Auckland has hosted an annual Santa Parade to get everyone into the festive mood. It's normally held at the end of November, although it can be early December depending on the weather. It's known for its marching bands, multi-cultural performances and decorated floats. 
If you want to spend more time with the locals and celebrate like a true Kiwi, head over to Auckland Domain for the Coca Cola Christmas in the Park. It's filled with live music acts and performances from some of NZ's most loved artists. 
For something a bit more classic, visit the Auckland Philharmonia Orchestra's annual Christmas concert. Concerts are usually held in mid-December at the Holy Trinity Cathedral and often bring in local community choirs. 
When you're doing your gift shopping, you can't go wrong with a market. Orewa Twilight Christmas Market is an annual market filled with artisan products and delicious local food – perfect for choosing some gifts to bring home, and a treat or two for yourself.  
If you've decided to travel solo, there are plenty of community events on Christmas day itself. The Auckland City Mission hosts an annual community lunch that's incredibly popular for locals and visitors alike. In 2016, it had over 550 volunteers and 2000 guests. It's a great way to make some friends over the holidays. 
Christmas in Queenstown 
Of course, not everyone is looking for a traditional Christmas. Queenstown, the adrenaline capital of the world, is the perfect spot for an adventurous Christmas! Most places in New Zealand will be closed on Christmas day, but Queenstown never sleeps. 
Most activities will operate on a reduced schedule but you can still find plenty to do like kayaking and jet boating through Skippers Canyon rapids. There's normally restaurants open as well, but if you're looking for something less formal, then head down to the lakeside. 
Queenstown is surrounded by the beautiful Lake Wakatipu waters, or you can hike towards Glenorchy, which is perfect for working up an appetite. 
One of our favourite ways to dine in Queenstown is the Skyline Gondola which hosts a special Christmas and New Years Eve dinner. You can take a gondola up the mountain, enjoy live music, a buffet of traditional Kiwi food and even try out a luge ride!
It's essential that you book in advance for Christmas day activities. Get in touch with us if you'd like help planning your Christmas adventure.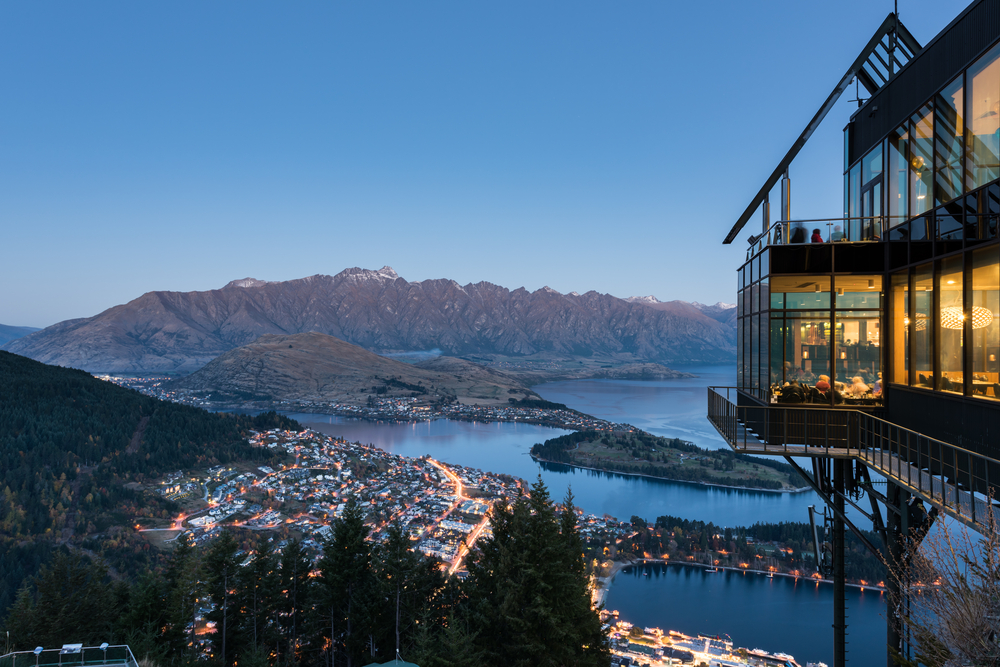 New Year in New Zealand 
Being one of the first places in the world to welcome in a new year, New Zealand is the place to do it. If you've spent Christmas in Queenstown or Auckland, they're great spots to enjoy the New Year as well. Of course, to make the most of your trip, you can always spend Christmas on different islands. With a short internal flight between islands for New Year's Eve, there's really nothing to stop you enjoying the best of both. 
Queenstown is great if you're looking to party the night away. The city's bars and clubs will be busy with live events, bar crawls and plenty of music! Make sure to head to the lakefront for midnight though where you can catch a fireworks display over the water. 
If you're spending New Year in Auckland, the Sky Tower will give you the best views of the city and the fireworks show. If fireworks aren't your thing, Auckland also hosts plenty of music festivals to see the new year in and harbour party cruises for some beautiful sights. 
————————
Ready for your own festive New Zealand adventure? Get in touch with us and see how we can help you with a tailor-made holiday or one of our exciting small group tours.