Singapore – the tiny island state just off the coast of Malaysia, has long been one of the favourite stopovers when travelling to New Zealand, with the tropical city offering a vast array of things to do and see with a few days between flights.
Singapore Airlines, the national carrier, is one of the most comfortable airlines we've travelled on. With well-balanced value combined with impeccable service, as well as some of the most sensible flight times between the UK and New Zealand.
For many of our travellers, the best combination of flight times and cost result in their spending several hours in Changi Airport itself (sometimes referred to as Singapore Airport).
In most other airports, it would be time filled with thumb-twiddling and numerous cups of coffee. Changi, on the other hand, is not like other airports and is often pegged as the best airport in the world.

Why is Changi Airport the best?
The first thing you'll notice is the sheer enormity. In fact, there have been numerous accounts of people spending whole weekends in Changi Airport and not running out of things to do.
It also bags a number of award-winning and record-breaking attractions, including the Rain Vortex – the world's tallest indoor waterfall in its newly-built Jewel Terminal.
There's a futuristic glassed ceiling building containing the never-ending Shiseido Forest Valley indoor gardens, as well as sound and light shows projected onto the 40-metres high Vortex.
They're just a couple of the unique attractions you'll find, but after a long flight, these in particular are great for invoking a sense of calm and tranquillity as you recharge ready for the next leg of your journey.
Although the carefully curated gardens of New Zealand are well-respected, the options at Changi are almost endless with gardens in each terminal. Seeing nature within such an industrialised setting never gets old.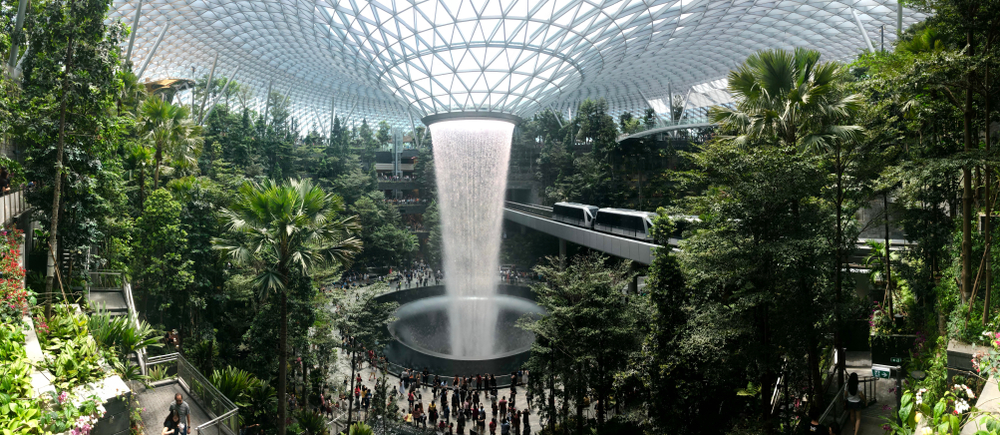 What can you do at Changi Airport?
Terminal 1
Terminal 1 welcomes arrivals with a 24-hour water lily garden and the Piazza Garden with its Singaporean plant species. There's also the Tropical Rainforest Vivarium, which is a feast for the senses with flora chosen especially for their scent as well as a diverse range of complementary colours.
For those spending more time in Terminal 1, also open 24-hours is the rooftop Cactus Garden and Bar, which has several species from around the world. The Discovery Garden, which features a combination of sculpture and nature also has a number of raised pathways, enabling visitors to grab the perfect selfie with their favourite piece.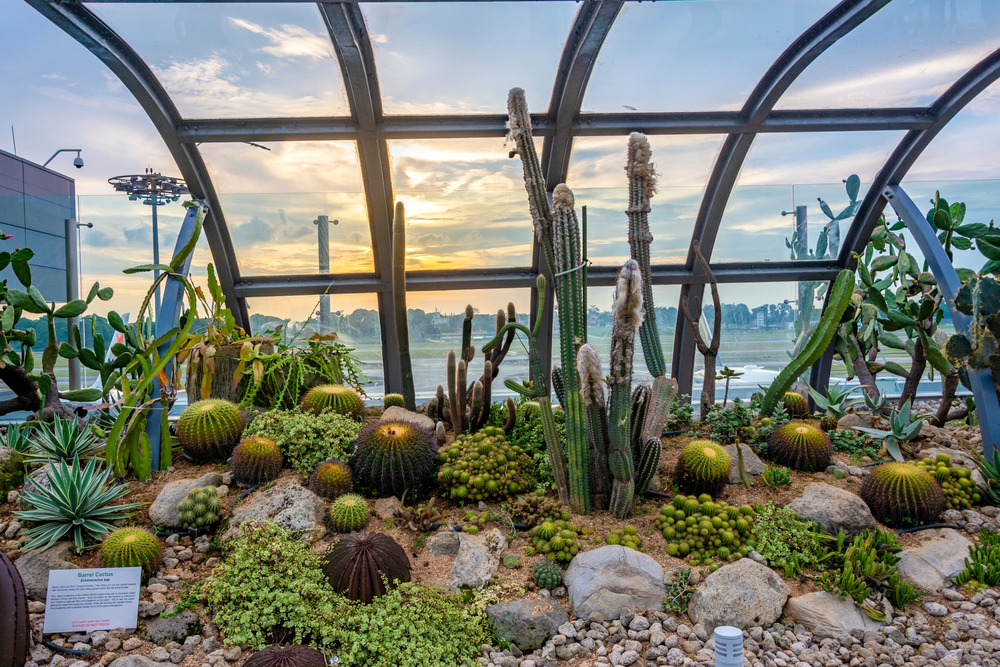 Terminal 2
For those exploring Terminal 2, the Enchanted Garden offers motion-sensored nature sounds, sparkling lighting and reflective sculptures contrasting with the genuine ferns and flowers.
Also in Terminal 2 is the delightful Sunflower Garden – staving off the jetlag with a good dose of sunlight during the day and innovative lighting by night. There's also the popular Orchid Garden, with themed areas based on the elements of fire, water, earth, and air.
Terminal 3
Typically, the New Zealand and UK flights depart from Terminal 3, which is peppered with its own garden highlights. It offers the world's first Butterfly Garden in an airport, as well as the Crystal Garden – another wonderful blend of sculpture with the natural world.
Not to be outdone, the new Jewel terminal has arguably got the pick of the crop, with the Canopy Park, and the 24-hour multi-level Shiseido Forest Valley, one of Asia's largest indoor gardens, with over 100 different species of plants from around the world.
The free-to-visit garden comes complete with walking trails, and even a sensory section containing light shows, music and targeted scents. It offers one of the most peaceful and thought-provoking natural experiences you're ever likely to come across at an airport.

What can kids do at Changi Airport?
If you're on a family holiday to New Zealand and you opt for a Singapore stopover, there's plenty for the kids to do too. For a more energetic garden visit, a small entry fee allows access to the Canopy Park, spanning the entirety of the top floor of the Jewel Terminal, with an enormous suspension bridge offering panoramic views of the Rain Vortex, including a nerve-wracking glass floor section.
In addition to the traditional Petal Garden, the Topiary Walk offers a fun trail through animal-shaped foliage, and the Hedge Maze is Singapore's largest.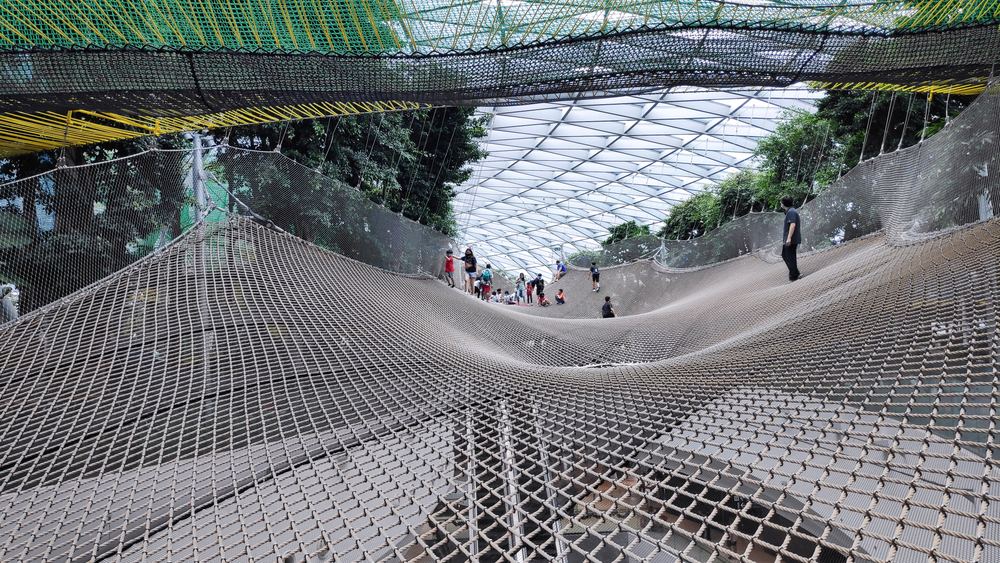 Kids can also enjoy the smaller mirror maze, the Foggy Bowls (mist-releasing bowls that give the illusion of being amongst the clouds), and the four integrated Discovery Slides – offering fantastic views of the Rain Vortex and the Forest Valley.
Baggage storage facilities mean you are free from the constraints of your luggage and with plenty of restaurants in the Canopy Park, you could easily spend a half day in this section of the airport alone.
Also at Jewel is the Changi Experience Studio, with interactive games including the chance to race a Boeing 747.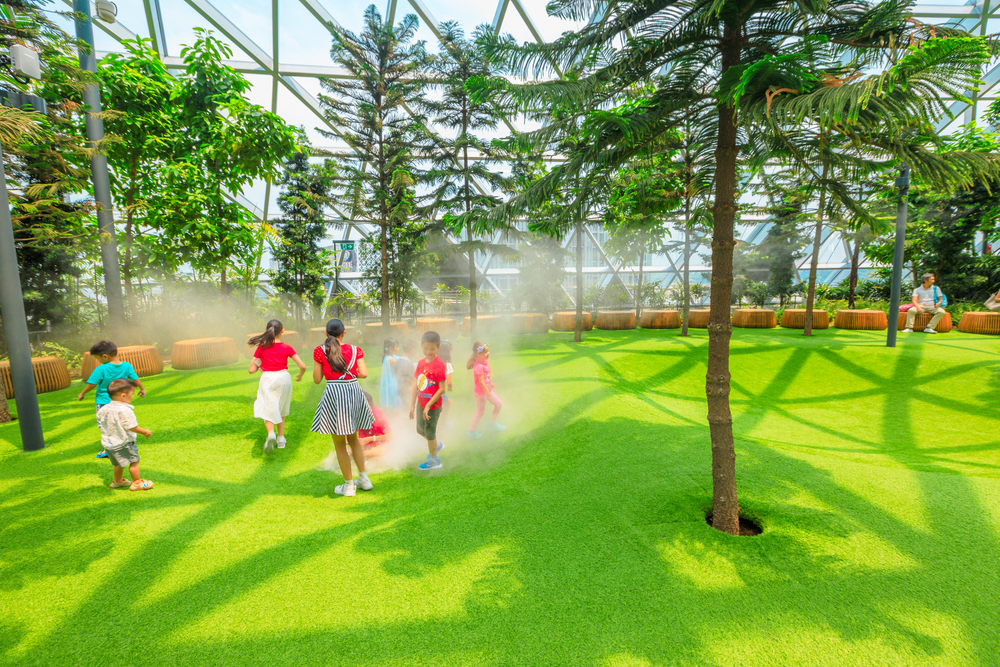 For those wanting to stay in Terminal 3, kids old and young will love The Slide@T3 – Singapore's tallest slide, and the world's tallest slide in an airport!  And you could lose the little ones for days at a time in the Games Area in Terminal 4, with arcade machines on offer as well as PlayStations, X-Boxes, and a Wii to enjoy free of charge.
If you want something a little more chilled, in Terminals 2 and 3, classic kid's films are played on giant cinema screens alongside recent releases, complete with comfortable seats and popcorn.
And for the adults?
Sometimes you just need a bit of grown-up time and a relaxed meal! With almost 200 bars, café's and restaurants to choose from throughout the airport, you'll be spoilt for choice!
Food & Drink – For a kid-free zone, challenge your friend or partner to make you a cocktail at the dedicated zone within duty free in Terminal 4, or try suggested food and beer matches at Tiger Beer's Vortex-view restaurant.
For those desperate for a bit of fresh air, Hub & Spoke Café's menu offers a range of Western and Singaporean classics served alfresco at Terminal 2.
Wellbeing – If all the kids splashing around at the Terminal 1 roof-top pool, have you craving a bit of peace and quiet, head for the Wellness Oasis Spa for a facial and a fish pedicure.
Shopping – If you're desperate to flash the cash, fear not as Changi offers a mind-boggling array of duty-free shopping experiences – from local brands to international luxury and everything in between.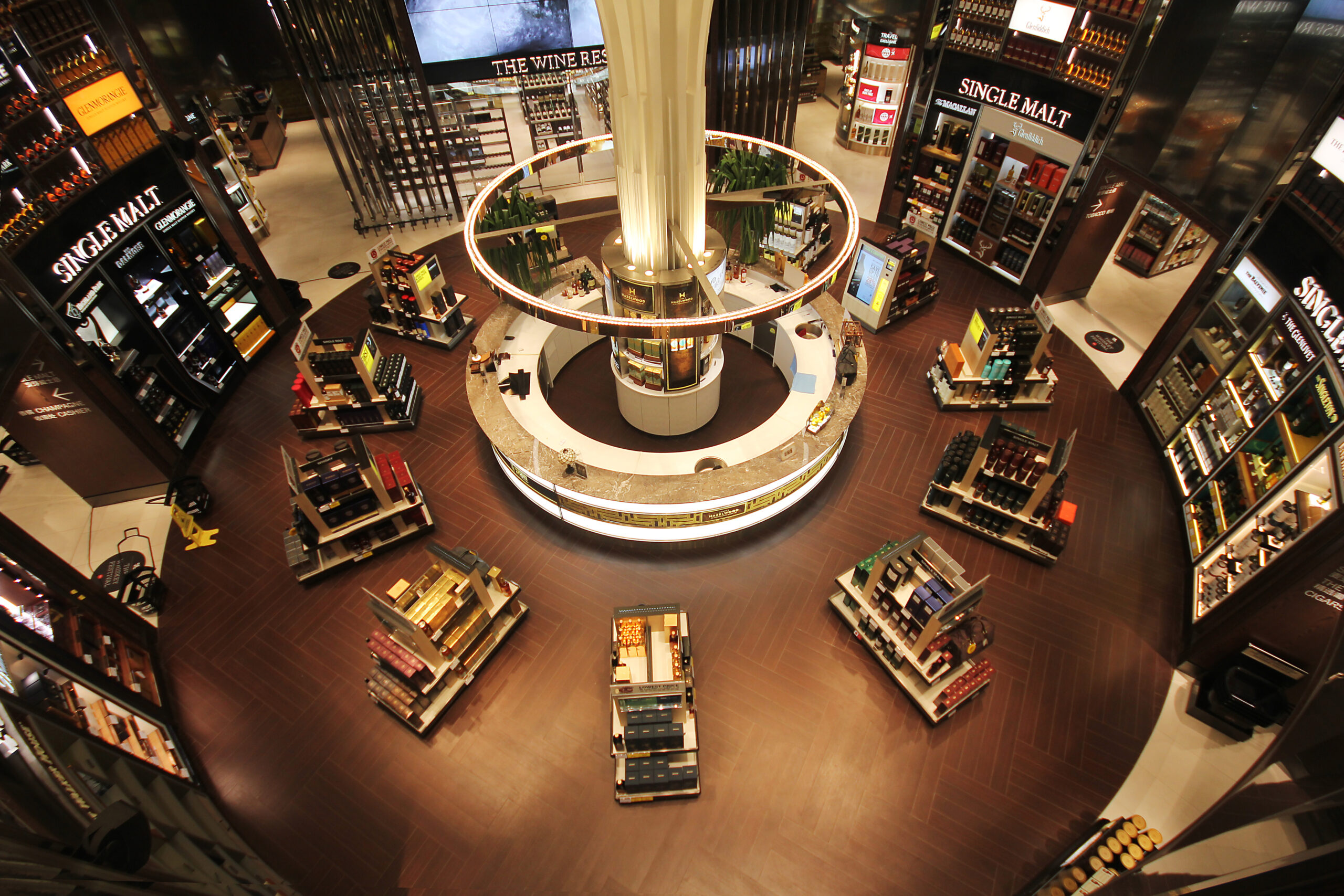 Art & Culture – For culture vultures, Changi is absolutely bursting with artwork.
Terminal 1's Kinetic Rain installation made up of shining metal droplets suspended overhead that shift position inspired by the flow of passengers and planes through the airport. It'll have you staring in wonder (or confusion, depending on how much sleep you managed on your flight).
Similarly, Terminal 2's A Million Times at Changi, where hundreds of clocks harmonise their hands into creating messages and pictures.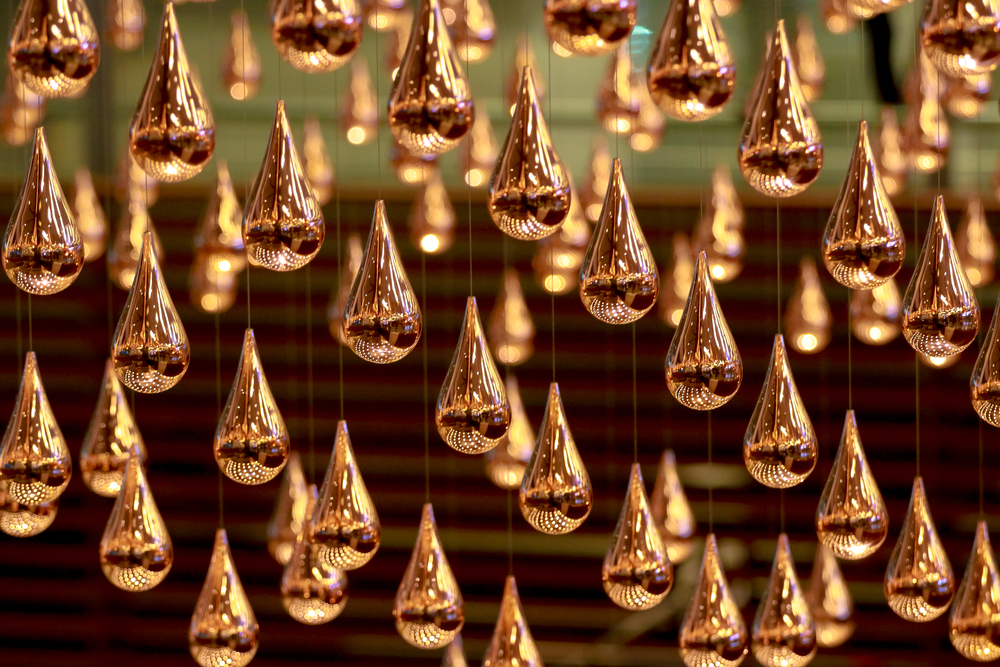 In Terminal 3 the 13m tall Daisy is painted in Singapore's national colours, with a giant propeller a nod to its location as it follows the movements of passers-by.
Finally, for those extending their holiday with side-trips to other Asian destinations, Terminal 4 offers its own shape-shifting piece, Petalclouds, which can be enjoyed from both the Departure and Arrival halls.
For a more traditional offering, Singapore Rojak is a giant heritage mural depicting a Singaporean Street Scene, with market stalls inviting observers in with their colourful wares. The garden in T4 also contains a series of giant bromeliads juxtaposed against an enormous steel creative centrepiece, and a gentle koi pond.
Wherever you turn at Changi Airport, you're sure to find something incredible to look at.
Can I stay overnight at Changi Airport?
Yes! In fact, we recommend it to really make the most of your visit.
With the world's highest indoor waterfall, tallest airport slide and the only airport Butterfly Garden, we'd be surprised if Changi could be beaten on number of sleeping options.
Free of charge rest areas are spread throughout the airport, offering comfortable seating including reclining massage chairs. Airport lounges also offer showers and multiple areas to relax and watch a movie while you recoup.
If undisturbed sleep and a private room are your top priority, we can book you a room at the transit hotel onsite with a bed and a shower available for blocks of 6 hours – perfect when travelling on Singapore Airline's service between UK and New Zealand.

What if I don't have much time to spend at Changi Airport?
Changi's got you covered! It's known in flight-booking circles as one of the most efficient airports around. Connection times here may be tighter than allowed elsewhere, and even if you're only taking the Sky Train between terminals, you should still manage a glimpse of the Rain Vortex.
Unlike many other international airports that operate strongly reduced hours overnight, Changi offers a range of restaurants, duty free and other shopping options open into the late evening, with some Terminal 3 dining available 24/7.
We recommend you should also squeeze in a visit to one of the gardens, many of which are also accessible by night.
What about COVID-19?
Not only is Singapore one of a handful of countries (along with New Zealand, of course!) that the UK government will accept vaccination certificates from, they were also one of the first whose national airline carrier insisted their cabin crew wore facemasks to protect passengers, way back in early 2020.
Already known as one of the cleanest countries in the world with their infamous chewing gum ban imposed in 1992, since the pandemic hit, cleaning regimes have been stepped up even further. The airport website has a dedicated Covid-19 Hub to help make your time in the airport as safe and seamless as possible.
Anything else I should see?
Oh, so much more – but what would be the fun in exploring for yourself if we spoilt all the surprises before you arrived?
OK, I'm sold… how do I get there?
If you're looking to book a New Zealand holiday, just give us a call to discuss your requirements with us so that we can book your transit through Changi.
If you plan to explore the city too, keep a look out for our upcoming blog post with all our latest tips on how best to spend your time whilst visiting Singapore.