"Here comes the sun", sang The Beatles and they might as well have been singing about New Zealand in December! For December marks the beginning of the summer season, and brings with it long sunny days and warm summer nights. This is the New Zealand many of us have in our mind's eye – the white sands and turquoise ocean, tropical-looking forests lining the shores … and Christmas on the beach!
What's New Zealand Like in December?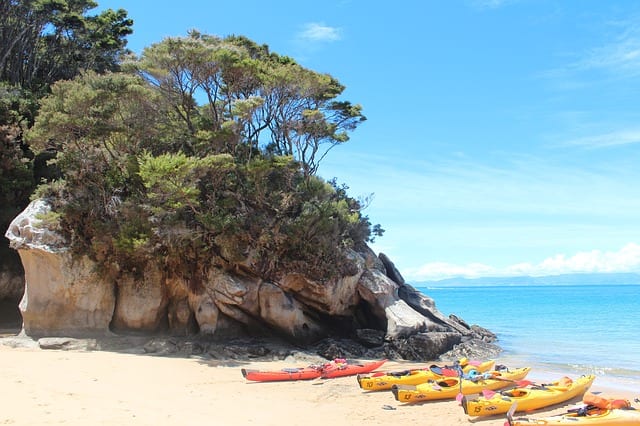 The cooler days of Spring are behind us, and the New Zealand December sun radiates temperatures reaching up to 30°C on both the North and South Island. Yes sir, New Zealand can be hot in December! As is to be expected, temperatures are a little higher on the North Island, but other than this, the weather conditions in December are broadly similar in the north and the south.
But while it can be hot, daytime temperatures can still drop to between 15°C – 24°C on the South Island, and there's always a chance of rain in New Zealand. While rainfall levels will drop in December (and summer is certainly the driest season) you should still expect the odd rainy day, as December is the wettest of the summer months.
New Zealand daylight hours in December begin at 15 and increase to 15.5, which gives sun worshippers like me a lot of time for our daily practice! Some of the sunniest spots in December include Nelson, Blenheim and Lake Tekapo on the South Island and Tauranga, Kaitaia and Gisborne on the North.
So, is December a good time to visit New Zealand? Well, the weather forecast for December is great, there's plenty to see and do, and who doesn't love the idea of Christmas in shorts and flip-flops? In fact, the only downside we can think of is the crowds, as December marks the first month of the high tourist season and also sees the start of the New Zealand summer holiday towards the end of the month.
What To Do in New Zealand in December
One good thing about the arrival of the high tourist season is that New Zealand's activities and attractions are all open for business. We could write a whole book on things to do in New Zealand in December, but we'll spare you the trip to the bookshop and help you make the most of your New Zealand December itinerary by previewing the best bits for you right here. Spoiler alert!
Visit a Wonderland of Lights at the New Plymouth Festival of Lights

Savour Excellent Food & Drink at the Christchurch Wine & Food Festival

Get on your bikes and ride!

Enjoy Christmas & New Year Festivities in the Sunshine
New Plymouth Festival of Lights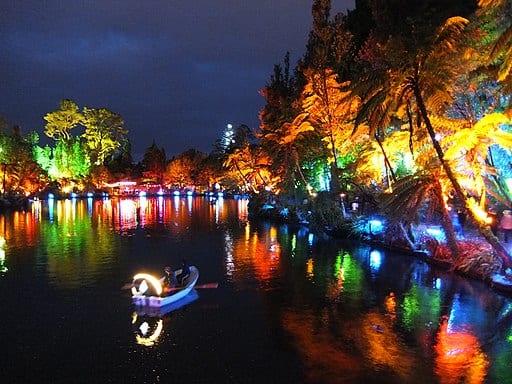 Running from mid-December to early Feb, this festival sees the beautiful botanic Pukekura Park transformed every evening into a spectacle of lights and entertainment. A wonderfully serene atmosphere is created and my family and I have spent many an evening wandering through this enchanting place. The even better news is that it's completely free, and chock full of concerts and activities for the whole family. Definitely one of the best places to visit in New Zealand during December in my family's opinion!
Christchurch Wine and Food Festival
If you find yourself wondering where to go on the South Island of New Zealand in December, you could do a lot worse than head over to the Christchurch Wine and Food Festival for both of the aforementioned delights, plus great live music and a top festival atmosphere. The emphasis is very much on the food and drink though, so treat your senses at one of the best New Zealand events, this year to be held on Saturday 7th December 2019. 
Christchurch Festival of Cycling
Fans of cycling will be pleased to know that Christchurch also hosts the Festival of Cycling in December. With rides for cyclists of all ages, this is an increasingly popular event, and a great way to see the area! Held over a weekend, the Saturday tends to involve routes around the bay area and up into the hills, and the Sunday sees cyclists taking to the city centre. Personally, I was very happy to sit in one of the wonderful local cafes with the bags as the rest of my clan took to their two-wheeled steeds!
 Enjoy Christmas & New Year In the Sunshine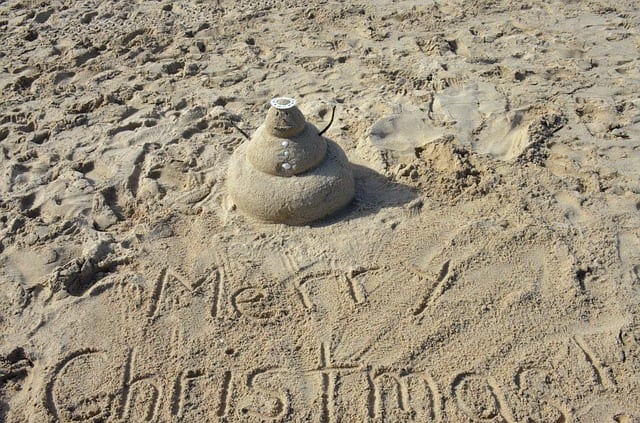 Of course, any "New Zealand in December – what to do?" list should include a reference to Christmas and New Year. Both events are very different in the Southern Hemisphere due to the weather, but are still very important features of the New Zealand calendar. In fact, New Zealand is the first country to welcome in the new year, and all major cities hold big events to celebrate, although we think a starry-skied evening on the beach is just as good. And there's nothing quite like Christmas on the beach either. Keep an eye out for the glorious Pohutukawa tree (the New Zealand Christmas Tree) and be sure to stock up on items a couple of days beforehand as most shops tend to close over Christmas, and some don't open again until January. Check out our article on Christmas in New Zealand for more on what to expect!
What To Pack for New Zealand in December
When deciding what to wear in New Zealand in December, I find that the warmer weather means that jeans and a tee-shirt will see me comfortably through most days (New Zealand attire is as casual in December as it is the rest of the year). But packing for New Zealand in December is similar to packing for an early summer holiday in the UK, so it's a good idea to prepare yourself for the odd hot day as much as it is the odd cool one. Here are a few things not to leave off your New Zealand December packing list:
Tee shirts and light sweaters for layering up when the weather turns cool

Light rain jacket for those occasional rainy days

Swimming stuff – because beach life!

Some easy-to-pack summer shoes (espadrilles are perfect)

Sunglasses

Bug spray (essential for keeping the sand-flies at bay!)
And don't forget to include sunscreen on your list of what to pack for New Zealand in December. UV levels are very high in this part of the world, so make sure you're protected even on cloudy days.
New Zealand in December is glorious. We've spent more than one Christmas with the Kiwis and we absolutely love it. And don't worry too much about those crowds: this may be high season, but it's only the beginning of it; the main influx of visitors will take place next month, so you might even find that some bargain flights to New Zealand in December are still available!