Akaroa: Māori for "Long Harbour"
Most Silver Fern travellers who wish to visit the small town of Akaroa on the South Island's Banks Peninsula, do so at the end of their New Zealand holiday.
It's an ideal, easy-going place to have a restful couple of days before returning to Christchurch and catching the plane back home.
Google Maps will tell you that the drive is only an hour and twenty minutes, but in my experience the twisting roads and the many options to stop along the way means the journey will take you most of a morning. The peninsula was named for botanist Joseph Banks, who sailed with Captain James Cook on the Endeavour.

The History of Akaroa
Akaroa has a special point of difference in history – it was the only French settlement in New Zealand.
In 1838 a French whaler, Captain Langlois, decided that Akaroa was an ideal location for a town that could service the whaling ships. He subsequently acquired the peninsula in a dubious land deal with the local Māori. He then returned to France and arranged for a group of French and German families to sail to New Zealand, with the intention of forming a French colony.
However, by the time Langlois and his colonists arrived at Banks Peninsula in August 1840, the Treaty of Waitangi had already been signed. The signatories, including two Akaroa chiefs and New Zealand's first Governor, Hobson, had declared sovereignty over the whole of New Zealand.
In spite of this unexpected turn of events, the French settlers decided to stay on and over the next few decades, Akaroa became quite cosmopolitan. The French established themselves at one end of town, the British at the other, and people from Portugal, Italy, Spain, China and Australia joined them.
Akaroa's population never grew much past 1000 – today it has about 650 permanent residents, but its population increases by around 4000 during the peak of the cruise season.
The distinctive character of Akaroa village is enhanced by the large number of well-preserved colonial buildings. The historic French cemetery and the French street names with their unmistakable French style, run throughout this seaside town.
Akaroa celebrates its French heritage with a biannual event, FrenchFest, where visitors and locals alike can enjoy a re-enactment of the French landing, a French inspired market day and an evening Cabaret.
There are two museums which recount Akaroa's continental past and they're both very much worth a look-in to discover more about the history of Akaroa.
Akaroa Museum is in the village itself, and over the hill from Akaroa in Okains Bay you'll find the Māori & Colonial Museum. Here, you'll find significant Taonga Māori and early Pākehā items among the range of treasures on display in the museum's diverse complex of heritage buildings.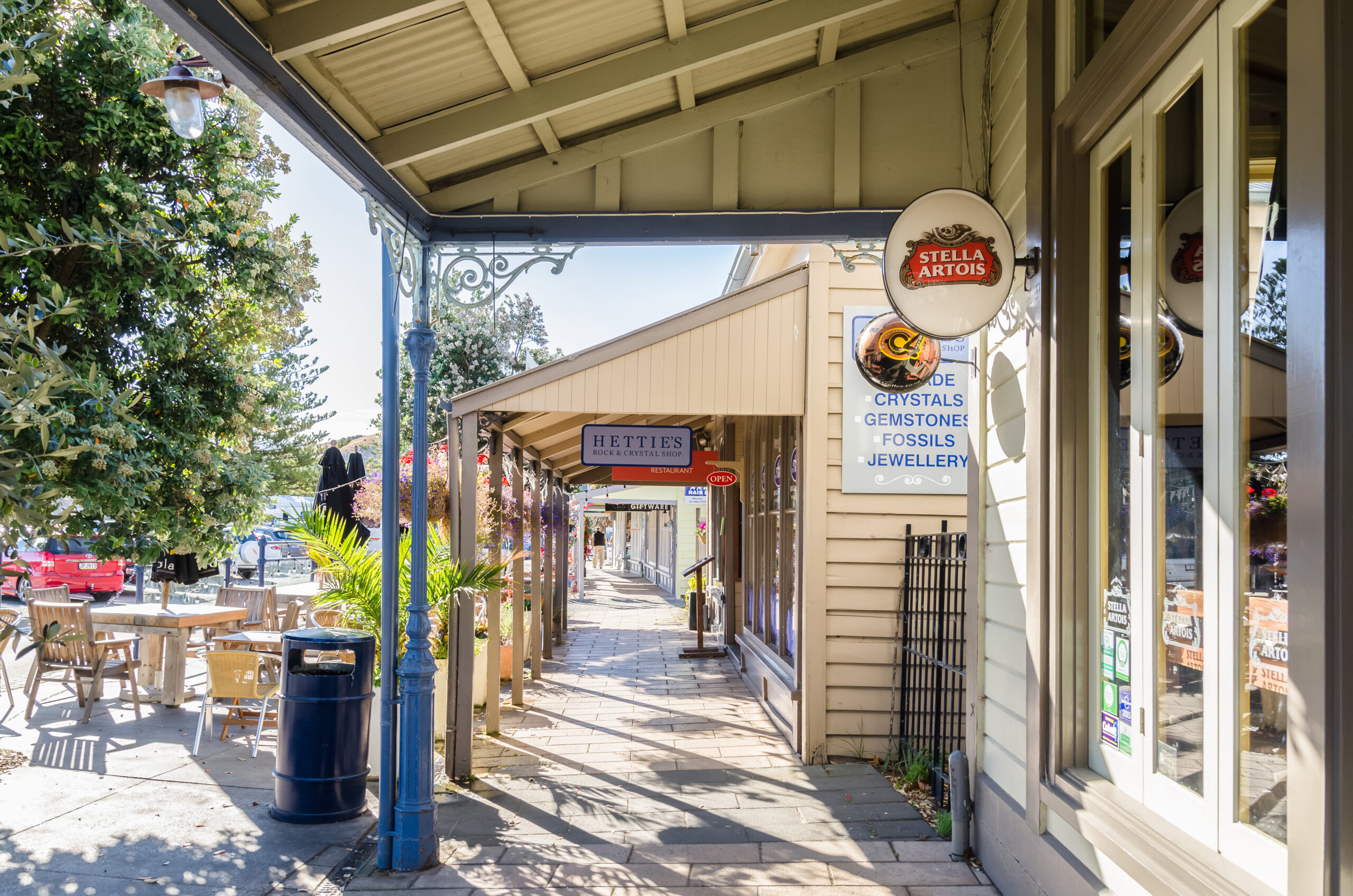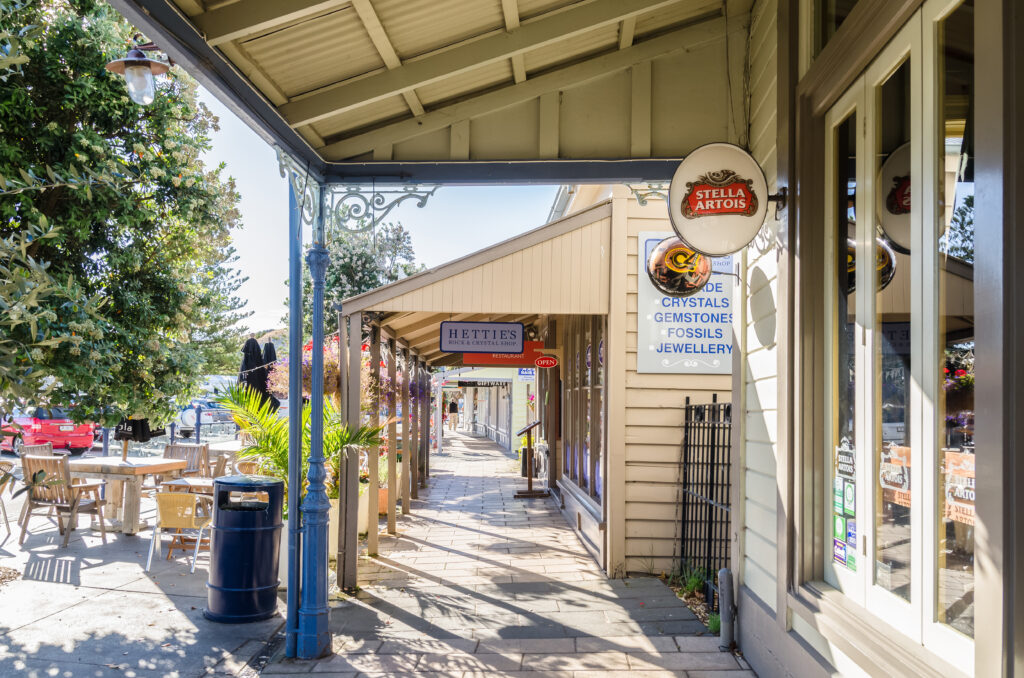 The Geography of Akaroa
Akaroa is situated on the shore of French Bay, inside Akaroa Harbour, which is a rocky inlet on the Banks Peninsula that was formed when the sea breached the erosion-enlarged crater of an ancient volcano. One of the few mistakes Captain Cook made in his cartography of the area was to assume the peninsula was an island.

Where to Stay in Akaroa
One of the attractions to Akaroa is the low-rise accommodation, which sits in stark contrast to the many floor hotels that are part of the Christchurch city landscape. For overnight stays you're really looking at motels, apartments and small bed and breakfast establishments. Our tried and tested recommendations for places to stay in Akaroa are:
An iconic landmark since 1896, Oinako holds a cherished place in the heart of Akaroa's French heritage. Elegant rooms, superb harbour views, beautiful period features and peaceful surroundings are the hallmark of this historic home.   
For something a little different, check out the latest in alternative accommodation – which seem to be a new favourite amongst farmers! It's a 15-minute walk from the nearest road, but you do get to sleep on real beds in double-glazed, New Zealand-made pods with some of the most incredible and tranquil views you'll ever experience (even more so from the private woodfired hot tub). As they say, "more solid than canvas, much more romantic than an ordinary hotel room".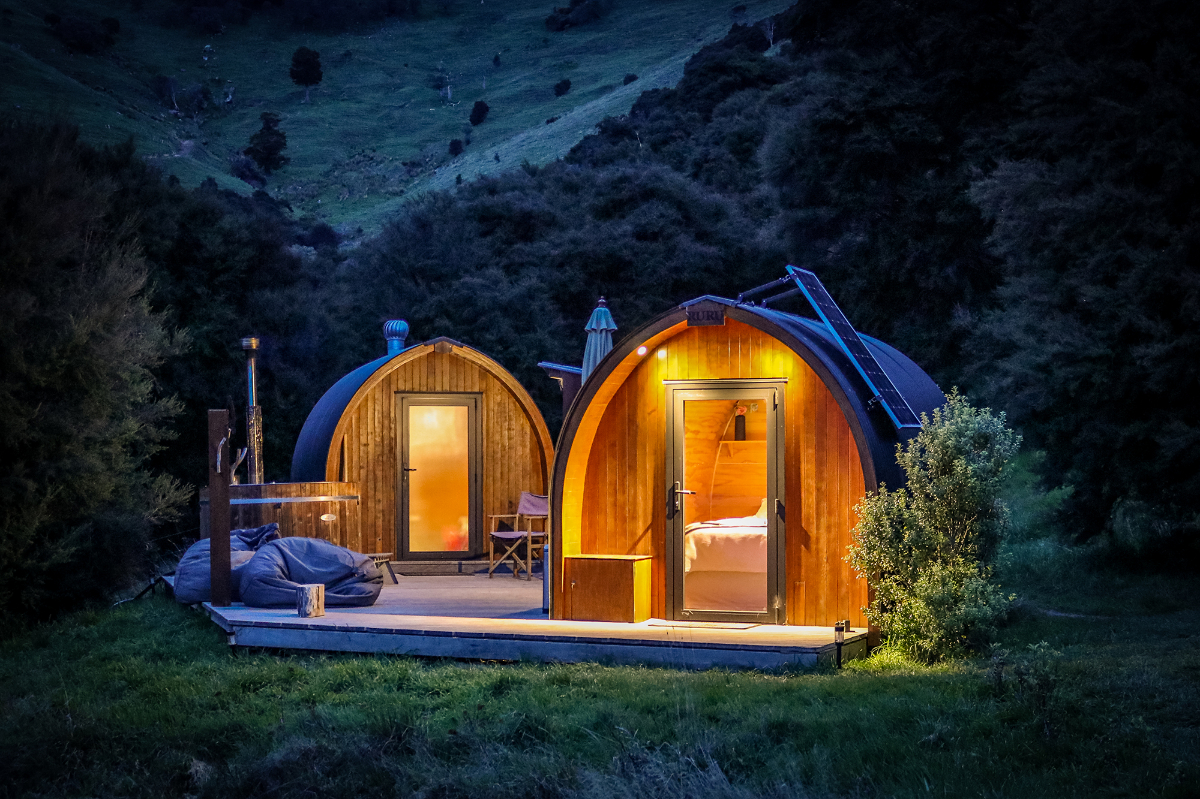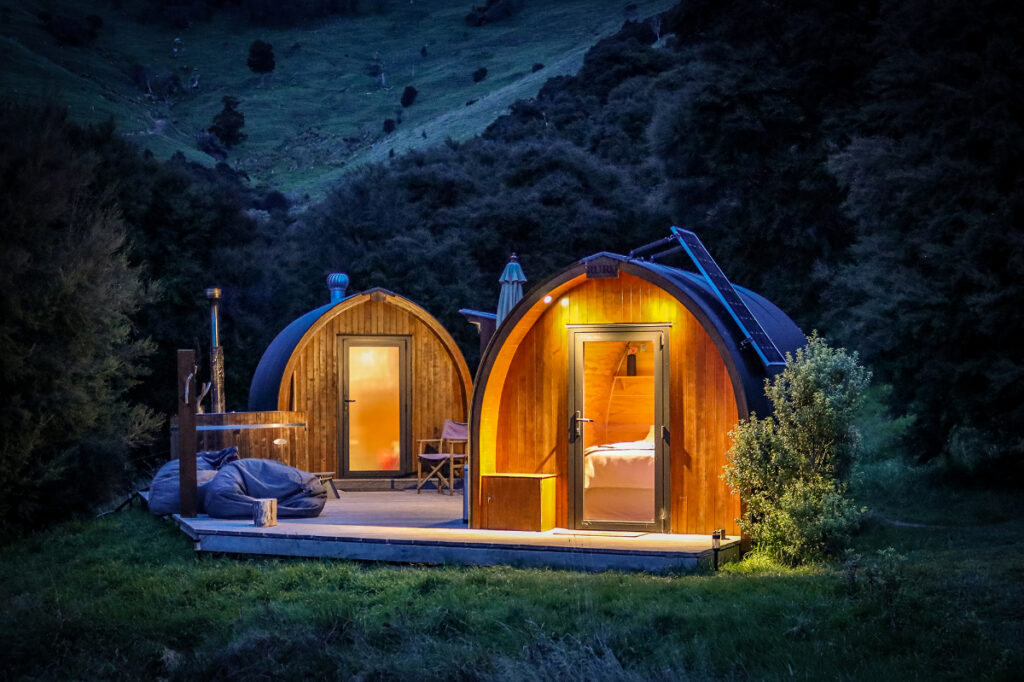 The Akaroa Coastal Studio is perched above native bush, with spectacular views of the harbour. Attached to the owners home, it's a quiet, private room with its own entrance, queen-bed, kitchenette and en-suite bathroom. Studio guests can also enjoy private use of the outdoor spa pool too.
Like many accommodations in New Zealand, they can also book activities directly for you.
A newly renovated motel, it offers large studio apartments with stunning views over the harbour, private balconies, double glazed and under floor heating.
Probably our pick of the motels because it is the only motel in Akaroa on the water's edge. All units are self-contained with their own kitchenette and private bathroom to make your stay as comfortable as possible.
No longer an inn but really another set of apartments that are well located with all the amenities you'd need. Family-friendly with a lovely outdoor pool, laundry service, cooking facilities and free parking – it's perfect for those looking for a home away from home.
Other accommodations to consider are Mount Vernon Lodge or the Tresori Motor lodge – both offering convenient and comfortable self-contained studio apartments.
Activities in Akaroa
If you're looking for things to do in Akaroa, most activities involve sea action. But if you are a "land-lubber" and fancy making it a walking holiday, you'll also find plenty of walks to enjoy – ranging from just a few hours to three-day track walks. Most of the walks have spectacular views of the Akaroa harbour once you get up into the hills above the township.
Walks & Hikes Around Akaroa
To really make the most of the local scenery, then a walk around the Banks Peninsula is the way to go. Here's some of our favourites:
Banks Track Walk
Let's start with the big one – The Banks Track walk. Pioneered hut-to-hut walking over private land, it's still regarded as the finest private walking track in the country.
Beginning in the village of Akaroa, the Banks Track includes spectacular volcanic coastline, waterfalls, native bush, open pasture, and delightful beaches. You can choose between the three-day Classic Walk or the two-day Hikers Walk option.
Akaroa & Banks Peninsula Short Walks
Recommended short walks are through native bush to the Gardens of Tane and across to the historic lighthouse.
Further afield, we'd suggest the Misty Peaks full day circular walk and the Round the Mountain trail which encompasses Purple Curry Reserve.
For a comprehensive guide to all the walks in the area, please visit the Banks Peninsular Walks website.
On the Water in Akaroa
If for any reason you've missed seeing dolphins in the Bay of Islands or off the Kaikoura coastline, you've plenty of opportunities to see them in Akaroa's waters.
Here's some of the operators who will take you out to see the local bird and fish life:
Akaroa's Fox II
Fox II Sailing will take you out into the harbour on New Zealand's oldest ketch. With 2 wooden masts and 6 sails, there is always a halyard to hoist or a sheet to be pulled! So, if you're into sailing this is the trip for you – the crew are pretty good on their local history and wildlife too and know exactly where to spot dolphins – you're guaranteed a good time!
 Black Cat Cruises & Swimming with Dolphins
Black Cat Cruises proclaim they are the original dolphin swimming encounter. It is fair to say they have won numerous awards for their eco tours and only allow a maximum of twelve swimmers, so you can be sure of a quiet, personalised experience.
Pohatu Penguins Sea-Kayaking Safari
And if it's penguins you'd like to see then this is an excursion you should take. Explore by kayak the towering volcanic cliffs, reefs and sea caves of Pohatu marine reserve to encounter its unique wildlife.
 Akaroa Dolphins Harbour Nature Cruises
Harbour nature cruises offer a more luxury option. You'll board a cruise boat to view the dolphins, seals and seabirds on a 2-hour float around Akaroa Harbour – all the while enjoying complementary, award-winning drinks and food. For something even more special, they also offer private charters. You can hire a boat from 2 hours to a full day with many additional services available, such as catering, entertainment, and your own onboard photographer.
A similar operation is also provided by Southern Wanderer Scenic Cruises and EcoSeaker Harbour Cruises, but on a smaller cruise ship.
Where to Eat in Akaroa
And after all the excitement of the day, where are you going to relax and enjoy an evening meal in Akaroa?
Our absolute number one recommendation would be Bully Hayes restaurant and bar, which has panoramic views of the harbour and serves up an extensive menu of New Zealand produce, complemented by some fine local wines and craft beers.
And if it's the wine you've come for, the French Farm Winery has a wide selection as part of their bistro offering in a peaceful garden setting.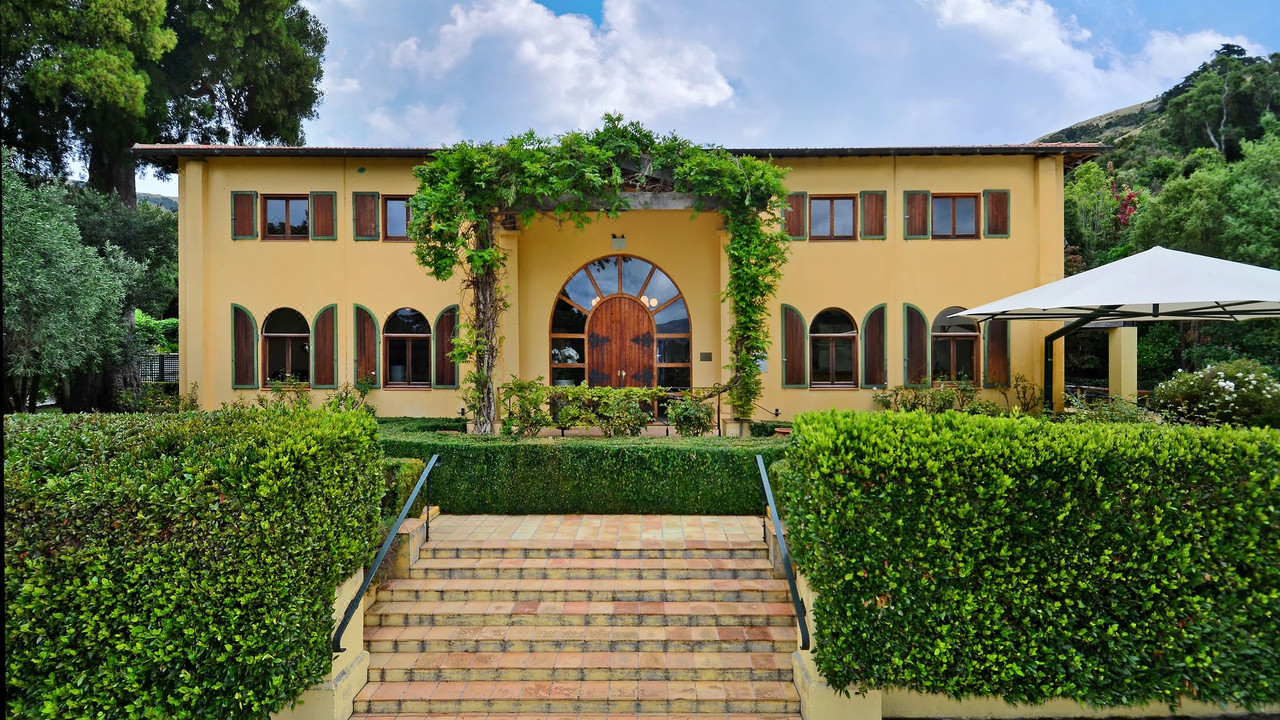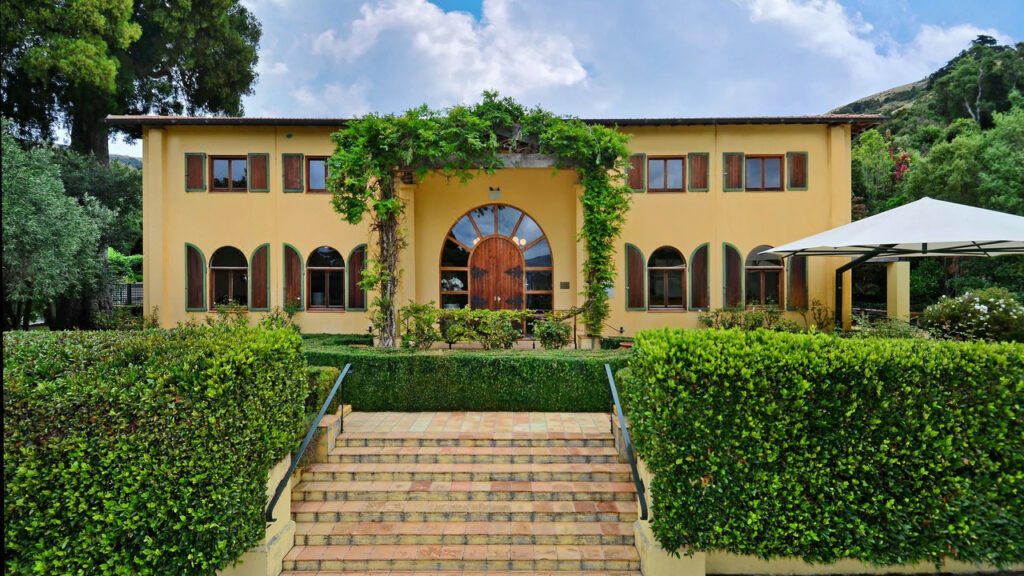 For something different, you have to try Mandala. Run by a Fijian husband and wife team, they serve a tasty blend of Pacific Indian flavours with the best of traditional European food. 
Finally, there is Ethels Cinema, Café & Bar. Akaroa's twin screen movie theatre that often features the latest blockbuster, documentary, foreign and arthouse films.
Each cinema has plush seating with a table for snacks, coffee or glass of wine. As well as the latest films, Ethels also offer dine-in and takeaway food including daily baked savoury and sweet treats. It's also the place for Italian pizza, fresh salads, vegetarian, vegan and gluten-free options.
For such a small township, Akaroa certainly packs a punch and although some locals complain about the large cruise ships that visit the area, there is no doubt that the local tourist operators benefit from their presence.
I've found visiting in the autumn months to be the best time to visit – with the many hues of the season offering a wonderful display of colour against the rich light that softens the landscape at this time of year.
————-
For more information about visiting Akaroa, do get in touch, we're always happy to chat about this marvellous little place!