New Zealand is made for walking – wide open spaces, stunning coastlines, towering mountain peaks and golden tussock valleys draw people on to the many tracks that zig zag across the country.
We think it's the best way to explore the country and all that it has to offer – and with more than a quarter of the country designated as National Parkland you don't have to travel far in New Zealand to find the perfect place to lace up your walking boots and take to the trails.
There are many walks to choose from – from a leisurely half a day wander to a more challenging 4-5 day wilderness trek and many of the longer trails have shorter options available too, so there's walking to suit all abilities and all enthusiasms!
We've selected five of our favourite walks below, you'll find more information about them, and our independent walking itineraries on our website – and of course, if you'd like to have a chat with us about any of the walks below, or about planning a holiday to New Zealand, please just get in touch.
The Kepler Track –
A perfectly looped alpine crossing, The Kepler track can be walked in either direction is 67km long and takes four days to complete. The walk traverses Fiordland National park in the South Island, and enjoys a real diversity of scenery from alpine tussock plains and remote lakes to lush forests and rocky peaks.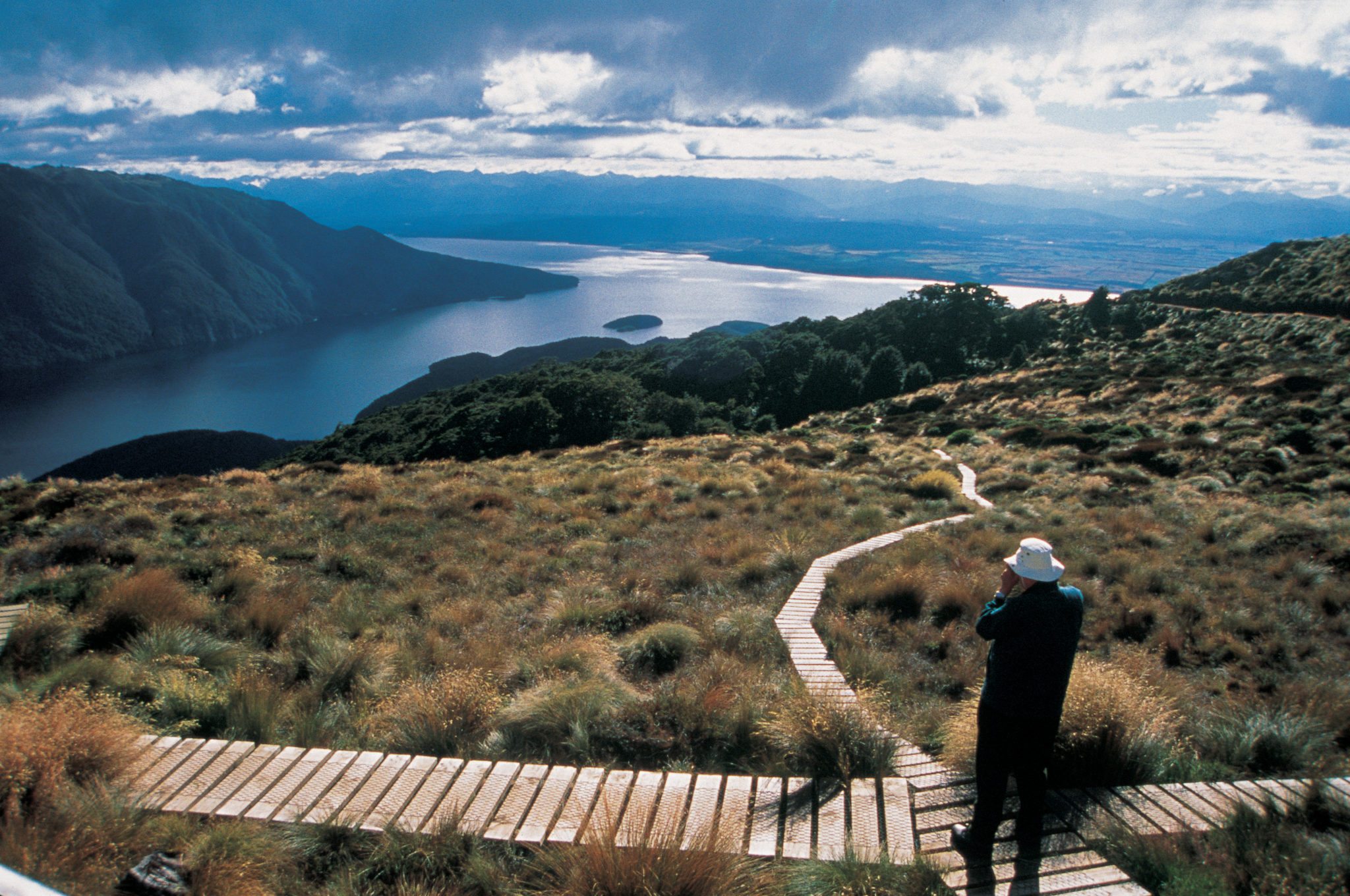 Accessible and described as an easy hike for independent non – guided walkers, it's a great walk for those with relatively good levels of fitness – although those who aren't quite so spritely needn't be put off as shorter day walks are available on the Kepler Track too.
You can walk the track all year round, but do be aware that snow and adverse weather conditions can close the alpine section of the track during the winter months.
There are DOC huts and campsites along the way and for both booking are essential, particularly during the summer months (late October to late April) when the track is at its busiest.
Abel Tasman Coastal Track
One of our all time favourite New Zealand walks, the Abel Tasman Coastal Track is a beautiful walk around picturesque bays and glittering sandy beaches, that's truly a New Zealand experience like no other in our humble opinion.
An easy, relaxed walk, for the majority of the year the track is bathed in sunshine that peeks through the sections of forest and is so well marked and graded it's almost impossible to get lost!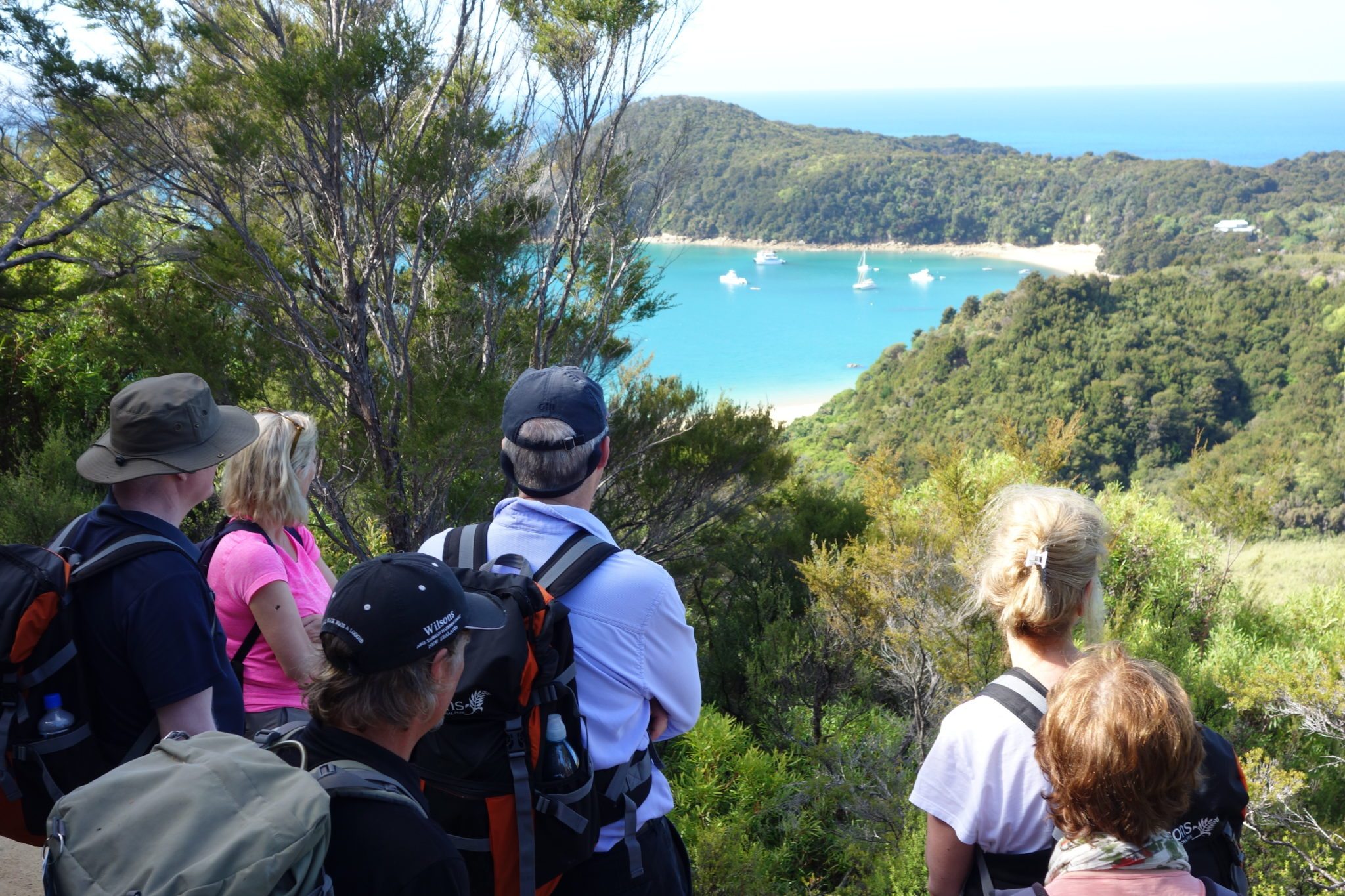 Footwear isn't so important on this track, as the pathways are all well laid, and there are no alpine sections, so trainers or even comfortable sandals will do the job.
The entire track takes between 3 -5 days to complete, although many walkers stretch it out a little longer, they enjoy it so much. There are many opportunities for wild swimming (a wonderful way too cool down after a long walk with a backpack on) and you can also give your legs a rest and spend a day kayaking around the bays, gaining a different perspective on the area. You'll be joined often in the water by dolphins, seals and even penguins – and there aren't a lot of places in the world where that happens!
Guided walks are availabe, but for independent walkers there are five huts along the way, with basic facilities. We recommend carrying a tent and camping (in the summer months) and don't forget your hut and camp pass!
The Milford Track
Probably the most famous and certainly one of the 'finest walks in the world' The Milford Track is an opportunity to celebrate 125 years of history, and walk in the footsteps of early explorers to see New Zealand at its very best.
The route travels through Fiordland National Park, part of Te Wahipounamu – The Southwest New Zealand World Heritage Area, and offers a relatively easy four day hike on a well marked path.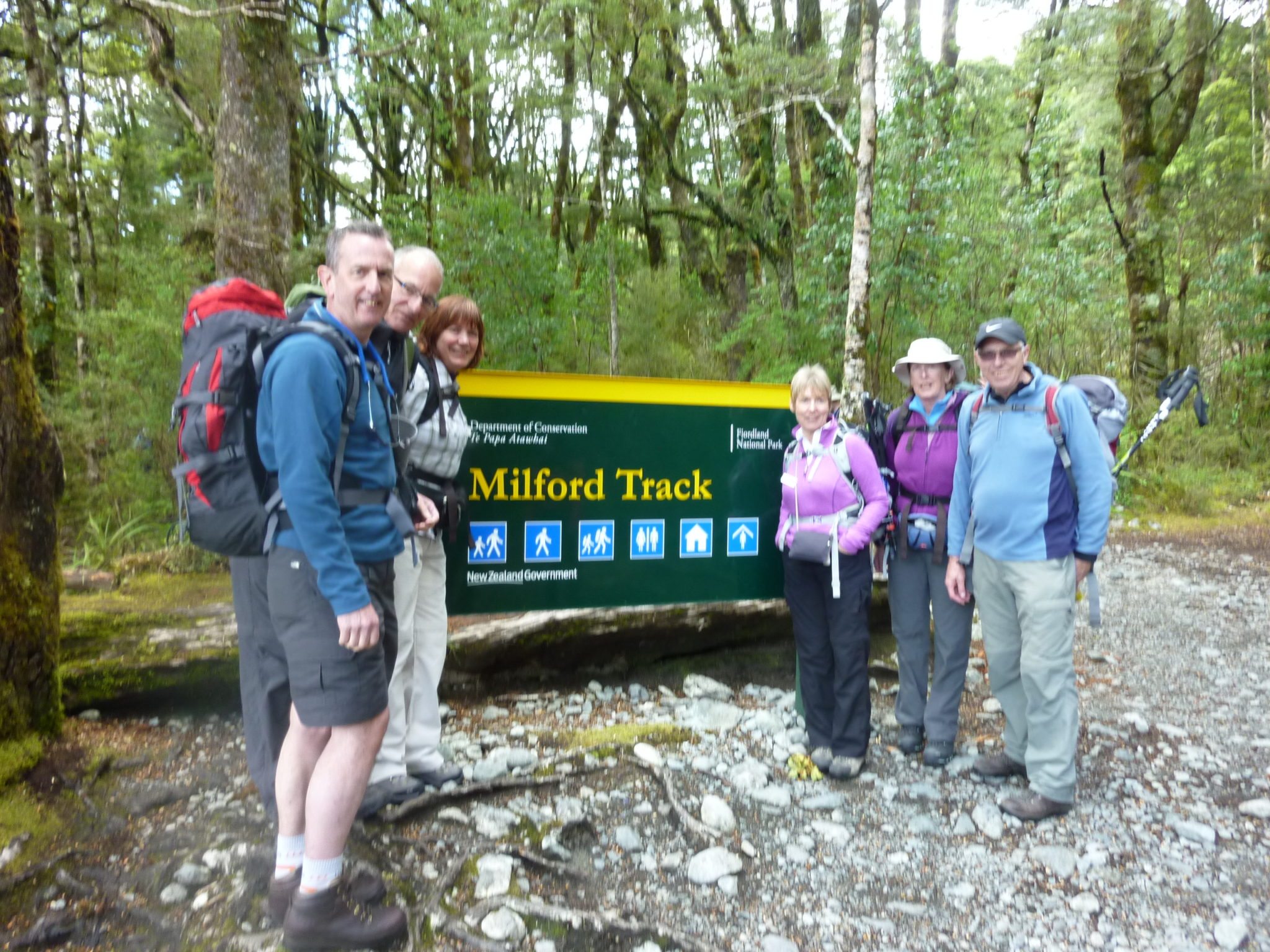 The track operates a booking system that limits how many people are permitted onto it at any one time, so you'll never feel crowded – but it does mean you really do need to book ahead especially during peak seasons.
The Milford Track is 54km in length from the head of Lake Te Anau to Milford Sound. Some of our favourite sights along the way include breathtaking glacier –cut fiords, spectacular crashing waterfalls, beech forests and many rare and endangered species of plants, birdlife and animals.
Once you reach Milford Sound, reward yourself for all that walking with a scenic flight, or a cruise out onto the Sound itself – a truly unforgettable experience, we promise!
The Routeburn track
Second only to The Abel Tasman Coastal track, The Routeburn is the most well trodden trail in New Zealand. It's also rated, by Sir Edmund Hillary as one of the most superb walking areas in the world.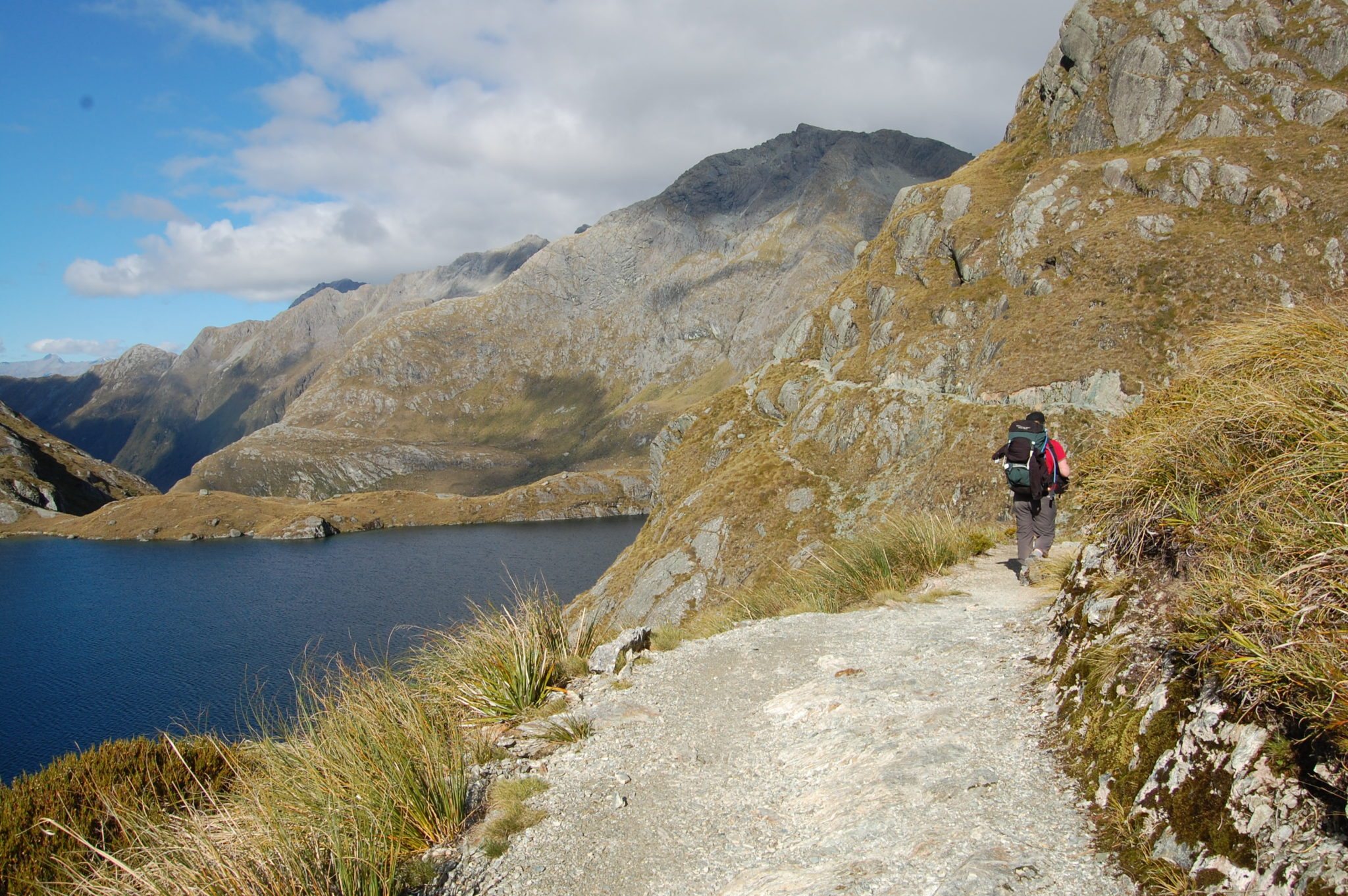 The Routeburn is a 39km 3 day walk that attracts 10,000 hikers every year and passes through dense rainforests to breathtaking alpine meadows with stunning views over the dramatic mountain ranges and deep valleys.
Walkers can hike the track in either direction, and the track is rated as moderate. You can either walk independently or join a guided walking group if you're planning your walk between the months of November to April.
As always, you need a camping permit from DOC to sleep at one of the four huts along the route.  Camping is prohibited along the Routeburn track to protect the area, with the exception of campsites at Routeburn Flats, Lake Mackenzie and Lake Howden.
The Tongariro Northern Circuit
Right in the heart of the North Island, within Tongariro National park you'll find the Tongariro Northern circuit, a 43km loop track that winds its way past Mt Tongariro and Mt Ngauruhoe, passing through startlingly contrasting landscapes, from tranquil lakes to forest and alpine fields.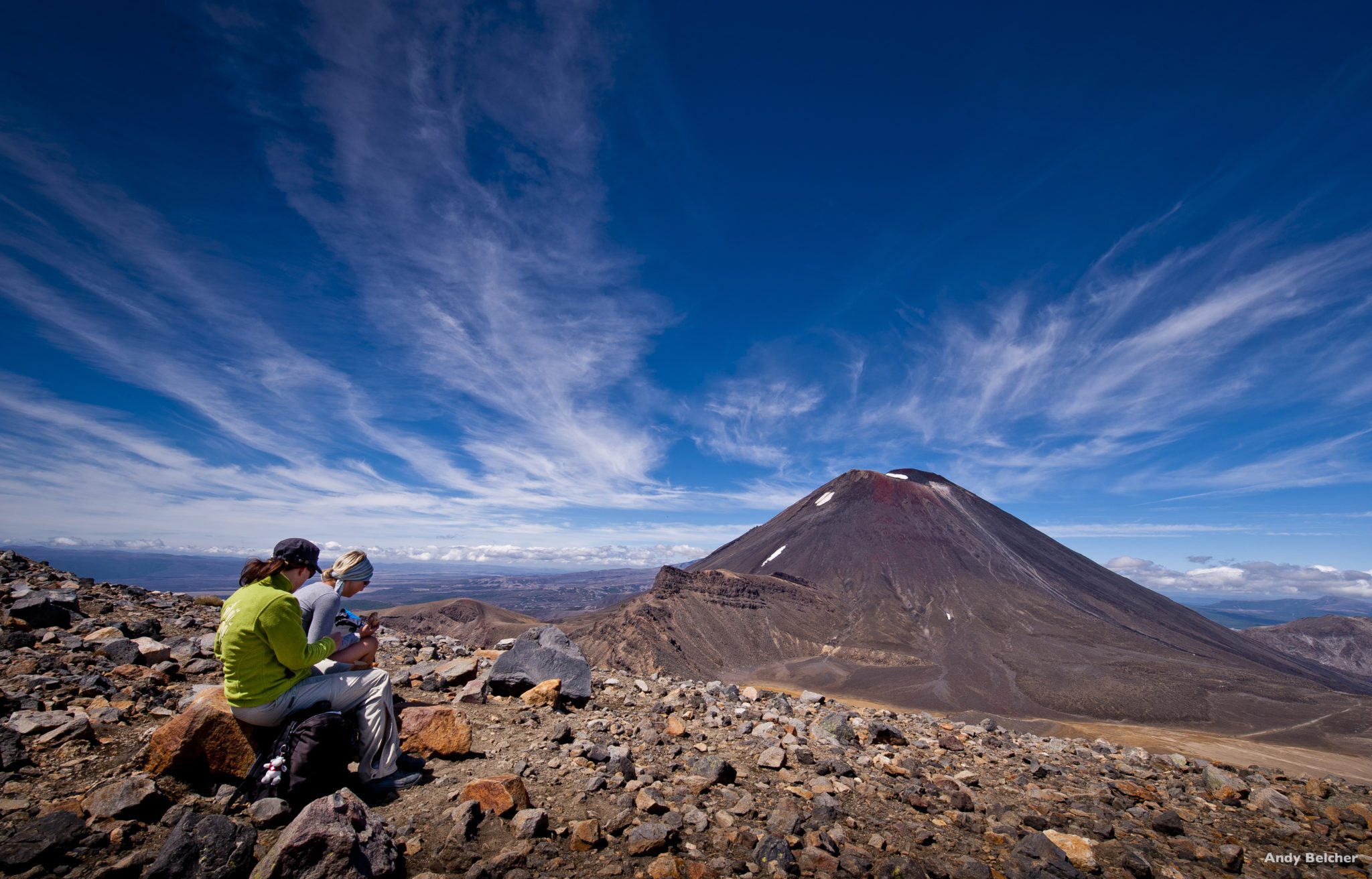 This 4 day walk covers some of the most interesting thermal areas of the Tongariro National Park – and you'll walk among bubbling mud pools, hot springs and craters that will make you feel like you're on the moon.
The best time to walk this track is between November and April, as the winter months can be quite harsh with snow and ice sometimes hiding the track making it a rather different experience!
Make sure to stop off at Ketatahi Hut to rest your aching limbs and have a well deserved soak in the thermal pools.