If you're looking for a flexible and fun way of taking in the sights and sounds of New Zealand, then there are few better ways than on a road trip.

New Zealand is famed for its network of winding roads, which total some 94,000km in length, and which cut through some of the most breath-taking scenery imaginable.
With the help of a hire car, you won't be tethered to a rigid schedule, you'll be able to reach places where buses don't travel, and if something catches your eye along the way you'll be able to make a detour.
If you're thinking of driving in New Zealand, whether that's a hire car, motorhome or campervan, or even a motorcycle, these tips and tricks will help ensure a smooth journey from start to finish.
Driving in New Zealand
To successfully navigate New Zealand by car, you'll need to spend at least a little bit of time thinking about the subtle differences in the roads over there. It's crucial that this thinking occurs before you're behind the wheel. With a little bit of foresight, you'll make your experience a safer one – for both you and other road users.
We'll take a closer look at some of the key differences you might encounter but first, let's consider whether you'll be able to drive in New Zealand.
Who Can Drive in New Zealand?
If you have a full driving licence allowing you to drive in Britain, then, by and large, you'll be able to do so legally in New Zealand. There are, however, a few caveats to account for. If you've been disqualified or suspended from driving in New Zealand, you'll obviously need to serve out the period of disqualification. Moreover, there's also a time limit: if you've been in New Zealand for more than a year, then you'll need to apply for a New Zealand licence to legally drive in the country.
Be aware that there are age limits on hiring cars and campervans. Policies vary from hire company to hire company, but generally you must be over 21 years of age to hire a basic car and have held your licence for at least one full year. Drivers under the age of 25 may incur a young drivers' surcharge. Anyone who intends to drive the hire vehicle must have their drivers licence and relevant paperwork on them at all times during the trip.
What Side of the Road Should I Drive on in New Zealand?
Fortunately, you won't need to worry about which side of the road to drive on in New Zealand; Kiwis drive on the left-hand side of the road, and their drivers sit on the right-hand side of the car – just as we do in the UK. Easy!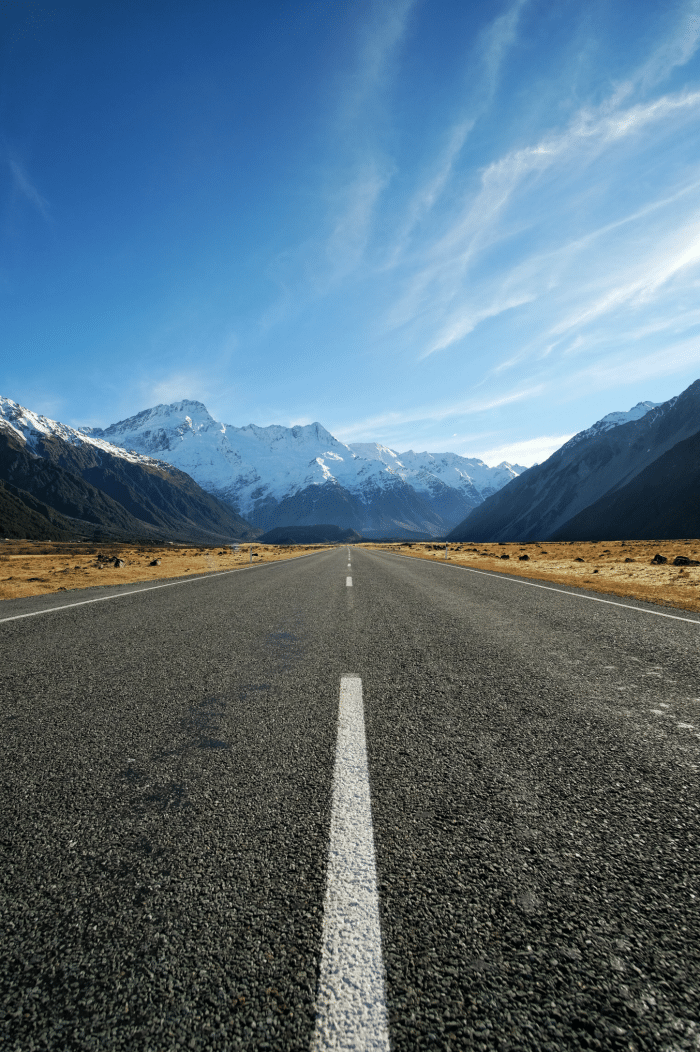 What Are the Drink Driving Laws in New Zealand?
Obviously, whatever the laws in the local country might be, it's extremely inadvisable that you drink and drive – particularly during a holiday, when the temptation might be more pressing. Even a single unit of alcohol will appreciably increase your chance of a serious accident, and for this reason alone it's not worth taking any chances.
As it happens, the drink-driving laws in New Zealand are extremely restrictive; if you're younger than 20, there's zero tolerance for any blood alcohol level, while for over-20s it's 50mg per 100ml (for comparison, it's eighty in the UK). If you really feel that you'll want a drink during the daytime, then perhaps travelling by bus or train might make a better fit for your holiday.
Driving in Bad Weather in New Zealand
New Zealand, like any other country, suffers from the occasional spell of adverse weather. The country's climate is unpredictable, and things can turn around incredibly quickly; one minute you might be driving beneath a glorious clear blue sky, the next you might find yourself engulfed by a monsoon.
Naturally, the same rules of thumb (and of physics) apply just the same in New Zealand as they do in the UK. If weather is especially wet, you'll want to slow down and brake earlier. If things get foggy, you'll want to dip your headlights. Be aware that large vehicles might spray water up onto your windscreen as you pass them.
One thing you might not be used to considering is the fact that some mountain passes might become snowed under before you've a chance to get through them. If you're travelling during winter, check your route before setting out. The New Zealand government provide a handy online map detailing the details of road closures and other obstacles.
You'll also need to monitor and maintain the state of your car during your journey. Keep your tyres properly inflated, your oil and coolant levels topped up. Of course, you'll want to err on the side of caution when it comes to fuel. Don't let the tank dip below a quarter full; you don't want to be glancing nervously at the gauge as you traverse a narrow mountain pass.
Tips for Driving in New Zealand
So far, we've covered the basics. But there are a few features of New Zealand driving that you'll want to make yourself aware of before setting out. Let's briefly consider them.
Overtaking Etiquette
Almost every road in New Zealand comes with a lane dedicated to overtaking. This means that you'll be able to pass slower vehicles ahead. If there's a yellow line demarking the centre of the road, then this indicates that oncoming traffic is unable to see you. In this case, don't attempt an overtaking manoeuvre; just wait a little until it's safe to pass.
If you're in a campervan or motorhome, you'll be taking those mountain passes much more slowly than cars, and the locals, will be. There are plenty of layby's for you to pull in to as you go along. As the roads in New Zealand are notoriously windy, it's good manners to pull over and let faster vehicles pass you safely before carrying on your way.
What to Do at a One Lane Bridge
Generally speaking, you'll encounter one-lane bridges only in quieter rural areas, though there are some seasonally-busy bridges, like the Thames-Coromandel coast road on state highway 25. They're not there to slow you down, they are there to help you cross water and in the South Island especially, there are a lot of streams to be crossed.
As you approach a one-lane bridge, you'll see either 'one lane bridge' written on the road itself, a sign on the side of the road, or both. Bridges of this sort are often narrower than the road itself – which will be of special concern to campervan drivers, and those towing trailers.
Take note of the signs on the bridge. A round sign with a red border that contains a small red arrow pointing up, and a large black arrow pointing down means that you give way to oncoming traffic. Only cross the bridge when it's clear.
Alternatively, you might see a blue rectangular sign with a large white arrow pointing up, and a small red arrow pointing down. This means oncoming traffic gives way to you.
Of course, regardless of what the arrows say, you should always check the road ahead before proceeding.
Driving Times in New Zealand
Since you'll ideally be driving a little more slowly and carefully than you might on more familiar roads, you'll want to adjust your driving times accordingly.
If Google maps suggests that a trip might take five hours, you should plan for it to take six. This is especially true if you're passing through winding, mountainous roads.
The drive between Wanaka to Queenstown is a good example; the section of the journey through the Cardrona Pass is likely to be slow going – particularly if the weather conditions are unfavourable.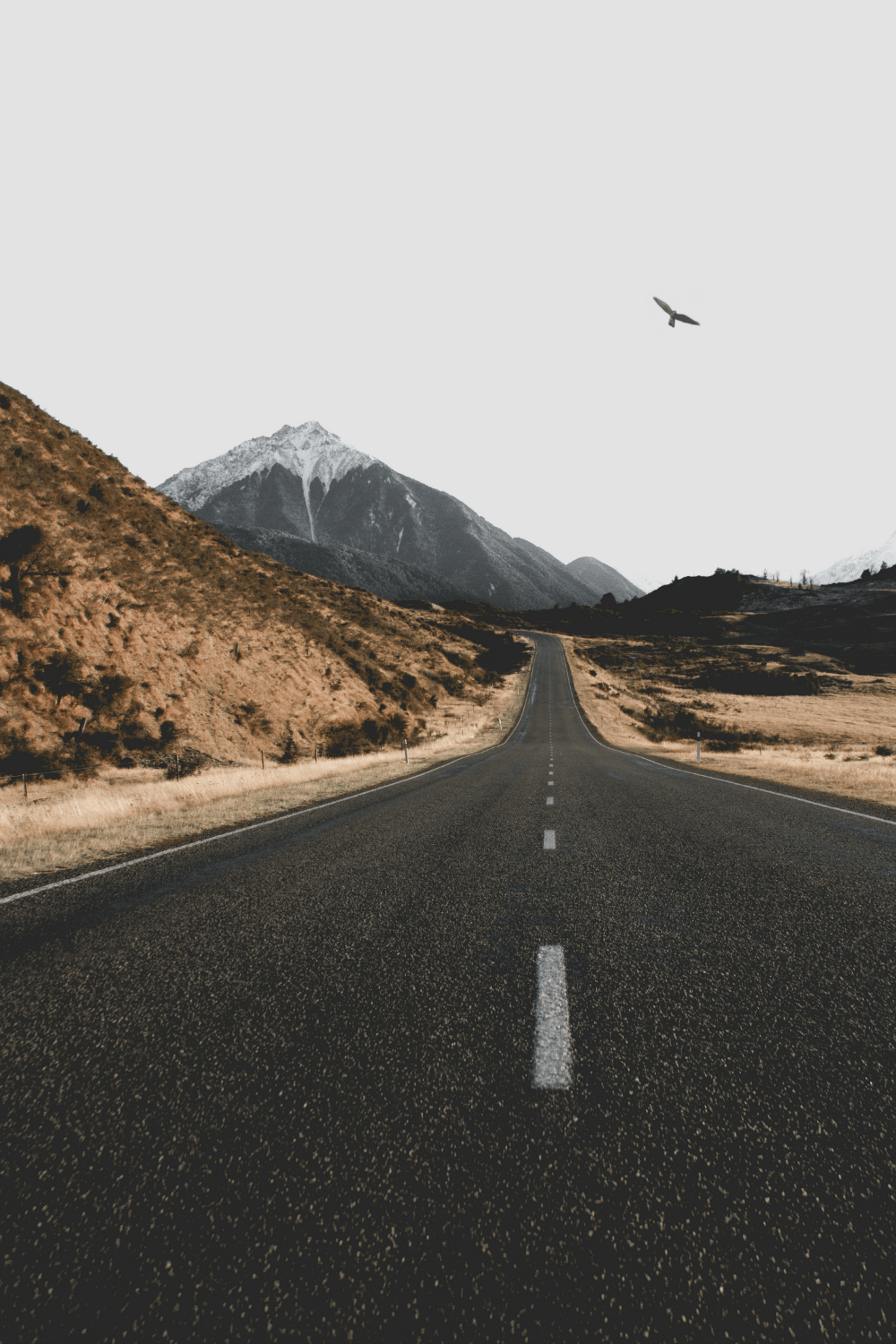 In Conclusion
Driving through New Zealand is really no more or less tricky than driving in the UK – provided that you're adequately prepared. Plan your route well in advance, be sure that your car is appropriately prepared for the journey – and enjoy some of the best drives of your life!
Thinking about embarking on the adventure of a life time? Contact us today and allow our knowledgeable staff to start build a tailormade itinerary for you today.