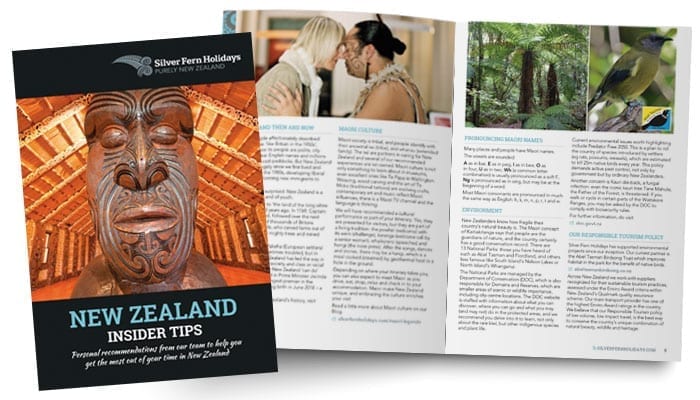 FREE Insider Tips New Zealand travel guide before you fly to New Zealand.
We only went and wrote our own guidebook!
There are dozens of inspiring guides to New Zealand, and the shelves of our Kiwi Lounge groan with information to help shape your plans. So why have we published our own 28-page Insider Tips guide?
Because there's more to your New Zealand holiday than the 'big ticket' sights in your pre-planned itinerary. Because you want to know where to stop for lunch on the way to Rotorua, or what to do in the evening in Wanaka.
So our unique guidebook, written by our team based on their own experience, helps you make the most of your down time. It's packed full of New Zealand information with suggestions for Things to do, places to Eat & Drink, ideas for Evenings and even Shopping information.
And not only for the major cities of Auckland, Wellington, Christchurch and Queenstown but smaller towns and places off the highway, including the Bay of Plenty, Taupo and New Plymouth, Nelson, Greymouth and Invercargill, in fact almost anywhere you may find yourself while you explore New Zealand.
You'll also find suggestions for great books and films to read/watch before you go (or download to your tablet) as well as tips for packing and surviving your flight.
Our unique, free New Zealand travel guide book also spells out what happens on arrival, when a member of our team meets you at the airport, and it includes our 24-hour New Zealand contact number.
Silver Fern Holidays' Insider Tips guide to New Zealand is exclusive to us and is not available to buy: it's our free gift to you before you travel.