"Oh the weather outside is…" delightful actually! Yes, it's Christmas in New Zealand and there's nothing frightful about this weather…
Christmas still takes place on the 25th of December in New Zealand, but this means it falls in the summertime. So while you'll still find Christmas trees, tinsel, even the odd novelty jumper, you'll probably be wearing shorts, shades, and lashings of sun cream at the time. 
Today we thought we'd be helpful as elves and share some of our experiences of Christmas over in Kiwi land to give you an idea of what to expect and help you blend right into the celebrations! We're going to start by looking at how Christmas is celebrated in New Zealand.
What's Christmas Like in New Zealand?
New Zealanders are proud of their British heritage and apart from the fact that Christmas comes in the season of summer over here, that heritage is central to how people celebrate Christmas in New Zealand. As such there will be lots that feels familiar. Christmas is still called Christmas in New Zealand, Midnight Mass is a popular way to start the celebrations, presents are opened on Christmas morning and it's the busiest time of year for retailers. However, there are six important differences we need to make you aware of if you really want to do Christmas like a Kiwi…
While Santa Claus is still called Santa Claus in New Zealand, he's just as likely to be wearing flip flops (or 'jandals') rather than his traditional black boots.

It's still important to leave carrots for the Reindeer in New Zealand, but Santa prefers a beer or even some pineapple chunks in this part of the world.

Fans of the Christmas Carol will be pleased to know all the big numbers are still popular in New Zealand, but keep an ear out for New Zealand's very own carols including "Te Haranui", "Christmas In New Zealand" and "A Kiwiana Christmas". And bonus points if you manage to go 24 hours

without

hearing "Snoopy's Christmas".

Traditional Christmas Trees are not hard to find at this time of year, but New Zealanders also have their own Christmas tree called the Pōhutukawa, which produces glorious bright red flowers over the Christmas period. 

"And what does New Zealand eat for Christmas?" I hear you ask. Well, barbeques are very popular, often featuring ham slices and venison. Fish and shrimps are also pretty common, and while Christmas pud is mainstay on the menu, it's facing some pretty stiff competition these days from the sumptuous Pavlova.

Christmas Cards aren't a big deal over in New Zealand. I count myself lucky to have received any at all, so don't feel obliged to post out cards to Kiwis, and don't be offended if they don't post one to you either!
How To Spend Christmas in New Zealand: Where to go & What to do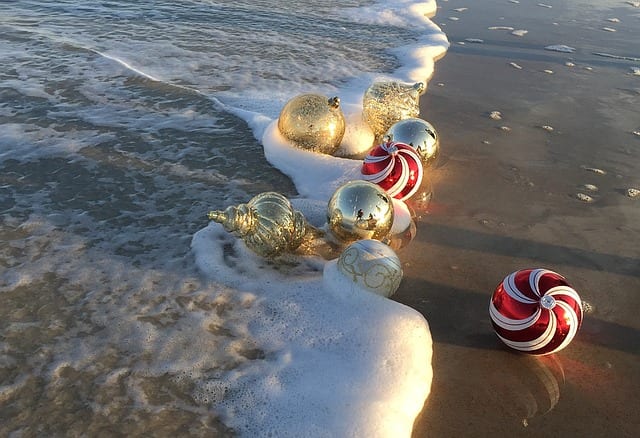 Okay, so you're clued up about the customs but where exactly are you going to show off your newfound knowledge? Fortunately, we have a lot of experience when it comes to how and where to spend Christmas in New Zealand, as lots of us have done it – more than once!
Head to the Beach
Top of our list of things to do for Christmas in New Zealand has got to be spending time on the beach. You're never more than 120km from the sea in New Zealand, and you'll find some of the best beaches in the world lining its coast. The novelty of spending Christmas Day with sandy toes and sun cream is almost worth the trip on its own, and the vibe on the beach is so festive and fun that you'll wonder why you ever longed for snow. Grab yourself a barbeque (or use one of the many coin-operated ones available) and share festive fun barbequing your Christmas dinner with the many families and parties doing the same.
Take in some Twinkling Lights
All the big cities hold Christmas Lights events and carol concerts that are well worth a visit, but from mid-November onwards, many towns will also hold a Santa Parade, filling the streets with festive floats, musical performances, and marching teams. They usually take place on a Sunday, and if you're wondering where to spend Christmas in New Zealand's south island, Christchurch's Santa Parade is one of the best we've been to: it's been running for over 70 years and draws in 100,000 spectators!
Enjoy a Festive Event
If you're looking for where to spend Christmas on New Zealand's north island, you could do a lot worse than visit Auckland's 'Christmas in the Park Festival'. Set in the grounds of the incredible Auckland Domain, this is one of the most iconic Christmas events in New Zealand. Join an audience of 250,000 for a glorious summer evening full of comedy, music and entertainment. Auckland is a great option for where to stay in New Zealand at Christmas as you have all the excitement, markets and events of the city whilst being surrounded by coastline and beaches.
Spread Some Christmas Cheer
Volunteering at Christmas can be an extremely valuable and rewarding experience – it is the season of goodwill after all. In most big cities, the City Mission provides free Christmas dinners for those with nowhere else to go. If you're not a fan of Christmas (we know it can be a tough time of year for some of us), volunteering can be a wonderful way of turning it into something positive and productive. But do apply earlier if you'd like to get involved, as charities like to have their workforce prepared in advance of the big day!
Well, we hope we've given you some insight into why Christmas in New Zealand is such a great experience, and where to celebrate Christmas while you're there. All that remains for us to say is bon voyage, Merry Christmas ("Meri Kirihimete" in Maori) and see you on the beach!